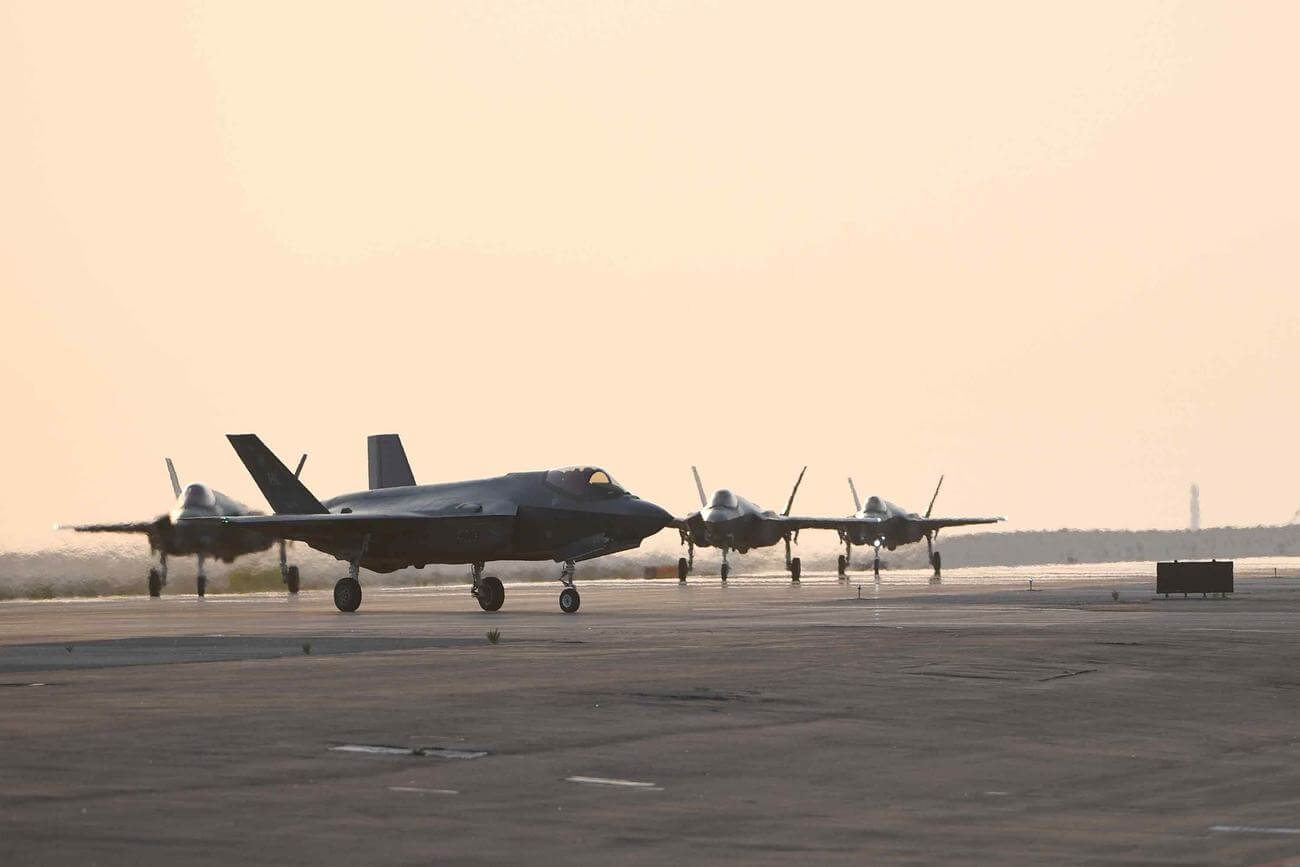 F-35 Joint Strike Fighter units from Hill Air Force Base, Utah, are back in the Middle East for the third time in 12 months.
Active-duty airmen from the 388th Fighter Wing and reservists from the 419th Fighter Wing have deployed to Al Dhafra Air Base, United Arab Emirates, for regional support missions, according to an Air Force release Monday. The service did not disclose how many of the fifth-generation Lightning IIs are involved.
Read Next: Minnesota National Guard Opened Fire on a Vehicle, Commander Says
"The 421st Fighter Squadron completed their stand up in December, and now they're our latest squadron heading into the fight," Col. Steven Behmer, 388th Fighter Wing commander, said in a statement. The 421st Fighter Squadron is part of the 388th.
"This demonstrates the readiness of our airmen, our weapons system, and the importance of both to the Air Force and our national defense mission," Behmer added. "On top of that, add in prepping and training in this challenging coronavirus environment."
Though some remain in the Middle East, a large component of active and reserve airmen who were deployed with the 34th Fighter Squadron returned to Hill in May following a six-month deployment, the release states.
The 421st will take on similar operations to those the 34th conducted, which included "close-air support, offensive and defensive counter-air, and maritime escort which enabled regional deterrence," according to the release.
The F-35A conventional-takeoff stealth fighters performed multiple "show of presence" flights alongside F-15 Eagles over the Persian Gulf in response to Iranian provocation activities in May 2019. They first deployed to the theater that April.
The most advanced fighters in the U.S. military's inventory were also used to conduct an "airstrike using a Joint Direct Attack Munition to strike an entrenched tunnel network and a weapons cache" belonging to the Islamic State deep in the Hamrin Mountains in northeast Iraq.
It marked the combat debut for the Air Force's version of the F-35 in the Middle East.
Previously, the mission at Al Dhafra was held by the F-35's stealthy cousin, the F-22 Raptor.
F-22s for years provided air cover for partnered ground forces conducting operations against the Islamic State, as well as a critical role in intelligence-gathering during the conflict.
— Oriana Pawlyk can be reached at oriana.pawlyk@military.com. Follow her on Twitter at @Oriana0214.
Related: Trump Hints at Removing Foreign Manufacturers from F-35 Supply Chain
© Copyright 2020 Military.com. All rights reserved. This material may not be published, broadcast, rewritten or redistributed.