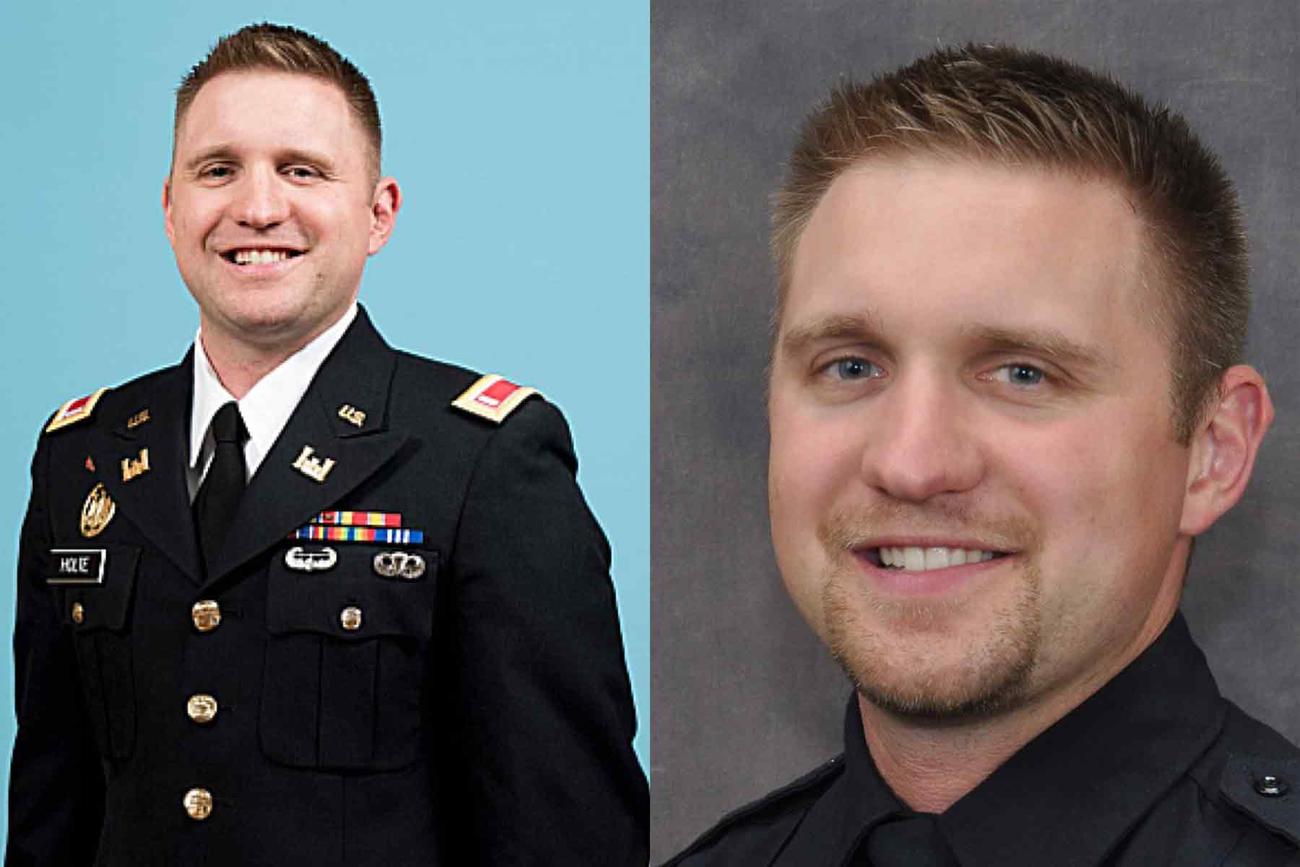 A National Guard soldier serving as a Grand Forks, North Dakota, police officer was killed in a gunfight Wednesday after coming to the aid of fellow law enforcement officers who came under fire while carrying out an eviction notice.
The incident began about 2:20 p.m. when two sheriff's deputies attempted to evict Salamah Pendleton from a local apartment building, Grand Forks County Sheriff Andrew Schneider said during a press conference Thursday.
Read Next: National Guard Called to Respond to Minneapolis Violence
Deputies knocked on Pendleton's door, received no answer and entered the apartment, prompting the man to "retreat into a bedroom," Schneider said.
"Deputies gave several commands requesting Salamah Pendleton to come out of the bedroom," he said. "Upon opening the door, the deputies were overtaken by heavy gunfire and retreated away from the door immediately."
The deputies radioed for assistance. One of them suffered gunshot wounds to the upper leg and abdomen in the initial gunfire, Schneider said.
Grand Forks Police Officer Cody Holte, a first lieutenant in the North Dakota Guard, responded to the call with another officer.
Holte and his teammate "immediately entered the apartment, coming to the aid of deputies under fire," Grand Forks Police Chief Mark Nelson said during the press conference.
"Gunfire was exchanged in multiple volleys between Pendleton and the officers on scene," Nelson added.
Pendleton was severely wounded in the gun battle but not without further cost.
"Officer Cody Holte suffered multiple gunfire wounds during the incident,' Nelson said.
Officers treated Holte's wounds on scene before he was transported to Altru General Hospital.
"Sadly, he later succumbed to his injuries," Nelson said, adding that Holte leaves behind a wife and an infant son.
Lola Moore, a 61-year-old woman with Pendleton, was killed in the shootout, he said.
Pendleton, 41, "received several gunfire wounds" and was transported to the hospital, Nelson added.
Holte, 29, served as the commander of Detachment 2, 815th Engineer Company.
"Yesterday, we lost a brother-in-arms," North Dakota National Guard Commander Brig. Gen. Leo Ryan said in a statement posted on the command's Facebook page.
"Cody was a selfless leader, who spent countless hours preparing his unit for upcoming missions," Ryan said. "He led from the front and always put his soldiers' needs before his own. Lt. Holte performed every duty to the best of his ability and mentored and motivated his soldiers to the highest level of readiness."
Holte enlisted in the Army Reserve in 2010 and later commissioned as a second lieutenant in the North Dakota Guard in 2015, according to the Facebook post.
He had served on the Grand Forks police force for three years and three months and was a member of the Grand Forks Regional Water Rescue Team, Nelson said.
"I can tell you this — I don't care what type of day we were having, when he came to work, he smiled when you saw him," Nelson said in a voice breaking with emotion. "He always had a smile on his face. He served his country, he served his state, he served his community and asked for nothing in return and made everybody around him a better person."
— Matthew Cox can be reached at matthew.cox@military.com.
Related: Army IDs 34-Year-Old Reservist Who Died from COVID-19
© Copyright 2020 Military.com. All rights reserved. This material may not be published, broadcast, rewritten or redistributed.