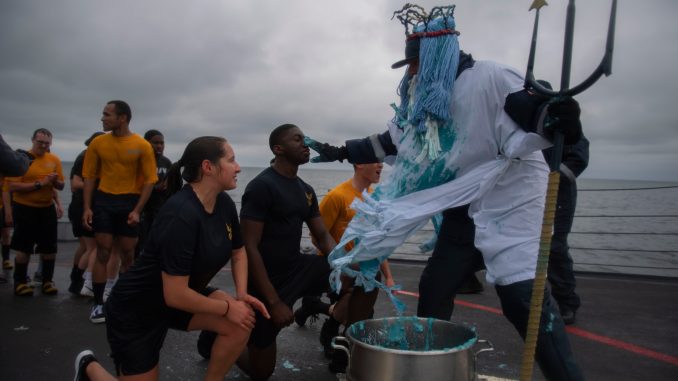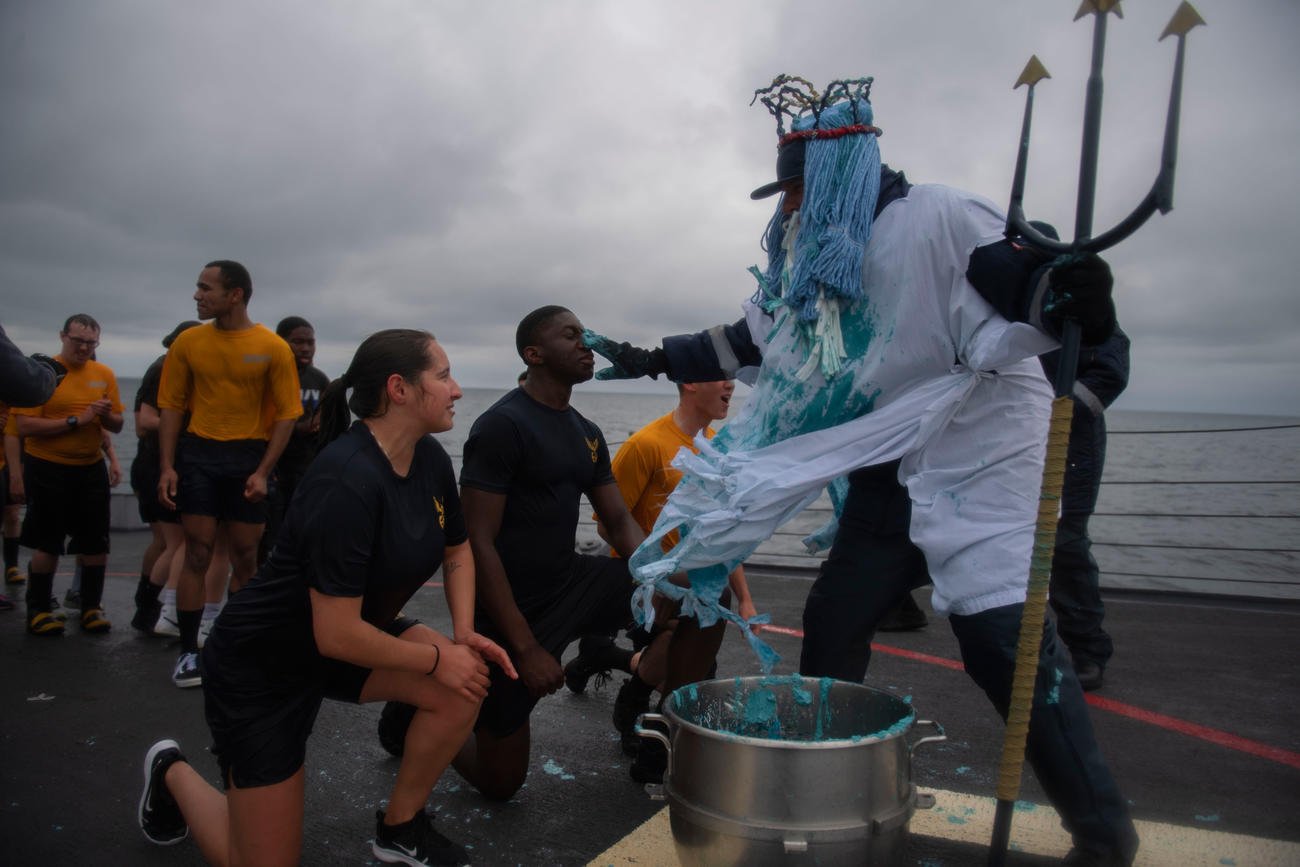 The "Order of the Blue Nose" has a handful of new members after sailors on the destroyer Roosevelt completed the King of the North's list of challenges.
Ten sailors participated in a unique Navy ceremony this month in which two of their leaders played Boreas Rex, the blue-haired, trident-carrying King of the North, as they crossed into the Arctic Circle. The sailors, who completed an obstacle course and the rest of the king's challenges, were formally designated "Blue Noses" by Command Master Chief James Kuroski and Chief Warrant Officer 2 Matthew Hicks.
Read next: Lawmakers Raise Alarms Over Trump's 'Salute to America' Plans
Kuroski called the Order of the Blue Nose ceremony "an exhilarating experience for the body and mind and soul."
"Operating above the Arctic Circle is an honor that is not lost on this crew," he said in a Navy news release.
The Roosevelt was one of three Navy destroyers to enter the Barents Sea above the Arctic Circle this month. It marked the first time Navy ships had operated there, off Russia's northern coast, since the Cold War.
The crew celebrated the occasion with the Blue Nose ceremony — one of several held at sea when sailors are operating in unique areas. When a ship crosses the equator, for example, sailors go through another ceremony in which they transform from pollywogs to shellbacks.
Some of the Roosevelt sailors to become Blue Noses above the Arctic Circle are also shellbacks, which Information Systems Technician First Class Russell Elliott said makes them part of two small groups in the Navy brotherhood.
"[These ceremonies] bring the crew together as a family, and everyone now has a story to tell their children, grandchildren, even great-grandchildren one day," he said.
As the Navy increases its presence in the Arctic, more sailors will likely have a shot at joining the Order of the Blue Nose — but that's only if they complete the tasks Boreas Rex and his subjects assign.
— Gina Harkins can be reached at gina.harkins@military.com. Follow her on Twitter @ginaaharkins.
Related: Navy Ships Transit Through Barents Sea Near Russia for 1st Time Since Cold War
© Copyright 2020 Military.com. All rights reserved. This material may not be published, broadcast, rewritten or redistributed.