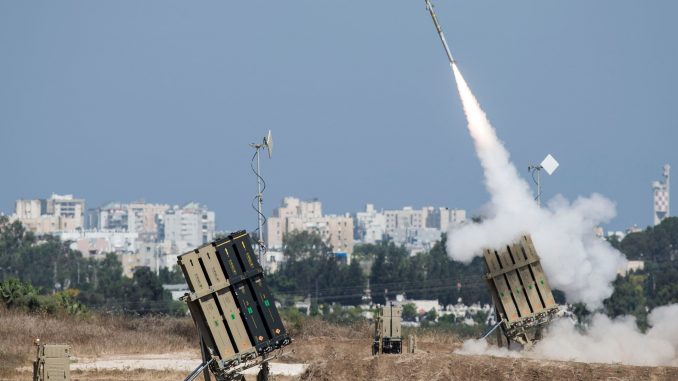 The U.S. Army is set to take delivery of two Israeli-designed "Iron Dome" indirect-fire protections systems to satisfy a congressional mandate, but the technology will have to prove itself to remain in the service's arsenal, top Army modernization officials say.
The Iron Dome Weapon System is a combat-proven system, developed by the Israeli firm Rafael Advanced Defense Systems, to detect, identify and intercept incoming rockets, artillery and mortars.
Read Next: Army to Deploy Special Advisory Team to Colombia for Counter-Drug Op
The Army announced its plans to purchase Iron Dome in February 2019 to comply with the fiscal 2019 National Defense Authorization Act, which required the service to equip ground forces with two Iron Dome Batteries by 2020.
The service is set to accept the first system in December and the second system in February, but it's still unclear if Iron Dome will meet the Army's need for an interim indirect fire protection capability, or IFPC. A key requirement for the system will be to demonstrate its ability to plug into the Integrated Air and Missile Defense Battle Command System, or IBCS, that the Army has chosen to manage all of its air defense sensors and interceptor systems.
"We committed to Congress that we will expedite that as much as we possibly can, but the fact of the matter is, we don't have an Iron Dome battery today; we haven't even received it yet," Gen. John "Mike" Murray, commander of Army Futures Command, told reporters this week.
"We were also very, very clear that we are going to try the best we can to integrate Iron Dome into the IBCS architecture, because we are not interested in standalone systems."
That said, the Army plans to host a shoot-off event in the fall of 2021 that is open to all companies to demonstrate systems that would satisfy the Army's requirement for an IFPC, Murray said.
Rafael has teamed with Raytheon to produce Iron Dome's Tamir interceptor missiles, designed to engage incoming threats launched from up to 40 miles away. Iron Dome has been used in combat and has a record of intercepting more than 1,500 targets with a 90% success rate, according to Raytheon officials.
But the Army's long-term goal is to integrate all of its missile-defense and indirect-fire systems into a single network, Bruce Jette, the Army's top acquisition official, told reporters.
"That's the type of thinking we are doing is this integration of overall systems in support of each other," Jette said. "I may take my sensor, see another target; you take your sensor, see the same target. And if I know where I am exactly, and I know where you are exactly, and I can discern those two targets and by sharing information between those two platforms, I can get my range to the target without having to lase or do anything else. And I can do that concurrently amongst multiple targets."
Murray said the Army plans to spend next spring working to try to ensure Iron Dome can integrate and work with the IBCS.
"And one of the key things [with the shoot-off] is going to be how you integrate into our IBCS architecture," Murray said. "Whoever wants to come and show us how they want to do this and show off their system is more than welcome to participate."
While Iron Dome is a great system, Jette said the integration into the IBCS is the "the critical piece that we want to get to."
"We want to make sure that the door is open for any country that wants to participate."
— Matthew Cox can be reached at matthew.cox@military.com.
Related: Army to Buy Israeli-Made Iron Dome to Protect Soldiers from Indirect Fire
© Copyright 2020 Military.com. All rights reserved. This material may not be published, broadcast, rewritten or redistributed.