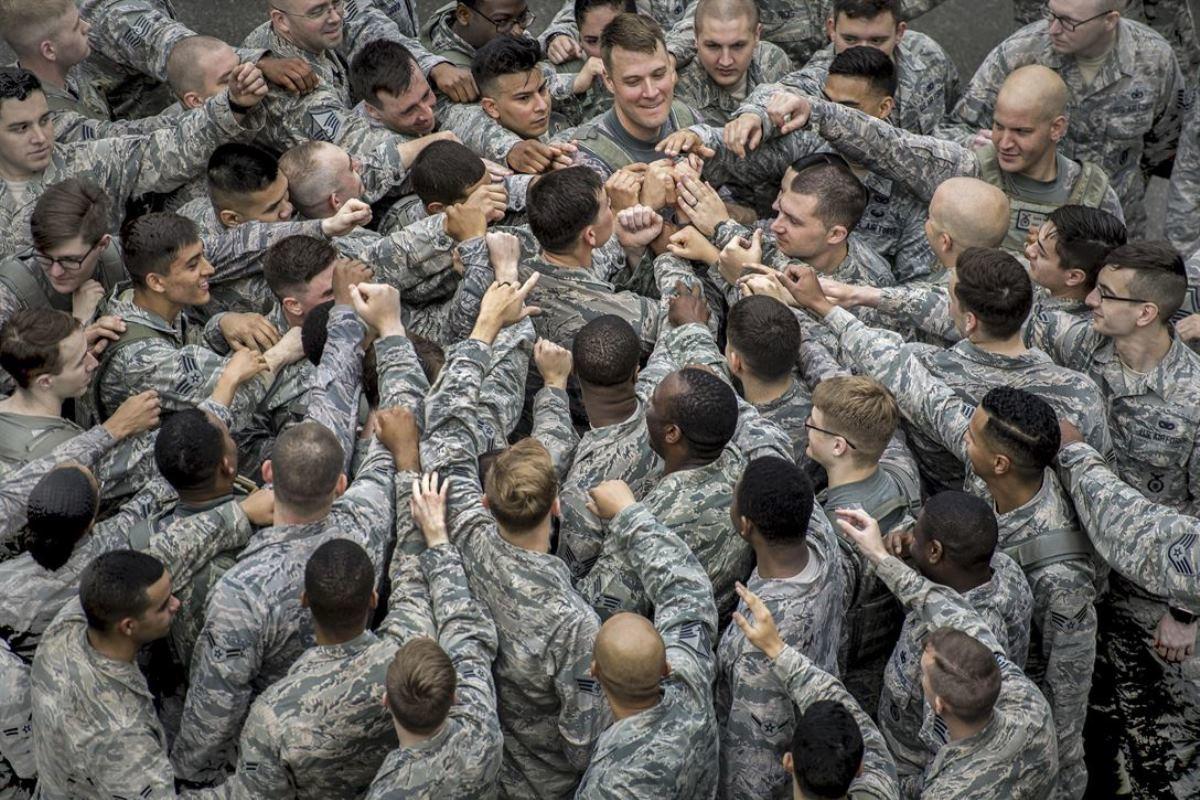 The U.S. Air Force has not implemented any serious solutions to fix a long-standing problem of racial disparity in the military judicial system, and did not appropriately disclose information of its own inconsistencies when analyzing the issue, according to a new study published by Protect Our Defenders, an advocacy rights group.
The study, "Federal Lawsuit Reveals Air Force Cover Up: Racial Disparities in Military Justice Part II," published Wednesday, follows another 2017 Protect Our Defenders report and a Government Accountability Office study published in 2019. Together, the studies found that black troops "are twice as likely to be investigated compared to white servicemembers in each branch."
Read Next: MQ-9 Drone Crew Awarded Air Force Achievement Medals After RPG Attack
The Air Force has the "highest racial disparities of any military service branch for court-martial and non-judicial punishments," according to the first POD study, citing data obtained via the Freedom of Information Act.
But the latest POD study, first reported by USA Today, accuses the Air Force of trying to conceal materials that show it has not taken any critical steps to solve the problem and reveals data about where issues remain.
According to slides obtained through a federal lawsuit to supplement its FOIA request, Protect Our Defenders found that the Air Force openly admitted through a 2017 working group study that racial injustices are prevalent and enduring.
"Do we have racial disparities in our justice system or not? Yes — the data reflects a persistent and consistent racial disparity," states one of the unredacted Air Force slides, revealed in the May POD report.
The most junior ranks are heavily targeted, according to another slide.
"The rate per thousand of Black/African American Airmen receiving discipline at the E-2 level is double that of other demographics," it states, referencing data collected between 2012 and 2016.
Don Christensen, president of Protect Our Defenders and a retired Air Force colonel, told Military.com on Wednesday that instead of implementing solutions, the service attempted to hide the working group's findings from the organization for the last three years — and subsequently, from lawmakers.
"It's extremely troubling to see that the Air Force is wasting valuable resources that could have been used to address staggering racial disparities in military justice on keeping the public and the press in the dark," Rep. Jackie Speier, a California Democrat, said in a statement Wednesday. "Imagine the progress that could have been made if that same effort were devoted to actually solving the problem."
She added that she intends to hold a hearing on the issue at the earliest opportunity.
"It takes people at the very top to acknowledge that there's a problem and act on the problem," added Christensen, who was also the service's chief prosecutor.
The Air Force said in a statement that, though it still has more work to do, initiatives at the unit level are underway.
"In 2017, the Air Force enacted a range of initiatives beginning to elevate unconscious bias awareness and mitigate its impacts. Those initiatives have been integrated into various commander, first sergeant and leadership forums across multiple touchpoints," spokeswoman Ann Stefanek said in an email. "These discussions are facilitated in venues such as squadron commander courses, the First Sergeant Academy, and officer and enlisted professional military education."
In 2019, the Air Force conducted "additional analysis and directed unconscious bias training for first line supervisors, as well as additional efforts like mentorship programs to assist young airmen adapt to the military culture," she added.
Stefanek said that the delay in releasing the full slides was part of a "deliberative process in understanding, evaluating and addressing the source of any disparity."
Christensen called the Air Force's latest explanation about why the slides weren't made available merely an attempt to preserve some dignity.
"What really troubles me and the responses today, they're [the Air Force] claiming now that they have been doing training," he said. "But for the last three years, I've been arguing for a federal court that they weren't doing training and that's why they didn't have to turn over the slides because it was pre-decisional. It shows a real lack of candor."
The former colonel said that implementing real change starts with the chain of command.
He cited a recent New York Times story, published over Memorial Day weekend. The article reported that, while minority members are well represented in the military, making up about 43% of the active-duty force, it's rare to see black leadership at the top echelon within the Pentagon.
"Now, fortunately, it looks like the Air Force will have its first African American chief of staff," Christensen said, citing the recent nomination of Gen. Charles "CQ" Brown to take over as the 22nd chief. "But it's still so underrepresented. They just need to do more."
— Oriana Pawlyk can be reached at oriana.pawlyk@military.com. Follow her on Twitter at @Oriana0214.
Related: Navy to Change Pilot Call Sign Protocol After Minority Aviators Report Bias
© Copyright 2020 Military.com. All rights reserved. This material may not be published, broadcast, rewritten or redistributed.