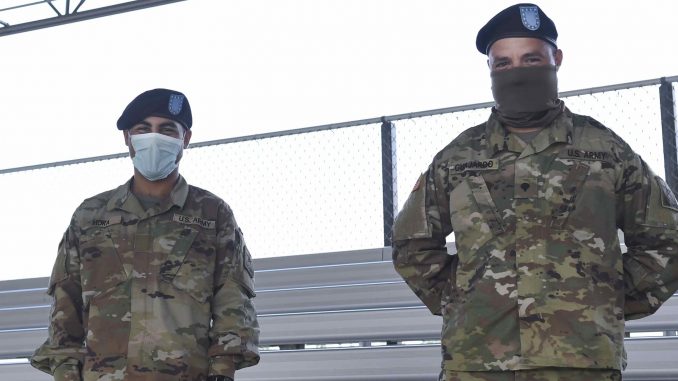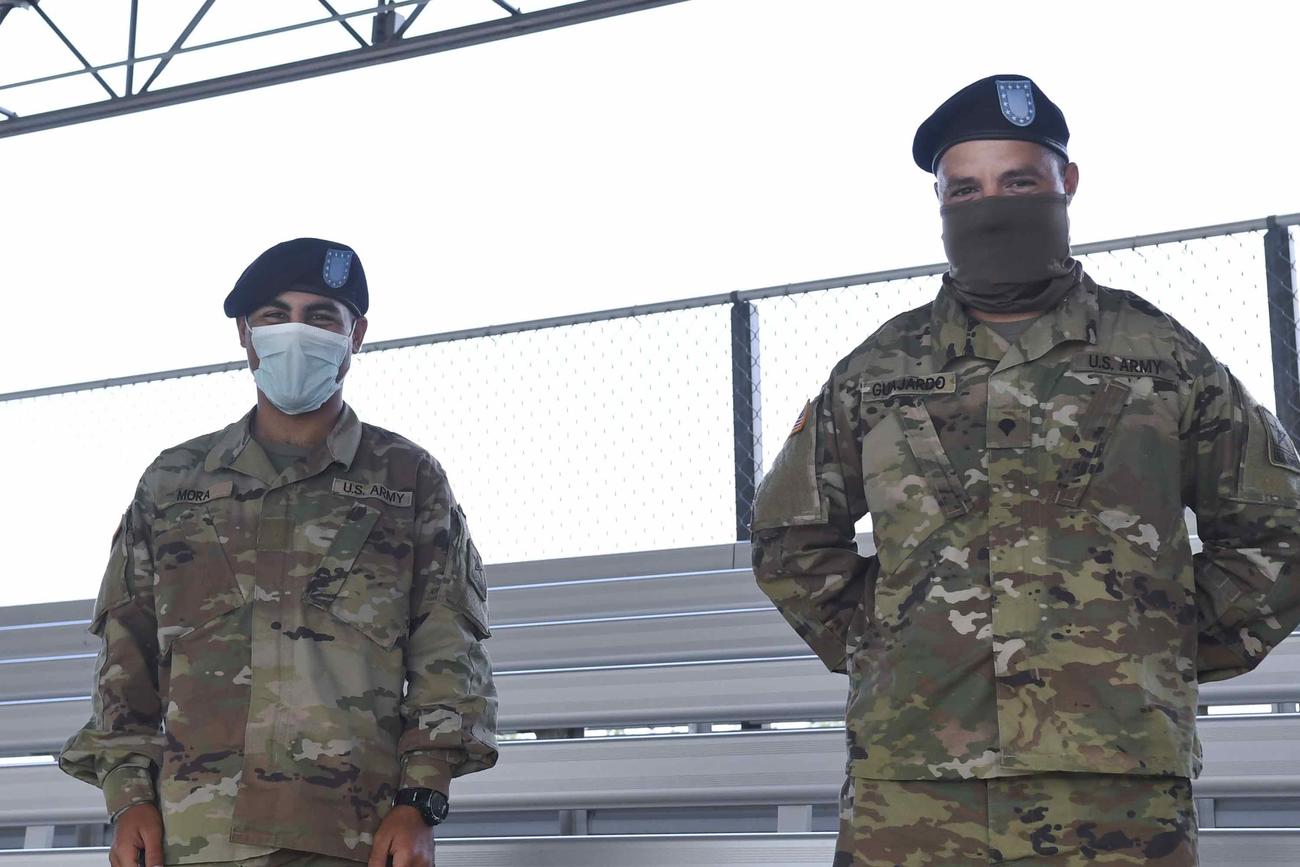 Two of the U.S. Army newest soldiers recently earned bragging rights by completing Basic Combat Training after surviving bouts with the novel coronavirus.
Roughly eight weeks ago, 21-year-old Pvt. Carlos Mora and 36-year-old Spc. Juan Guajardo began suffering from COVID-19 symptoms while going through Basic Combat Training at Fort Jackson, South Carolina.
Read Next: Third Service Member Dies from COVID-19
"I woke up in the morning and felt horrible," Mora said in a recent Army news release. "I had a high fever, and I had slight pain. I told the drill sergeants, and they took me to the hospital."
Guajardo said he has no idea how he got the virus.
"I got a fever, really weak and I had aches," he said. "I coughed a lot and, when I blew my nose, I had red spots. I went to the hospital, and they did the test. I was positive."
Army leaders halted the shipment of recruits to BCT for two weeks in early April to beef up testing protocols at the training centers. The Center for Initial Military Training (CIMT) had already taken several aggressive steps to prevent the spread of COVID-19 — ranging from multiple screenings to separating new arrivals at BCT from the main population during the first two weeks of training.
Despite the precautions, about 50 soldiers tested positive for the virus at Jackson in early April.
So far, there have been 6,118 cases of COVID-19 among uniformed members of the U.S. military. Of those, 3,460 service members have recovered and three have died, according to Pentagon figures released May 26.
Mora and Guajardo were both assigned to Jackson's 2nd Battalion, 39th Infantry Regiment, when they began feeling ill, according to the release.
It's not clear how severely the virus affected Mora or Guajardo since the Army would not release specific details about their condition or individual treatment, citing patient-privacy restrictions under the Health Insurance Portability and Accountability Act (HIPAA), Meg Reed, spokeswoman for CIMT, told Military.com.
"I wasn't too bad. I was out of breath and had a cough," Mora said in the release. "Others had it worse. It scared me because they were about my age too."
Guarjardo said he was more worried about his mother, who was concerned that she hadn't heard from him.
"She was very worried about me," Guajardo said in the release. "She's in Mexico, and it's bad there. I'm scared for her, but she is staying inside and away from people."
After two weeks, both Mora and Guajardo were feeling better and soon tested negative at Moncrief Army Health Clinic, according to the release.
Overall, both missed about three weeks of training, so they had to be reassigned to the 4th Battalion, 39th Infantry Regiment.
On May 14, Mora and Guajardo walked across Jackson's Hilton Field with fellow BCT graduates in a ceremony that was streamed on Facebook for friends and family members, according to the release.
"It took me an extra week to breathe right again," Mora said of his return to training. "I made it, though."
Mora is scheduled to take advanced individual training at Fort Lee, Virginia, to become a wheeled vehicle mechanic.
Guajardo said he "really wanted to graduate with my old company," but the Army Reserve soldier is looking forward to going to AIT at Fort Gordon, Georgia, to become an information technology specialist and "being able to talk to my family every day again," the release states.
— Matthew Cox can be reached at matthew.cox@military.com.
Related: Army Moves to Reopen Basic Training as 50 Coronavirus Cases Emerge at Fort Jackson
© Copyright 2020 Military.com. All rights reserved. This material may not be published, broadcast, rewritten or redistributed.