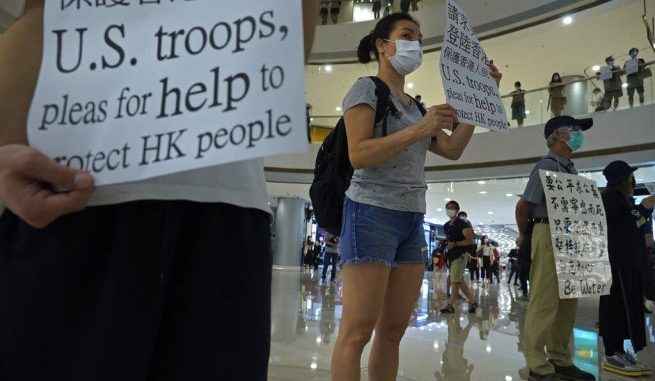 OAN Newsroom
UPDATED 7:45 AM PT — Tuesday, May 26, 2020
President Trump recently sent a stark warning to Beijing. His comments came as China continues to mull a new law that could affect Hong Kong's autonomy.
The country's set to release more details on that legislation on Friday. President Trump said he'll wait to learn more, but suggested a swift response by the U.S. if it were to pass.
"I don't know what it is because nobody knows yet," he stated. "If it happens, we'll address that issue very strongly."
According to White House officials, if China does approve that law then U.S. sanctions are likely to follow.
"If China goes through and imposes this law, which I think would be a big mistake, I think it's going to be very difficult for the people of Hong Kong," said Robert O'Brien, U.S. National Security Adviser. "Secretary (Mike) Pompeo will likely be unable to certify that Hong Kong maintains a high degree of autonomy and if that happens there will be sanctions that will be imposed on Hong Kong and China."
Last year, President Trump approved the Hong Kong Human Rights and Democracy Act. If Beijing does pass this new legislation, it would be in violation of that act.
On Monday, Chinese officials denied reports the law would impact Hong Kong's autonomy. They also slammed the U.S. for getting involved.
"What legislation the HKSAR introduces and how and when it enacts the legislation is entirely within the scope of China's sovereignty," stated Zhao Lijian, spokesman for the Chinese Ministry of Foreign Affairs. "The U.S. has no right to criticize or interfere…if the U.S. is bent on harming China's interests, China will have to take all necessary measures to fight back."
Pro-democracy protests began to erupt across Hong Kong last year over Beijing's encroachment of its independent legal system. Protests this weekend caused police in Hong Kong to fire tear gas and water cannons to disperse the growing crowds.