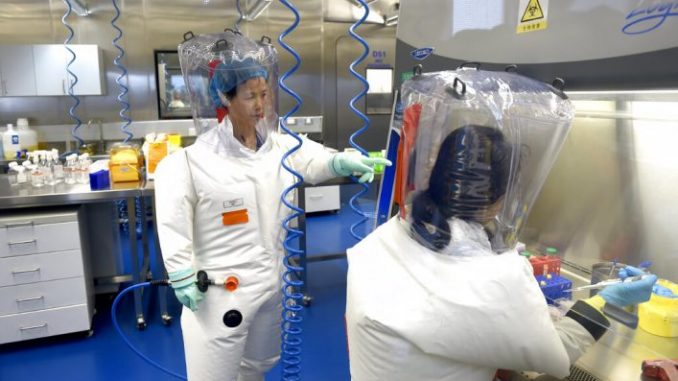 OAN Newsroom
UPDATED 8:13 AM PT — Tuesday, May 26, 2020
A new study has endorsed the possibility of coronavirus being manufactured by humans.
In an interview with Sky News Australia last week, Professor Nikolai Petrovsky explained the results of his recently published paper. While using computer modeling, scientists found the virus to be uniquely adapted to humans.
"We found that the COVID-19 virus was particularly well-adapted to bind to human cells and that was far superior to its ability to bind to the cells of any other animal species, which is quite unusual because typically when a virus is well-adapted to an animal and then it by chance crosses to a human, typically, you would expect it to have lower-binding to human cells than to the original host animal," Petrovsky explained. "We found the opposite so that was a big surprise."
While most members of the global community have refuted the idea of COVID-19 being man-made, some public figures have questioned the conclusion. This includes Secretary of State Mike Pompeo and President Trump.
When asked at an April press conference if he had seen anything to indicate the virus originated from a Wuhan lab, the president responded by saying:
"Yes, I have and I think that the World Health Organization should be ashamed of themselves because they're like the public relations agency for China."
Amid increasing criticism of the Wuhan Institute of Virology, its director is adamantly denying any leaks from the lab.
"We didn't have any knowledge before that nor had we ever encountered, researched or kept the virus," claimed Director Wang Yanyi. "In fact, like everyone else, we didn't even know the virus existed. How could it have leaked from our lab when we never had it?"
Despite the seemingly worldwide consensus about the animal origins of the virus, Petrovsky maintains that the possibility of it being human-engineered, while not conclusive, cannot be ruled out either. He speculated fear of tighter lab regulations may be inspiring push-back from scientists.
"We desperately need to know where this virus came from and the reason for that is not political, it's actually pragmatic," he stated. "If this is a wild virus that came from an animal and we don't know where it came from in the animal kingdom, then, you know, in a few years time we may be facing a very similar pandemic."
Petrovsky's groundbreaking findings came about through the development of a vaccine for which human trials are expected to begin within the next month.