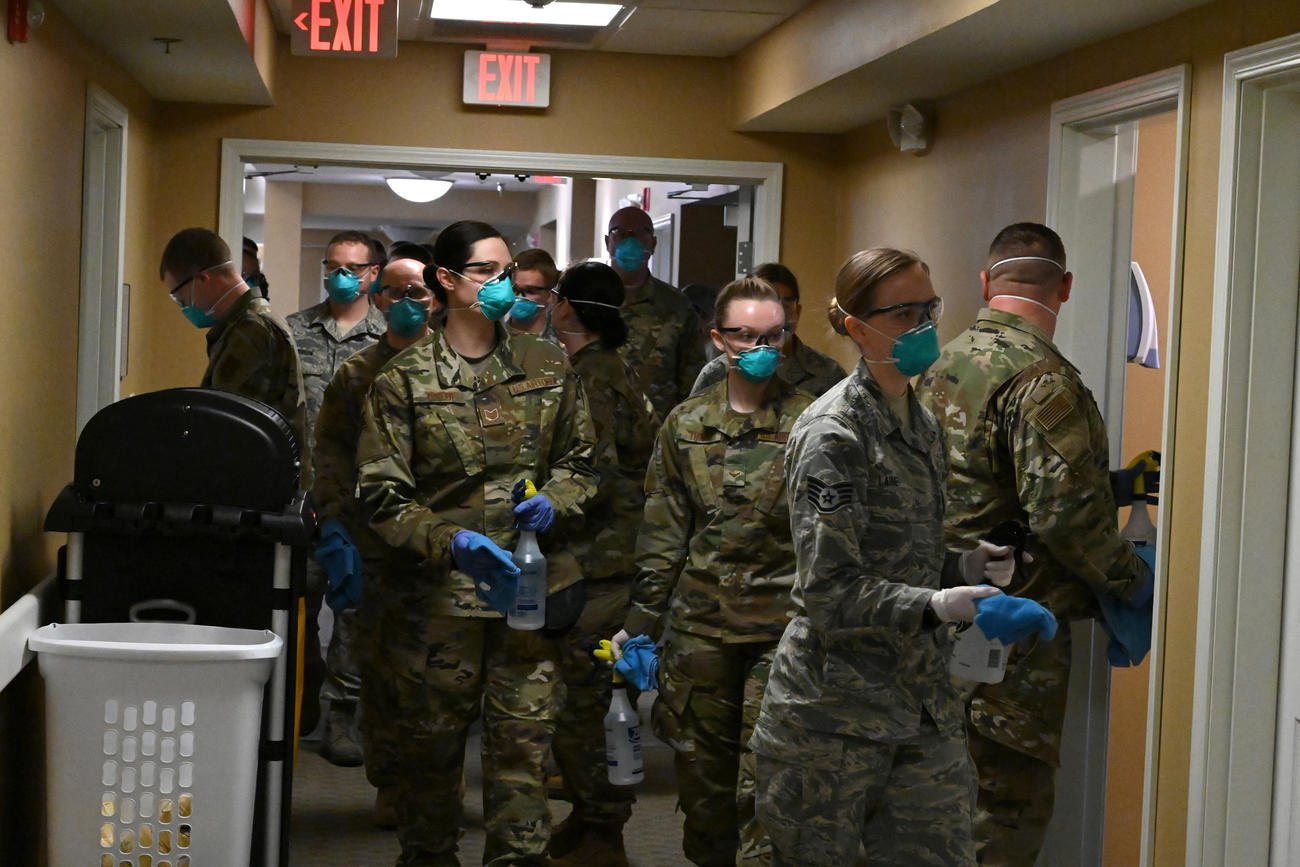 When local business owner Gus LaFontaine signed up for U.S. Army National Guard fresh out of high school in 1998, he didn't anticipate his service would include responding to a health crisis like the coronavirus.
"When I joined the Army National Guard, I knew that a deployment was on the table or could be on the table. I knew that I would respond to natural disasters. I've worked an ice storm. I've worked hurricanes. We work tornadoes," he explained. "But I never imagined fighting a virus ever.
"And in the Army, we're trained to imagine the things that you wouldn't imagine."
LaFonntaine — who co-founded Lafontaine Preparatory School, LaFontaine Early Learning Center and a child care center with his wife, Kristin– explained he went through a National Guard exercise where the enemy was a flu pandemic.
"But it had been a long time ago, and that wasn't recent in anybody's mind," he said.
So when the virus broke out in Kentucky, things were a little hectic for LaFontaine, who had been serving in public affairs for the National Guard.
More than 800 soldiers in Kentucky Air National Guard, which includes soldiers and airmen, were called to actively fight the coronavirus, he said.
"We run a small public affairs shop in the Kentucky National Guard, so when the state started shutting services down and ramping up Guard operations, I knew I needed help," said Maj. Stephen Martin, director of Public Affairs for the Kentucky National Guard, who is also LaFontaine's boss. "My first call was to Maj. LaFontaine. He said he could be there within 72 hours, and he's been here for the duration."
LaFontaine was assigned to the Joint Operations Center in Frankfort.
"We assess the need of the state or we receive the need of the state from the governor and then we source those assets to be able to support that mission," he said. "So sometimes those assets are … soldiers and airmen."
Those soldiers and airmen have been sent around the state to help with missions such as drive-thru testing sites, food banks, constructing an alternate care facility, security and providing transportation support, for example.
Previous to helping at the Joint Operations Center, LaFontaine was serving in public affairs, helping news media and highlighting soldiers with the National Guard and their work, as well as sharing their stories.
"Gus has done a phenomenal job providing public affairs support to the organization, all while trying to keep his business afloat," Martin said. "He's been a critical asset in making sure the public knew what kind of support the National Guard was bringing to bear and also helping to combat misinformation that was floating around in the media. He's been a go-to asset for us since he showed up."
LaFontaine said the same time he was activated with the National Guard to start working in Frankfort was around the same time his school was closed down for in-person instruction by Gov. Andy Beshear.
"We continued to provide non-traditional instruction or NTI, and so, there was still activity happening at our school. Our education offerings were still occurring, they just weren't occurring on-site, and so in a lot of ways, it was even more difficult. But … from a day-to-day on-site presence, it was a good coordination."
LaFontaine added that the child care centers he and his wife founded are partners with Baptist Health for emergency situations, as well.
"And so, as such, our child care center was activated to serve first responders in the community and those operations have maintained and served about 50 families that were essential workers," he said.
When the coronavirus broke out in Kentucky, LaFontaine's daily life between the school, the child care centers and his service with the National Guard changed rapidly. And he wasn't involved in a lot of it.
"It's a testament to those directors and staff members who could keep it going in my absence, and the same could be said here at the this school," he said. "I wasn't involved in day-to-day operations, but the school continued to operate and really … the real unsung heroes of these, of activations of the National Guard, are the people left behind, the people that step in to pick up the load of the person who's gone.
"So there's a lot of people who stepped in and picked up my load while I was serving in Frankfort."
As a result, LaFontaine said, he didn't have to lay anyone off.
He said families have also been the unsung heroes throughout this health crisis.
"I've got a wife and five kids, and she had to do a lot of that on her own for the last three months … so in some ways, my life is easier," LaFontaine said. "My life is really defined, you know. Here's the enemy, COVID-19. Attack the enemy, got it. We do that in the Army. And we're all very familiar with how to do that, even if this enemy is invisible."
In the beginning, he said, it was scary as a small business owner and child care provider. The first week, he said, was full of stress, the unknown and fear.
"That first week coincided with my first week being deployed to fight this virus, and so that was a transition in of itself. That one was much easier, because again, that was a defined enemy that we would create a scenario to attack, and it was much easier to that part of my life in a box because we know how to do that, " he said.
It wasn't as easy when it came to his civilian career helping run schools and child care centers.
"But it was not so easy when the schools are shutting down and the child care is shutting down, and then you employ 90 people and the pressure comes along with filling a responsibility to provide employment to them so that their livelihood is intact," he explained. "That was a lot of pressure as well."
Now that LaFontaine has sort of gotten used to a new routine, things aren't as challenging as they were in the beginning.
"In the beginning, the average day was very fast-paced, because we were creating lots of scenarios for an outcome that we didn't know, we weren't sure what it was going to be, so we had to create lots of scenarios for things we thought might happen," he said. "So the work was very intense in the beginning."
On top of that, they had to adapt to the governor's orders as they came out, such as maintaining social distancing in the Joint Operations Center, and ensuring they had enough personal protective equipment for the soldiers who were sent to drive-thru sites and hospitals, for example.
"The operations have been more defined now," he said. "We know now that we're operating a drive-thru testing site. Well eight weeks ago, nobody had ever operated a drive-thru testing site. And so there were a lot of logistics to figure out on how to do that. Now we know how to do that."
Things have been a little easier more recently as LaFontaine became more used to fighting the virus over time.
"The United States got punched in its nose mid-March, but I think for many of us, we've had a chance to shake it off, recover, get our feet about us, gain our bearing and be able to respond, and that's happened at the school as well," he said.
However, once he's done for the day with his Frankfort job, LaFontaine puts in hours at the school in the evenings and on the weekends, despite it being summer break as of Friday.
"In my position, the summers are the hardest part for my job because the summers are the time you prepare for the upcoming school year," he said. "This upcoming school year is going to be more challenging than ever so this is going to be one of the hardest summers ever. We're opening a third site of the LaFontaine Early Learning School."
And it's something that will be new to Madison County and central Kentucky.
"It's called the nature school … so it's something brand new that we've never done before, but we're essentially putting one of our early learning schools on a 14-acre farm, and we're going to have small livestock out there," he said.
Additionally, LaFontaine will be busy trying to figure out how to follow the governor's guidance when it comes to his school and re-opening in the fall. He's the one responsible for figuring out how many students can be in the building, how to stagger recess for the students, figuring out lunch schedules and more so the children will be safe during the day.
"My wife, she's really been a rock during this, and she's worked very, very hard in my absence to make sure that our household remains functioning, and that's been a hard load for her to carry by herself, because I get home late at nights, and I leave before everybody's awake in the morning," he said. "So for her to be on her own basically since the middle of March, it's been really hard for her."
He added that his kids miss him and are ready for it to be over, as well, but he explained he loves both his jobs.
LaFontaine originally signed up for the National Guard to be able to fund his education, but then he fell in love with it. However, he still wanted to pursue his passion, which is in education. He has a degree in elementary education from Eastern Kentucky University and a masters in educational leadership.
"I'm really happy I've been able to do both of those careers, because they're both very fulfilling. They're both service-oriented careers," he said. "I really enjoy that part about it."
This article is written by Sara Kuhl from Richmond Register, Ky. and was legally licensed via the Tribune Content Agency through the NewsCred publisher network. Please direct all licensing questions to legal@newscred.com.
© Copyright 2020 Richmond Register, Ky.. All rights reserved. This material may not be published, broadcast, rewritten or redistributed.