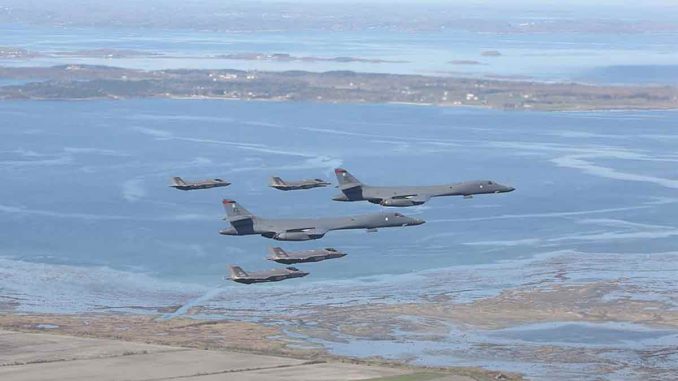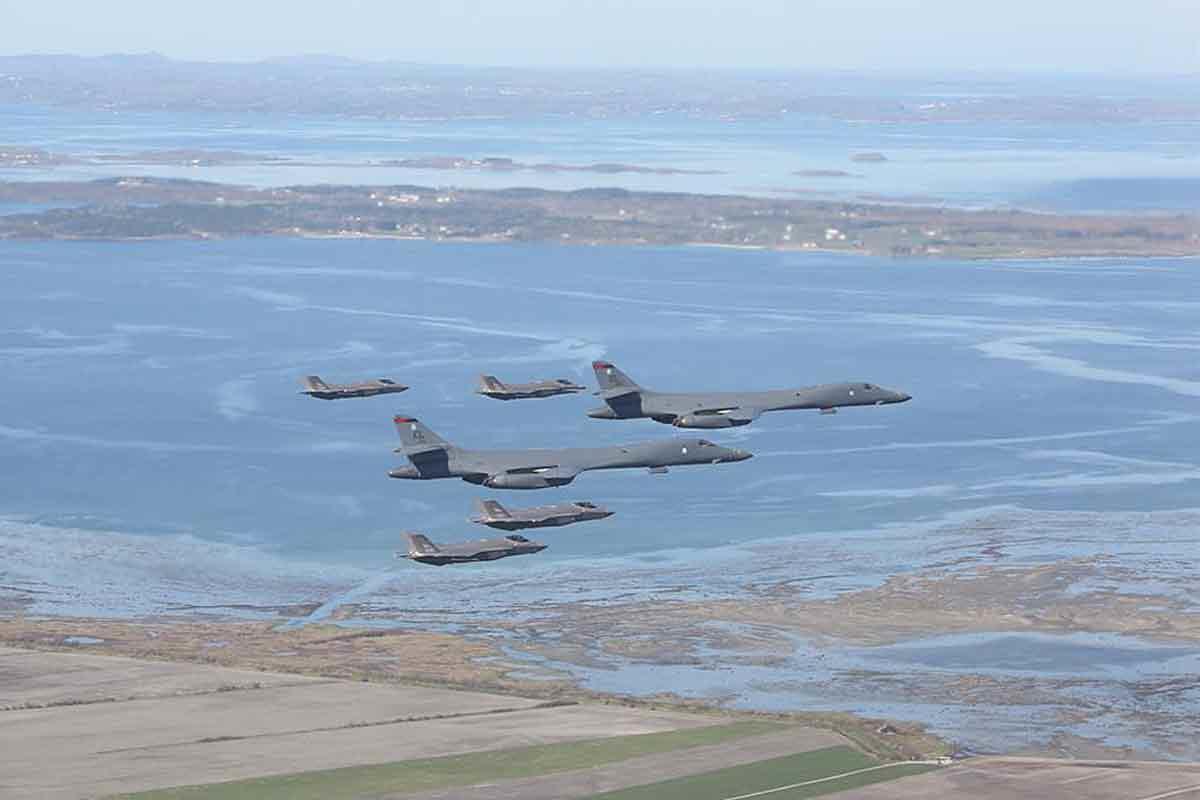 It's an image synonymous with the U.S. Air Force: a fighter jet streaking across the sky, tipping its wings and igniting its afterburner to boost thrust as it climbs.
And while jets have been the face of the service for decades, it's bombers that are making a splash of late with multiple high-visibility flights around the world.
Read Next: Some Soldiers Now Authorized to Wear the New Army Jungle Tab
Within the last month, B-1 Lancers, B-52 Stratofortresses and the B-2 Spirit have been spotted flying in the Pacific, Europe and even due north near Canada.
On Wednesday, two B-1Bs from Ellsworth Air Force Base, South Dakota, for example, held their first ever training mission over Sweden and at one point were flanked by Norwegian F-35 Joint Strike Fighters for an interoperability flight, according to U.S. Air Forces Europe.
Should we expect these types of flights more often?
"The short answer is yes," said Maj. Gen. Jim Dawkins Jr., commander of the Eighth Air Force and the Joint-Global Strike Operations Center at Barksdale Air Force Base, Louisiana. Military.com spoke with Dawkins in an interview Tuesday.
The flights are based "on the timing and tempo of the combatant commanders and how much they request" bombers in their region, he said. But they are becoming more frequent and, therefore, more standard, Dawkins explained.
"There is just so much of a bigger signal sent with a bomber than with a couple of [F-16 Fighting Falcons]. It just is what it is," he said.
Air Force Global Strike Command and U.S. Strategic Command have been coordinating flights with overseas counterparts, Dawkins said. Over the last year, officials have planned more, and shorter, strategic bomber rotations to test the Air Force's agility when deploying its heavy aircraft forces around the world.
Called Bomber Task Force (BTF) missions, the shorter flights — with two to three bombers — are not the same as a BTF deployment, he said. It's part of the Pentagon's larger "dynamic force employment" strategy for military units to test how nimbly they can move from place to place.
"It gives the appearance that we're in more places and we really are," Dawkins said.
In comparison, a BTF deployment could have four or more long-range aircraft stationed at a base for a few weeks to a few months, along with maintenance crews. The European theater has had a bomber rotation at least once a year as part of Operation Atlantic Resolve since Russia's annexation of Crimea in 2014. Right now, four B-1s are operating out of Andersen Air Force Base, Guam, roaming the South and East China Seas.
The bombers deployed to Andersen after the service suspended its continuous bomber presence (CPB) mission in the Pacific for the first time in 16 years.
A spokesman for Air Force Global Strike Command told Military.com that the CBP mission may return: The command is gathering data to see whether using BTF missions for dynamic force employment improves readiness, versus having a presence in one location for a longer time. The data should be compiled by year's end, the spokesman said.
On the other hand, BTF missions cherry-pick which bombers and crews set off for hours-long flights with the help of refueling tankers.
"It's a better way to assure our allies because we can cover more of the globe," Dawkins said.
Earlier this month, a BTF mission used two B-2s from Whiteman Air Force Base, Missouri; two B-52s from Minot Air Force Base, North Dakota; and two B-52s from Barksdale. The aircraft launched for training missions in Europe and the Pacific, according to Strategic Command. Photos posted on social media showed KC-135 Stratotankers from RAF Mildenhall, England, aiding in refueling B-52s in the region.
B-1s have also been in Europe with flights over Poland, Denmark, Latvia, Lithuania and Estonia.
"The U.S. Air Force makes it look simple, but there's a lot of moving parts behind it," Dawkins said.
The B-1 in particular is in a "crawl, walk, run" phase of testing how ready it is after years of being worn down by operations in the Middle East.
"We're in a jog right now with the B-1, actually," Dawkins said. The fleet will be in this experimental phase for at least a year, he added.
Dawkins said the Air Force is still pushing to retire 17 B-1s as part of its fiscal 2021 budget request, reducing the fleet to just 44.
"We still think it's the right move to make, where we take the 17 airplanes that require the most structural work and, rather than spend the money to repair those, we take that money savings and roll it back into things such as opening up the external hard points [for more weapons] or to have [fewer] airplanes to take care of for our maintainers," he said.
Just like pumping funding into the most viable planes, Dawkins said BTF missions are also likely to increase readiness — not just for the B-1, but for all the bomber variants and the airmen who operate them.
"Being gone for six months, nine months, we saw that decreased our overall readiness being gone that long," he said.
B-52 crews that returned from Guam last month are in their own "reset" mode to catch up on training that they weren't able to do while deployed.
"Whether it's nuclear readiness training or other types of training that they weren't able to get out in Guam or out of Diego Garcia," such as a flag exercise, Dawkins said. Earlier this year, six B-52s headed to the island territory to be "available for operations against Iran if ordered," CNN reported.
"So we go out there, get familiar with a new theater, get familiar with operating with the allies and with … command and control and communications work in that theater," he said.
BTF missions "really give the adversary a different look, because if you're always going to go to Guam all the time, there's not much that's different about that," Dawkins said.
"But if you're going to different places, say Diego Garcia, say Australia, Fairford in the United Kingdom, or some other place in Europe? That's giving the adversary something else to think about."
— Oriana Pawlyk can be reached at oriana.pawlyk@military.com. Follow her on Twitter at @Oriana0214.
Read more: B-1 Bomber May Become the New Face of US Military Power in the Pacific
© Copyright 2020 Military.com. All rights reserved. This material may not be published, broadcast, rewritten or redistributed.