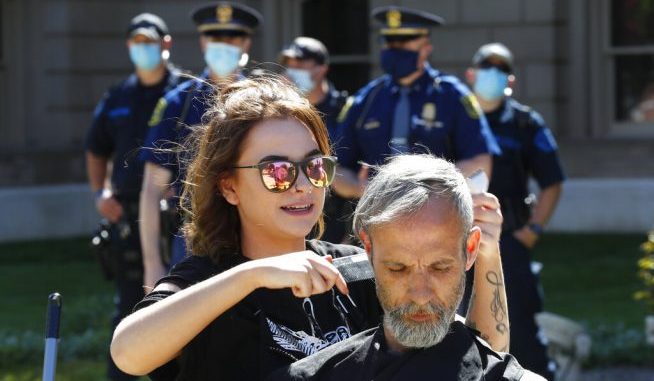 OAN Newsroom
UPDATED 3:08 PM PT — Wednesday, May 20, 2020
Barbers gathered outside the Michigan state capitol this week to give free haircuts in defiance of the state's stay-at-home restrictions.
Nearly 400 people attended the demonstration on Wednesday. "Operation Haircut" was organized by the Michigan Conservative Coalition.
Demonstrators have arrived at the Capitol for "Operation Haircut." All individuals engaging in haircuts are being educated on the law. Those who do not comply will be cited for disorderly conduct. All citations will be forwarded to the AG's Office for review. pic.twitter.com/XVb8VVPYFx

— Michigan State Police (@MichStatePolice) May 20, 2020
Protesters have accused Governor Gretchen Whitmer of "killing small businesses" and called the restrictions overbearing.
"Here are these people who are small business owners, they've been sidelined for months. They've been unable to feed their families, support themselves, pay their mortgages, pay for their cars and unable to make a living. The governor has not done anything to allow these people to go back to work." – Matt Seely, Michigan Conservative Coalition
According to Michigan state police, at least three of the barbers were given citations for disorderly conduct.
As of 4:45 p.m., Operation Haircut has concluded. Final crowd estimate is approx. 300 people. Seven people were cited for disorderly conduct after ignoring warnings to stop cutting hair.

— Michigan State Police (@MichStatePolice) May 20, 2020
WATCH: Mich. Judge Sides With Barber Who Defied Gov. Whitmer's Stay-At-Home Order