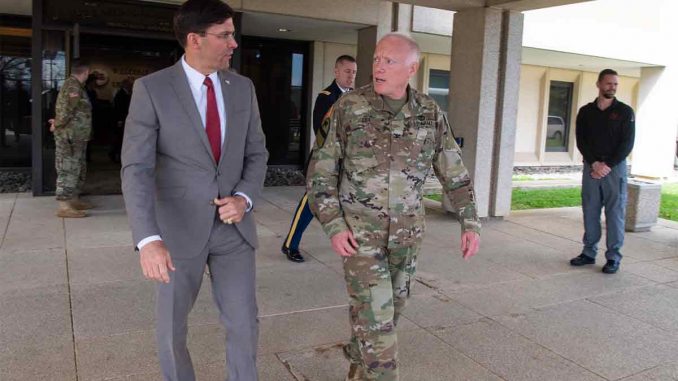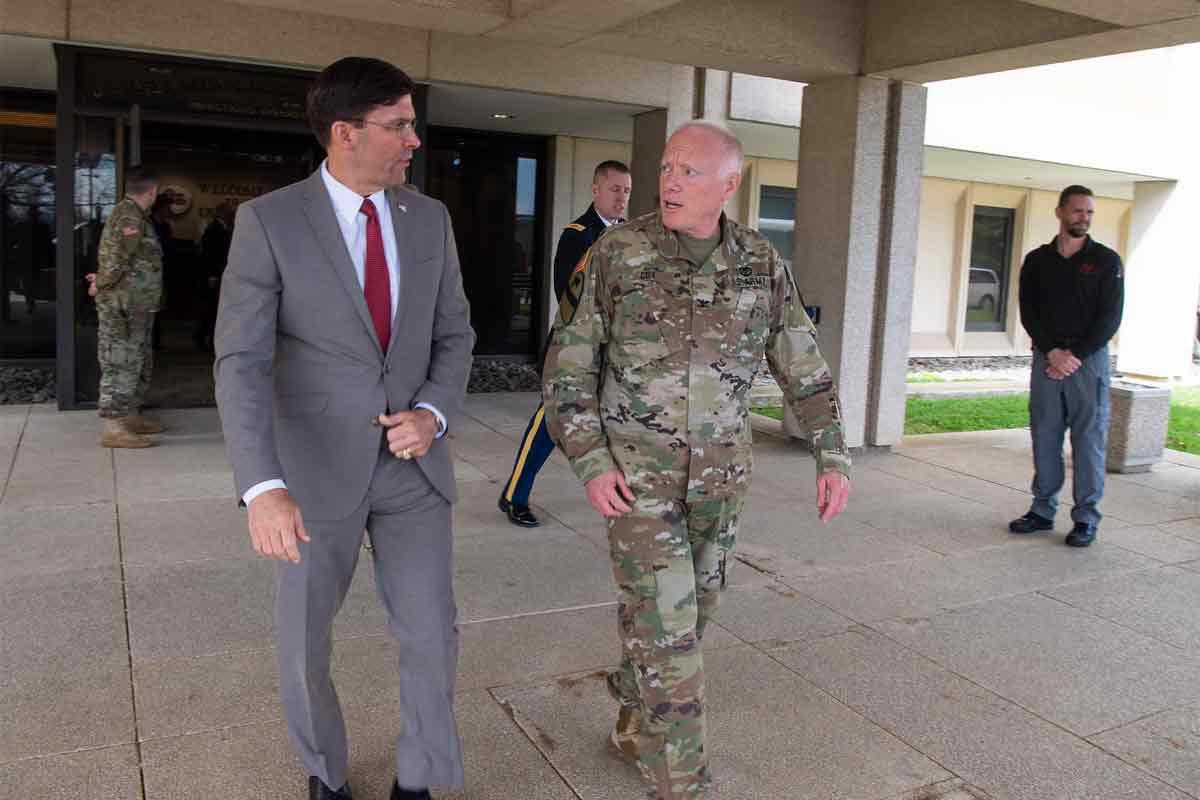 As all 50 states ease restrictions weeks after the novel coronavirus crisis led to widespread shutdowns, the military has new guidelines for doing the same on bases and installations.
Defense Secretary Mark Esper on Wednesday issued a four-page memo to commanders responsible for setting color-coded health protection condition, or HPCON, levels. Esper directs leaders to consult their medical leaders to make "deliberate, risk-based decisions" to change the protective measures set during public health emergencies.
Read next: 'Heartless:' Lawmaker Decries Sudden Stop to National Guard Orders
He outlines three criteria that should be met before commanders make a change:
A decline in reported cases of coronavirus or flu-like illnesses for 14 days.
A decline in documented COVID-19 positive tests as a percentage of total tests over a two-week period.
Capacity for military treatment facilities and local hospitals to test for and treat COVID-19.
"These decisions must be informed by local conditions based on public health surveillance data; guidance from the Centers for Disease Control and Prevention; collaboration with State, territorial, and local authorities; and advice from the command Public Health Emergency Officer and local military medical treatment facility," Esper wrote.
The guidelines, according to the Defense Department, follow the Trump administration's directions for reopening America. But several states that have begun to reopen their economies don't meet the criteria set in those guidelines.
That includes several states with military bases, such as Arizona, North Carolina, North Dakota and Oklahoma. Those states, according to government data, have all seen recent rises in cases of COVID-19, the sometimes fatal illness caused by the coronavirus.
Many military bases have for several weeks been operating under HPCON level Charlie, which means the area is experiencing sustained community transmission during a health crisis. Some units, such as the Army's contingency response forces, were operating under the more restrictive HPCON level Delta.
That condition, which is labeled as red, required them to stay at home to remain protected against the virus in case they needed to deploy.
As areas reopen business and other facilities, Esper said commanders can set conditions that are more stringent than their surrounding communities. They can't, however, set conditions that are less rigorous without approval from their chain of command.
Commanders must also maintain a plan to manage possible coronavirus outbreaks, Esper said, including an ability for contract tracing, patient isolation and quarantine measures for those arriving from COVID-19 hot spots.
Leaders should also prepare to again restrict on-base services.
"If upward trajectories related to these criteria are observed or medical facilities become significantly burdened by the treatment of individuals who have contracted COVID-19, then commanders shall consider increasing the HPCON level," the memo states.
Pentagon leaders could be preparing for the coronavirus crisis to last until summer 2021, Task & Purpose reported Wednesday. That's despite Esper's assurance last week to President Donald Trump that the Defense Department would work toward developing a vaccine by the end of this year.
— Gina Harkins can be reached at gina.harkins@military.com. Follow her on Twitter @ginaaharkins.
Related: Leaked Pentagon Memo Warns of 'Real Possibility' of COVID-19 Resurgence, No Vaccine Until 2021
© Copyright 2020 Military.com. All rights reserved. This material may not be published, broadcast, rewritten or redistributed.