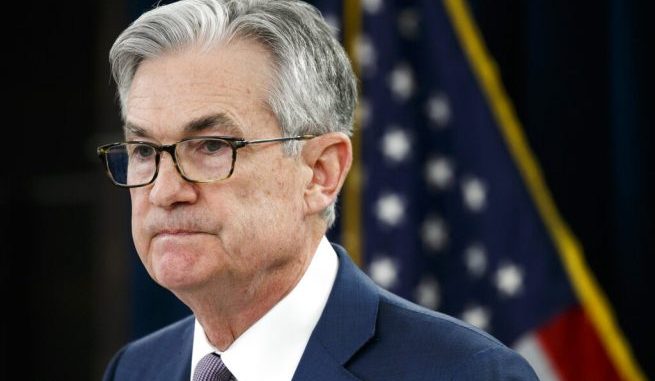 OAN Newsroom
UPDATED 3:48 PM PT — Sunday, May 17, 2020
Federal Reserve Chairman Jerome Powell has claimed a coronavirus vaccine will be necessary for full economic recovery. On Sunday, America's top central banker stated the vaccine will have an important psychological effect on restoring investor and consumer confidence in the U.S. economy.
He also expressed people should not bet against America's ability to recover from pandemic. According to the latest polls, fearmongering in mainstream media has convinced 30 percent of Americans they cannot return to normal life without a vaccine.
Powell has suggested the U.S. economy could recover within the coming year.
"Assuming there's no second wave of the coronavirus, I think you'll see the economy recovery steadily through the second half of this year. For the economy to fully recover, people will have to be fully confident. That may have to await the arrival of a vaccine." – Jerome Powell, Chairman of the Federal Reserve
He noted coronavirus fears continue to stir economic uncertainty, while policy response remains unclear, despite strong macro fundamentals.
Meanwhile, President Trump's former economic adviser Gary Cohn has urged a rollback of economic stimulus policies. On Sunday, he stated the U.S. government must encourage people to go looking for a job as states lift virus related restrictions.
He has argued jobless benefits may discourage people from returning into the workforce. The U.S. labor participation rate was just above 60 percent before the COVID crisis, but is now expected to drop further due to relief payments.
Cohn also decried layoffs of nurses and doctors, as hospitals continue to reserve beds for COVID patients that never arrive.
"If we really want to get the people back to work that Chairman Powell was talking about, we need to reopen the economy. Those people earning less than $40,000 a year are very important, we rely on them. The health care system is 20 percent of our GDP. If we get it back up and running, a lot of people in the lower wage bracket end up working in the health care system. We need that to happen."
– Gary Cohn, former White House economic adviser
Cohn added the U.S. has passed its peak unemployment and must return to robust job creation in the coming months.
MORE NEWS: White House Adviser Navarro Blames China For U.S. Economic Situation