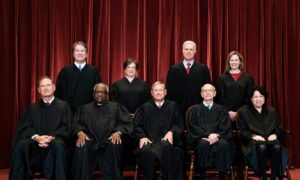 The U.S. Supreme Court on Monday agreed to take a major abortion case and would consider Mississippi's appeal of a lower court ruling that reversed a ban on most abortion after 15 weeks of pregnancy.
The case will grant the Supreme Court the opportunity to reconsider landmark abortion rulings including Roe v. Wade and Planned Parenthood v. Casey. With Roe v. Wade, in a ruling that was derided by conservatives and religious adherents, the high court in 1973 ruled that a woman had a right to an abortion and reaffirmed it about 20 years later.
In a single-line order, the court wrote, "The petition for a writ of certiorari is granted limited to Question 1 presented by the petition."
The announcement Monday is being seen as a boon for opponents to abortion, who have long sought to overturn Roe v. Wade, and who are pinning their hopes on a more conservative Supreme Court after Justice Amy Coney Barrett—who some have said would be more receptive to overturning the ruling—was appointed last year.
The Supreme Court will start hearing arguments in the case in October, and it will be the first abortion-related case since Barrett was confirmed. The other two justices nominated by former President Donald Trump, Neil Gorsuch and Brett Kavanaugh, voted in dissent last year to allow Louisiana to enforce restrictions on doctors that could have closed two of the state's three abortion clinics.
The case stems from the 2018 Gestational Age Act that was passed in Mississippi, which allowed abortions after 15 weeks only in medical emergencies or in cases involving severe fetal abnormality.
Later, Federal District Court Judge Carlton Reeves struck the law down and said that Mississippi "chose to pass a law it knew was unconstitutional to enforce a decades-long campaign, fueled by interest groups, to ask the Supreme Court to overturn Roe v. Wade." The 5th U.S. Circuit Court of Appeals upheld the ruling by Reeves, who was appointed by former President Barack Obama.
But Mississippi in its appeal argued that the ban was intended to protect the mother's health as well as the life of the fetus.
"America cannot be a humane, civilized society if its courts preclude lawmakers from imposing reasonable limits on the taking of innocent life," Mississippi Attorney General Lynn Fitch said.
Mississippi has a separate law that bars abortions after 20 weeks, which is not included in the Supreme Court petition.
The case is Dobbs v. Jackson Women's Health Organization 19-1392.
The Associated Press contributed to this report.