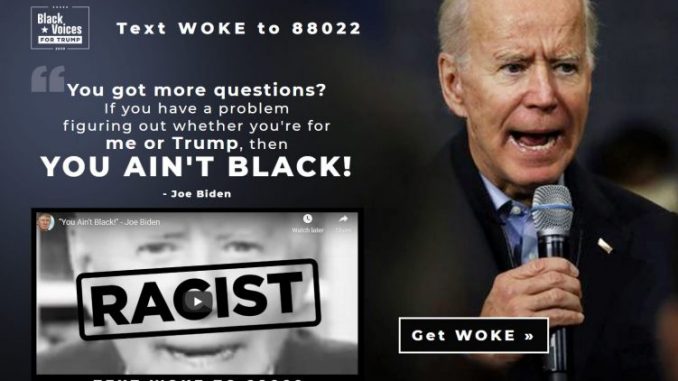 OAN Newsroom
UPDATED 9:52 AM PT — Saturday, May 23, 2020
The Trump campaign has launched a new website, which is taking aim at Joe Biden's most recent blunder. The page, youaintblack.com, was launched Friday following an announcement by President Trump's campaign manager Brad Parscale.
A video on the website accused Biden of racism over controversial remarks he made during a recent radio interview. It also asked visitors to "get woke" by signing up to receive Trump 2020 campaign messages.
The Trump campaign also launched a series of t-shirts, featuring the "You Ain't Black" slogan, within hours of the presumptive Democrat nominee's remarks.
Joe Biden has since walked back comments he made Friday morning, which suggested African American voters who can't decide if they are going to support him or President Trump "are not black." He cited his record with black voters and a repeated endorsement by the NAACP.
Aye bruh @JoeBiden I already told you the #BlackVoteAintFree pic.twitter.com/6ZoIfGFcHR

— Diddy (@Diddy) May 22, 2020
The NAACP has debunked this claim as completely false. They issued a statement, which read, "We want to clarify that the NAACP is a non-partisan organization and does not endorse candidates for political office at any level."
Biden's comments also caused a whirlwind of backlash on social media, with many African Americans, voters and even lawmakers denouncing his remarks.
"Vice President Biden, with all due respect, your latest comments are both pathetic and hurtful," stated Senate candidate John James. "I think that in civil discourse we can have our disagreements on politics, but you challenging me and millions of other people out there on their blackness, descendants of slaves, is some seriously condescending, out-of-touch bull crap."
Vice President @JoeBiden 's latest quote is both pathetic & hurtful. Challenging millions on their blackness is condescending. The GOP was started to oppose slavery. I have the right to think and vote for myself along with all other Americans, including black Americans. pic.twitter.com/RRURX1eMbY

— John James (@JohnJamesMI) May 22, 2020
After the backlash, the former vice president appeared to offer an apology for his remarks. He said, "I shouldn't have been such a wise guy, I shouldn't have been so cavalier," but many still feel as though he went too far.
"Whether you say it in jest or not, no one should qualify who's going to be black or anything else, I think that's inappropriate," said Reverand Al Sharpton. "I think that, clearly, the vice president ought to deal with his record."
Watch: MSNBC's Al Sharpton concedes Joe Biden's comments today were "ludicrous," "inappropriate" pic.twitter.com/uT8cH1qClb

— TV News HQ (@TVNewsHQ) May 22, 2020
It's important to note Biden's campaign has touted his appeal to black voters, citing his former service under Barack Obama. Obama has yet to comment on what many are calling Biden's racist remarks during Friday's interview.
"This is a prime example of how liberal Democrats love to dictate the way black people should think. Well, you know what? I got a message for Joe Biden: I ain't voting for you, but I am black."
– Vernon Jones, Georgia State Representative (D)
I've been black all my life.

But I've never been anyone's property, especially not @JoeBiden.

You're not entitled to black support, Joe. You haven't even earned it. pic.twitter.com/ZcqKC0dMak

— Vernon Jones (@RepVernonJones) May 22, 2020
Meanwhile, Pastor Darrell Scott has called President Trump the most pro-black president in his lifetime. Scott accompanied the president on a trip to Michigan this week, where he made the remarks during a roundtable event.
The pastor and cofounder of the National Diversity Coalition for Trump claimed out of the 12 presidents in his lifetime, President Trump has been the most proactive in tending to the needs of minorities. Scott rounded off his comments by addressing the president directly.
"History is going to be kinder to you, Mr. President, than fake news media is today," he said.
Pastor Darrell Scott: "This President has been the most pro-black president in my lifetime." pic.twitter.com/KeoP7QRN5j

— The Hill (@thehill) May 21, 2020
RELATED: Joe Biden Comes Under Fire For 'Racially Insensitive' Remark