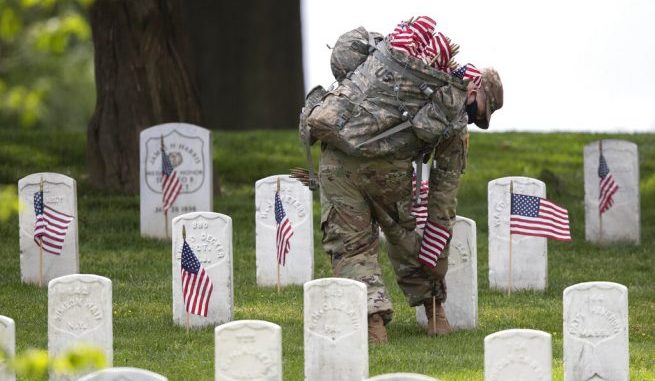 OAN Newsroom
UPDATED 10:35 AM PT — Saturday, May 23, 2020
A group of soldiers is honoring the men and women who have lost their lives in service to America. The Old Guard participated in Flags-in Day this week ahead of Memorial Day at Arlington National Cemetery in Virginia, as they've done for more than 50 years.
Soldiers from 3d U.S. Infantry Regiment @USArmyOldGuard place flags at every gravesite at Arlington National Cemetery.

(U.S. Army video by Les Owen) pic.twitter.com/RSB7glpAOB

— Arlington National Cemetery (@ArlingtonNatl) May 22, 2020
Although the cemetery is closed to the general public this year, the Old Guard showed to place over 228,000 flags at the headstones of fallen service members.
"I think it's especially meaningful with how the cemetery is closed to visitors right now, we still come out and we still place the flags. It's not about the show, it's not about the cemetery looking great. It's about recognizing and honoring service, the sacrifice, of each person here within the cemetery." – Chaplain Joseph Mason, 3rd U.S. Infantry Regiment
This morning the @USArmyOldGuard honored our nation's fallen military heroes with Flags-In at the United States Soldiers' and Airmen's Home National Cemetery in Washington, D.C. (U.S. Army photos by Staff Sgt. Maryam Treece) #honorthem #memorialday #proudtoserve pic.twitter.com/pOEBSYYaQA

— MDW USARMY (@MDW_USARMY) May 21, 2020
The Old Guard, or the 3rd U.S. Infantry Regiment, was set up as the official ceremonial unit for the Army in 1948.