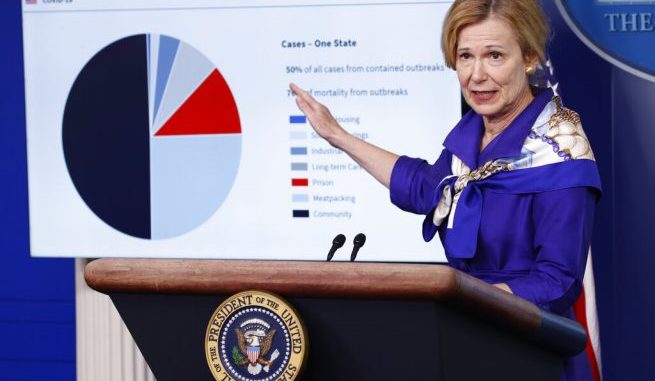 OAN Newsroom
UPDATED 11:17 AM PT — Saturday, May 23, 2020
Despite social distancing efforts, some areas are still facing an increase in coronavirus cases and have been labeled as potential "hot spots." During Friday's White House coronavirus task force briefing, Dr. Deborah Birx outlined the top three areas officials are concerned about.
"The number one metro with the highest positivity rate is District of Columbia, which includes Northern Virginia, Montgomery and PG (Prince George's) County," said Dr. Birx.
She compared the CDC's cases to other areas like New York and New Jersey, which have seen the number of daily cases per 100,000 people drop by nearly 80% since early April.
However, cases in some hot spot cities, including Baltimore, Chicago and Los Angeles, have yet to fall below 10% of the population.
L.A., Chicago and D.C. all went on lockdown in March and saw an initial decrease in the spread of the infection, only to reach a plateau in recent weeks.
"Even though Washington has remained closed, L.A. has remained closed, Chicago has remained closed, we still see these ongoing cases," explained Dr. Birx. "The CDC is working with the local areas to really understand where these new cases are coming from and what we need to do to prevent them in the future."
While Los Angeles Mayor Eric Garcetti recently came under fire for extending his city's lockdown, Chicago Mayor Lori Lightfoot and D.C. Mayor Muriel Bowser have released tentative reopening plans.
The CDC is working with the White House moving forward to ensure hard-hit areas receive testing supplies as soon as possible. This will help diagnose and trace cases, especially amid a rise in asymptomatic cases.
"There's a lot of healthy people out there with COVID that look healthy, so we're asking continuously for you all to be outside, enjoy your Memorial Day weekend," added Dr. Birx.
The doctor finished by saying she believes the American people are strong enough to be able to maintain social distancing as the country continues to recover.
Dr. Birx: "As you go out this weekend, understand you can go out. You can be outside. You can play golf. You can play tennis with marked balls. You can go to the beaches if you stay six feet apart."

Full video here: https://t.co/juaLaeaW65 pic.twitter.com/SM0dLPiw1f

— CSPAN (@cspan) May 22, 2020
MORE NEWS: Dr. Fauci: Lockdowns Could Cause 'Irreparable Damage' If Imposed Too Long