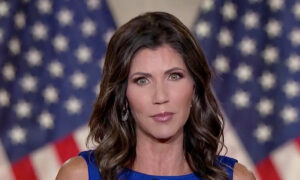 April's jobs report was a major miss. While over a million were expected, the actual number fell far below the mark. The Labor Department says U.S. private employers added just 266,000 jobs. The U.S. Chamber of Commerce says the federal government should end the $300-a-week jobless aid to ease the labor shortage.
Classrooms are at the center of a heated debate. The 1776 pledge to restore patriotic education faces off against calls for critical race theory and antiracist teaching in schools, citing The New York Times's 1619 Project.
South Dakota Governor Kristi Noem announced on Twitter that she's the first candidate to sign the 1776 pledge to save America's schools. She wrote: "Teaching our children & grandchildren to hate their own country & pitting them against one another on the basis of race or sex is shameful & must be stopped." On April 19, the Education Department outlined new priority criteria for a $5.3 million American History and Civics Education grant. They include materials for K–12 educators to use, citing the 1619 Project and the works of critical race theorist Ibram X. Kendi.
Representative Mark Greene from Tennessee just introduced a bill to block U.S. military academies from teaching critical race theory. He warns that, if this is allowed to continue, it could divide America and destroy the military's ability to unite as one body to defend America.
Tune into Deep Dive as we explore these topics and more.
Subscribe to our YouTube channel for more in-depth coverage. For more news and videos, please visit our website and Twitter.