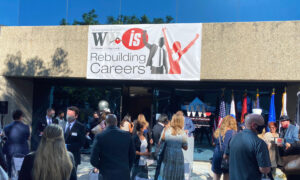 An Orange County, Calif. organization seeks extra funds to provide 46 low-income seniors with the employment skills they need to return to the workforce.
The Working Wardrobes Senior Community Service Employment Program hopes to continue its partnership with the County of Orange to provide residents aged 55 and above with workforce readiness skills.
"The goal of the program is to [help] individuals who have been out of work, who have gaps of employment [and] need increased marketable skills," program coordinator Albert Stone told The Epoch Times.
Participants are assigned with part-time jobs at one of 40 non-profit and government organizations that serve in partnership with the program, such as The Red Cross. The positions are intended to provide them with workforce readiness while receiving an income, Stone said.
"At the end of the day, we treat each participant as an individual," he said. "We work to remove barriers to employment and provide them all the resources necessary for them to find a job. The end goal is not always employment, it's removing barriers to get these people able to conduct a regular job search, and to get back into the workforce."
Participants are also given donated clothing to wear for jobs and interviews.
The program has received federal funding approved by the Orange County board of supervisors for more than a decade.
"We've always supported the mission of working wardrobes and what they do," Supervisor Lisa Barlett told The Epoch Times. "A lot of times individuals that want to get back into the workforce, they don't have the means to go out and buy a wardrobe to interview, and to start working again, so this takes the burden off of them."
Upon entering into the program, a pre-assessment is required to ensure a participant is eligible financially and is a good fit, Stone said. A focus of the program is enrolling people that may face barriers such as illiteracy, a disability, or are veterans.
Participants have a durational lifetime limit of 48 months, Stone said. This duration of time allows for members to receive the training and skills needed to achieve success, he added.
The board of supervisors during its May 11 meeting will discuss re-funding the program for another year.