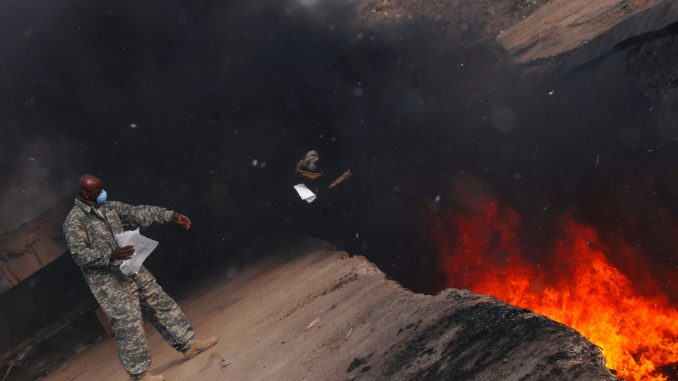 AUSTIN, Texas — The Department of Veterans Affairs said a registry for veterans exposed to airborne toxins now includes more than 200,000 people as advocates contend better health care is what veterans need, not lists.
"I don't feel that it's a milestone. It may be for them, but not for anyone sick and dying," said Rosie Torres, co-founder of Burn Pits 360, a nonprofit advocacy group that fights for VA health care benefits for veterans exposed to smoke from burn pits during the Iraq and Afghanistan wars.
The military used burn pits as waste disposal sites on bases primarily in Iraq and Afghanistan to dispose of most of the trash created there, which included diesel generators, medical waste, computers and day-to-day trash from service members. The smoke generated from the pits contained toxins that can cause short- and long-term health complications.
The registry, which began in June 2014, allows veterans and service members who deployed to certain regions in Southwest Asia as early as 1990 to self-report their exposures and health concerns in an online questionnaire that can be used to initiate discussions of health concerns, according to the VA's news release about reaching more than 200,000 registrants.
"It helps the VA check off the box, but it doesn't help any one of our families in any way, shape or form," said Torres, whose husband Army Reserve Capt. Le Roy Torres spent years fighting the VA to connect his chronic respiratory and health conditions to his service in Iraq.
About 3.5 million veterans and service members are believed to have been exposed and could potentially join the registry, according to VA estimates. The registry website states 203,525 have filled out the questionnaire as of April 28, or nearly 6% of those eligible.
VA Secretary Robert Wilkie said in a statement that veterans who join the registry can gain further understanding of "the impact of deployment-related exposures on health."
"Concerns about the long-term effects of exposure to burn pits remain a priority," he said.
Though Burn Pits 360 advocated to Congress for the registry, Torres said it is not as helpful as when it was conceived because the list doesn't track mortality nor is it connected to any epidemiological studies.
The VA did announce in July that its new Airborne Hazards and Burn Pits Center of Excellence in New Jersey will analyze the registry data to monitor VA's overall clinical response to exposure concerns.
Tom Porter, executive vice president of government affairs for Iraq and Afghanistan Veterans of America, or IAVA, said the one of the biggest problems with the registry is it is voluntary and it requires people to know about it.
As they have in the past, IAVA will continue to ask the VA to describe the scope of its outreach regarding the registry, he said.
Between his work with IAVA and as a commander in the Navy Reserve, Porter said he travels the country often and always asks veterans whether they know about the registry.
"Nine out of 10 times the answer is no," he said. "We looked around and we just knew that the communications coming out of VA were very lacking because they … didn't have any campaign about this registry and why people should sign up for it."
Last year, IAVA and about 15 other veteran service organizations campaigned for the Burn Pits Accountability Act, which would require the Defense Department to ask service members about exposure during health assessments and enroll them in the registry, if applicable. The law passed as part of the National Defense Authorization Act of Fiscal Year 2020.
Just in advocating for the accountability act, Porter said he watched the registry numbers rise as IAVA representatives addressed the issue on Capitol Hill and in the media.
"You can't just have a program and expect people to go find it," Porter said. "There needs to be aggressive outreach to those that are affected."
The VA credited the increase in registrants to a Defense Department letter sent to more than 700,000 active-duty, Guard, and Reserve members to encourage participation, according to the department's news release.
IAVA and Burn Pits 360 are part of a coalition of 25 veteran service organizations advocating for toxic exposure support from Congress. The group planned to announce "ambitious legislation" in March though the coronavirus pandemic has put those plans on hold, Porter said. The legislation is supported by comedian Jon Stewart, who testified before Congress on behalf of similar legislation for first responders exposed to airborne toxins during the aftermath of the 9/11 terrorist attacks.
"The blueprint is already there," Torres said of following the hard-fought success of the first responder bill after years of failing to pass through Congress. "It's great to get their support because they've lived it."
Burn Pits 360 also is drafting legislation to grant presumptive connections between certain exposures and cancers, Torres said. Now, the VA handles each veterans' claim on a case-by-case basis, which can be slow and uneven, she said
Porter said IAVA and other members of the coalition know it's going to take a lot of pressure and public education to get legislation about toxic exposure through Congress.
"It's all part of paying for war. Don't forget about those obligations when we get back," he said.
Read more: Army Pilot's Invention Enables Hyper-Realistic Low-Visibility Flight Training
© Copyright 2020 Stars and Stripes. All rights reserved. This material may not be published, broadcast, rewritten or redistributed.