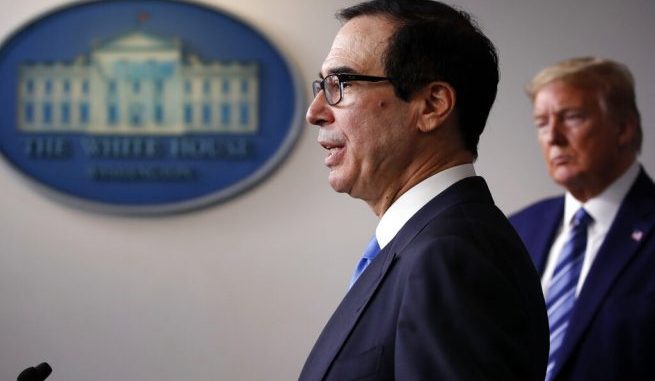 OAN Newsroom
UPDATED 9:40 AM PT — Monday, May 11, 2020
According to Treasury Secretary Steven Mnuchin, it's difficult to predict what's going to happen to the economy next. In an interview Monday, he said economic models now have "nothing to do with normal factors." Instead, they are based on the closing and reopening of the economy.
Mnuchin noted that the administration is "very sympathetic to workers." He said if the numbers are worse next month, they will get better heading into the summer.
The Treasury secretary pointed to the progress made so far, including dispersing the second round of Paycheck Protection Program (PPP) funding and around 140 million Americans receiving their economic stimulus payments.
130 million Americans have received Economic Impact Payments, worth more than $218 billion, in less than 5 weeks—record time. More payments are on their way to the American people! ???????? https://t.co/gKvgkUJBdt

— Steven Mnuchin (@stevenmnuchin1) May 8, 2020
"We have lots of money going into the economy because of the facilities that the Fed has announced with the Treasury," he explained. "We've unlocked the bond markets, so you have companies like Boeing being able to borrow unprecedented amounts of money and I think this is going to have a big impact on helping the economy."
Mnuchin went on to say what President Trump is calling for now is to step back and consider what to do in the next phase before spending another trillion dollars or more of taxpayer money. He noted the president is determined to "do whatever we need to do."