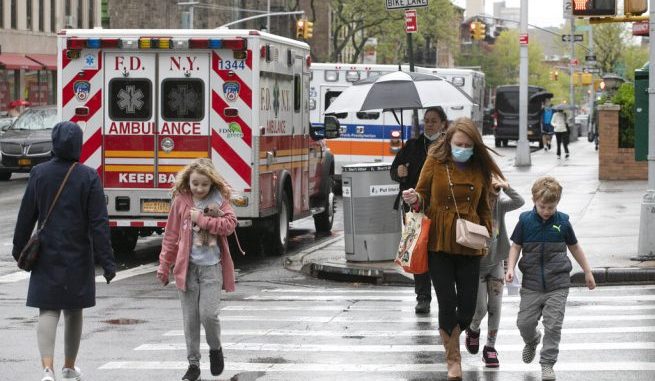 OAN Newsroom
UPDATED 2:43 PM PT — Friday, May 8, 2020
Governor Andrew Cuomo addressed the state of the coronavirus in New York on Friday. During his daily briefing, he said the failure to test European tourists early on contributed to the state's outbreak.
According to reports, about 3 million tourists came through the state airport from December to March without being screened.
The governor noted protective measures to halt international travel should have been put in place sooner.
"You put 3 million Europeans coming into this market undetected – you don't tell anyone, there's no precautions, there's no testing – and then you let people circulate in this dense environment, you're going to have the virus spread," stated Cuomo. "That's exactly what happened."
Holding a briefing with updates on #Coronavirus. Watch Live: https://t.co/hGo5gQWYeh

— Andrew Cuomo (@NYGovCuomo) May 8, 2020
The state recently reported declining numbers of COVID-related deaths. New York's "pause" order will expire on May 15th.
Meanwhile, a 5-year-old boy in New York became the first child in the country to die from a COVID-19 related syndrome. Governor Cuomo made the announcement during his briefing, saying the cause of death was "pediatric multi-symptom inflammatory syndrome."
According to Cuomo, the child's passing disproved the belief that children were just "vehicles of transmission" and could not be affected by the virus.
"This information suggests we may want to revisit that 'fact,' that assumption," he said. "If you see any of the symptoms that are on the chart that your child is evidencing, caution should be taken."
Parents — seek care immediately if your child has these symptoms: pic.twitter.com/1hhxZjLAem

— Andrew Cuomo (@NYGovCuomo) May 8, 2020
The syndrome mirrors symptoms of other inflammatory illnesses. The State Department is investigating several related cases in children across New York.
RELATED: N.Y. Doctors See Higher Number Of Children Experiencing Condition Likely Linked To COVID-19