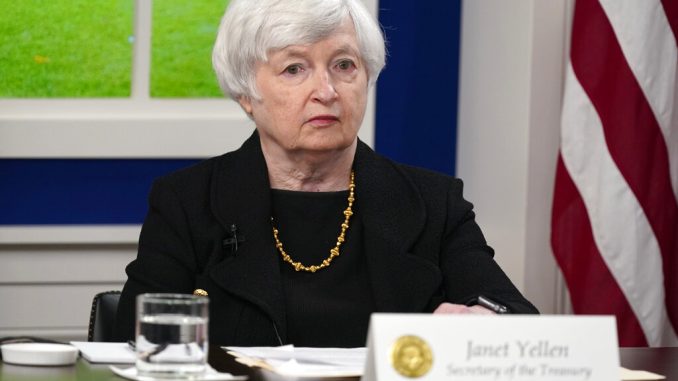 OAN Newsroom
UPDATED 9:05 AM PT – Monday, November 15, 2021
"I think it's- it's- it's important to realize that the cause of this inflation is the pandemic."
Treasury Secretary Janet Yellen is blaming the rapid inflation seen in the U.S. economy solely on the COVID-19 pandemic. During an interview Sunday, the 75-year-old said if the country wants to see inflation go down it will all depend on how Joe Biden and his administration continues to deal with the pandemic.
Yellen emphasized Biden's top priority in office was getting Americans vaccinated and back to work. The secretary then claimed unemployment is down 10 percent since March, yet inflation levels only continue to rise.
"When the economy recovers enough from COVID, the demand patterns, people go back to eating out, traveling more, spending more on services, and the demand for products, for goods begins to go back to normal," she stated. "And also, labor supply has been impacted by the pandemic. Labor force participation is down; it hasn't recovered."
Yellen repeatedly stressed once people start spending more on services and the demand for products goes back to normal that inflation will also level out, but inflation in itself is why many Americans are making efforts to save their finances as opposed to spending them.
In an interview Sunday, MSNBC host Stephanie Ruhle said the government predicted economic recovery would be challenging, adding that's why Americans received stimulus checks throughout last year.
In November 2020, inflation was at a relatively normal level and no vaccine existed. Yet, somehow Yellen still insists handling the pandemic, which in Biden's eyes means getting more Americans vaccinated, will solve all these cost issues.
"This time last year when you and I were talking nobody had a vaccine," Ruhle stated. "Now 200 million Americans do and we're seeing this push of demand and that's pushing up pricing."
Meanwhile, the secretary remains confident inflation will return to a normal level at least by the end of 2022 as long as Biden picks a credible candidate to run the Federal Reserve.