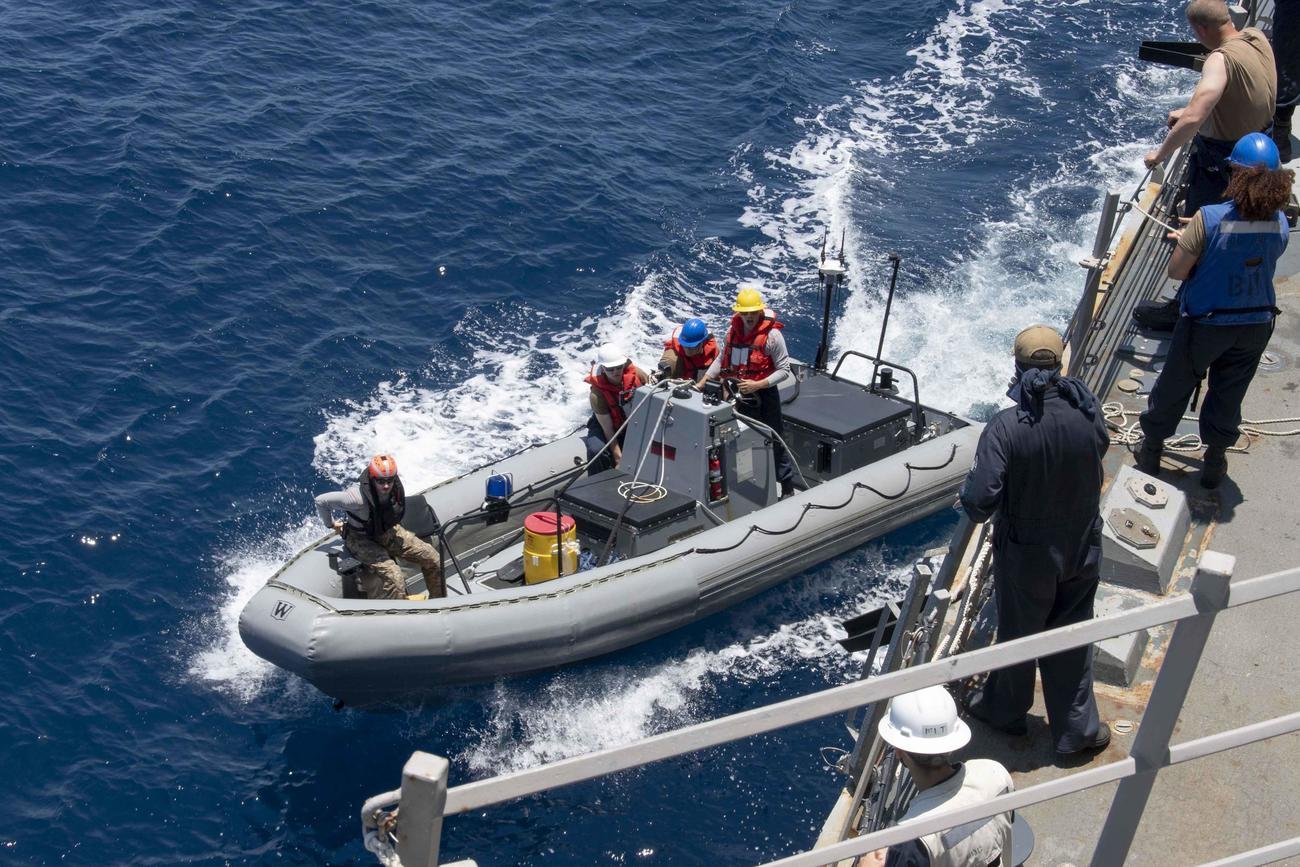 How a Navy destroyer operating in the Pacific picked up coronavirus cases remains a mystery, but the top defense official said this week that a drug-smuggling vessel could be to blame.
The destroyer Kidd became the second deployed Navy warship to head back to port in about a month after dozens of cases of COVID-19, the illness caused by the coronavirus, broke out among the crew.
More than 30 days passed between the Kidd's last port visit in Hawaii and the first crew member showing COVID-19 symptoms on April 22, USNI News reported, raising the possibility that asymptomatic sailors were unwittingly spreading it. But Defense Secretary Mark Esper said leaders are also considering another possibility behind the outbreak.
"A theory is that they could've picked it up on a counterdrug mission where they pulled over a vessel possibly carrying drugs and they boarded the vessel and may have come in contact with somebody carrying the virus there," Esper told reporters on Tuesday.
Related: Why the Navy Has Stopped Releasing Ships' COVID-19 Case Counts
The Kidd, which is based out of Washington state, first deployed with the Theodore Roosevelt Carrier Strike Group in January, but was later tasked with heading to the eastern Pacific for counter-narcotic missions in U.S. Southern Command.
The Trump administration has ramped up those missions in the Western Hemisphere, even as the globe deals with the coronavirus pandemic. Esper said last month when President Donald Trump announced a buildup of military counterdrug operations that criminal organizations will leverage governments being distracted by the coronavirus to move more drugs.
The Kidd is now in San Diego where its crew members are being treated.
"All the proper protocols are being followed to make sure that we get her back to sea as soon as possible," Esper said.
The Navy's other vessel to see a big coronavirus outbreak, the aircraft carrier Theodore Roosevelt, has been sidelined in Guam for more than a month. Crew members are starting to move back out to the ship, but nearly all the roughly 4,800 members had to be evacuated and tested for COVID-19 while that ship was disinfected.
More than 1,100 members of the Roosevelt's crew tested positive for the virus. At least 78 members of the Kidd's much-smaller crew of about 300 tested positive. That's according to the last figures the Navy released on the outbreaks on April 30. The service has since stopped sharing updates.
Joint Chiefs Chairman Army Gen. Mark Milley said on Tuesday that he's confident the Navy's strict new protocols for keeping the novel coronavirus off its vessels will help prevent future outbreaks.
On Monday during a virtual event hosted by the Brookings Institution, Esper went as far as to say that deployed Navy ships are the "safest place to be" during the global pandemic.
"Of the 90 ships we have at sea, we've only had two that have been affected," Esper said. "… Two ships out of I think 94 is a pretty good record."
— Gina Harkins can be reached at gina.harkins@military.com. Follow her on Twitter @ginaaharkins.
Read more: Navy Ships Transit Through Barents Sea Near Russia for 1st Time Since Cold War
© Copyright 2020 Military.com. All rights reserved. This material may not be published, broadcast, rewritten or redistributed.