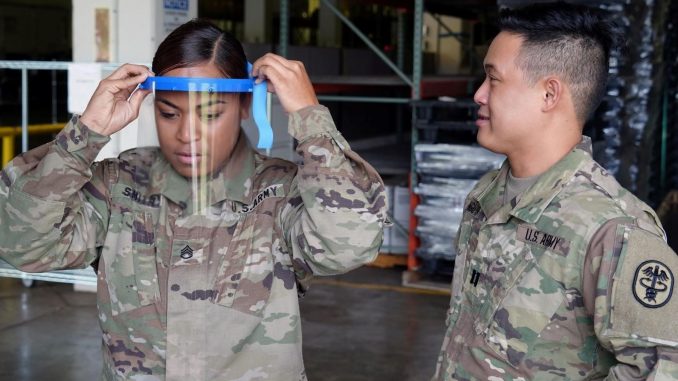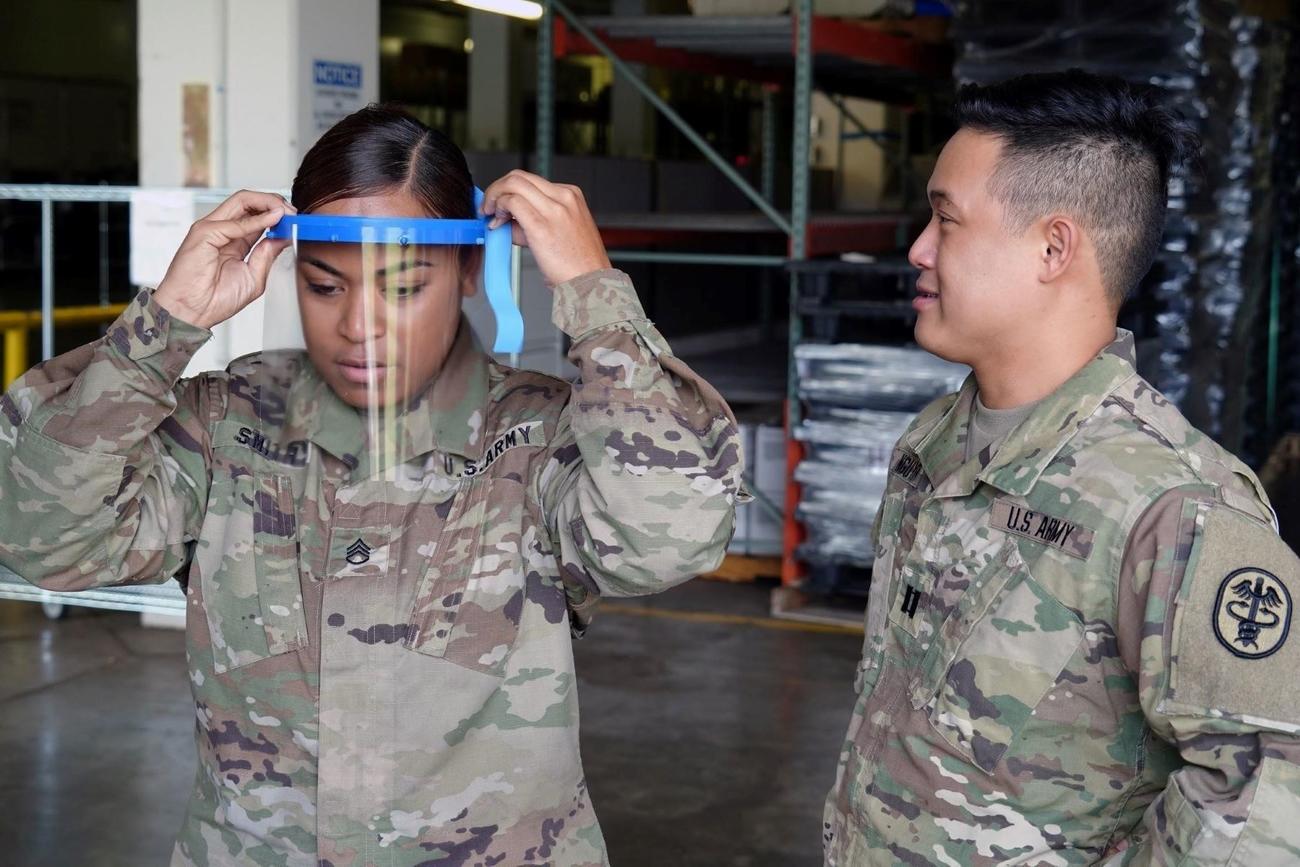 The U.S. military has revved up its ingenuity engine to create some notably fresh approaches to fight the novel coronavirus pandemic.
The military has a storied history of letting necessity be the mother of invention — a short list of household technologies that began as military tools includes duct tape, digital photography and walkie-talkies. And amid the global pandemic, the services have shifted their inventive energy into overdrive.
Over the past couple of months, the Army, Navy, Air Force, Marines and Coast Guard have found ways to repurpose existing technology and inspire new innovations for preventing the spread of the virus and treating the patients who suffer the most from its brutal effects.
Perhaps the most prominent technology put to work for virus response has been 3D printing, used by the military to craft parts needed for personal protection equipment and medical systems. Another theme has been enterprising fashion solutions for protective gear. Here are our top eight military technological developments — at least so far.
1. Printing Ventilators
One of the biggest challenges facing the medical community has been the shortage of ventilators to help patients breathe since COVID-19 attacks the lungs.
To help with this, Army Research Laboratory scientists recently teamed up with civilian partners to create 3D-printable, low-cost emergency ventilators.
"We got together with the hospital staff here and found one of the key issues people die from is the lack of ventilators," Tonghun Lee, an Illinois-based researcher for ARL's Combat Capabilities Development Command, said in a recent Army news release.
Related: Army to Award Cash Prizes to Two Firms for Their Innovative Ventilator Designs
Lee and other Army researchers worked with medical professionals and manufacturers, as well as engineers from the University of Illinois, to perfect a handheld gas ventilator, dubbed the Illinois RapidVent.
The team created the device in less than a week and has completed two million test breathing cycles, the release states. It can be plugged into an oxygen source found in most hospital rooms attached to a tank of oxygen.
It's really designed to be used if a hospital becomes overwhelmed and patients are forced to receive care in hallways, according to Eric Wood, an ARL researcher.
"The really sick patients would stay on the full ventilators," Wood said in the release. "Our [3D-printed ventilators] are intended for patients who need a ventilator but are not sick enough to displace those who are really sick, but still need a ventilator to survive."
2. Treating Eight Patients with One Oxygen Tank
The Naval Surface Warfare Center Corona Division in Norco, California, designed a portable oxygen manifold that's capable of feeding oxygen to eight COVID-19 patients at a time from a single tank.
The device, which features multiple flow-rate valves and eight outputs, was created in one day at the request of Marines with Combat Logistics Regiment 15 working to equip Naval Hospital Camp Pendleton's stabilization ward to be prepared for patient overflow, according to a recent NSWC news release.
Equipping a hospital with 20 portable oxygen manifolds could treat 160 COVID-19 patients at a time for a cost of about $375, according to the release.
"It's important to have a selection of viable solutions available at all times," said Ryan Olsen, chief scientist for NSWC Corona's expeditionary systems engineering division. "This is a fast, viable and inexpensive solution."
3. Marines Go 3D
Marine Corps Systems Command worked on a similar effort with the University of California San Diego Medical Center to make a device that would assist with simultaneous ventilation of multiple patients.
In mid-March, Dr. Sidney Merritt, an anesthesiologist at the university's medical center, provided design files for the ventilator splitter, based on a test print by the institution's engineering team.
MCSC's Advanced Manufacturing Operations Cell, working with the Naval Information Warfare Center Pacific, 3D-printed several prototypes using different materials.
The process took less than a day, and the 3D-printed ventilator splitters were scanned to ensure accuracy with the design files and then brought to UCSD Medical Center for fit testing and further design analysis, according to the release.
4. Filling the Need for Face Masks
Preventing the spread of COVID-19 has also been a huge challenge for the services, one that has drastically changed everyday life for service members.
In addition to ordering strict social-distancing procedures, the Pentagon recently announced it has delivered more than 2.5 million non-medical face coverings to all the services.
But across the military branches, there have been many smaller efforts to design and test face coverings to satisfy the enormous need for this new uniform accessory.
The Army will field about 180,000 cloth facing coverings between May 1 and June 19 across the service, Army spokeswoman Lt. Col. Crystal Boring told Military.com recently.
After testing six prototypes, the Army's CCDC's Soldier Center at Natick, Massachusetts, selected the one most preferred by soldiers for immediate production.
The effort, which also involves Project Manager's Soldier Survivability at Fort Belvoir, Virginia, will soon produce about 10,000 face coverings that are scheduled to be fielded to new soldiers in Basic Combat Training at Fort Benning, Georgia, Molly Richards, a research chemical engineer at the Soldier Center, said in a recent Army news release.
5. Creating Face Shields
Marines from the 1st Marine Aircraft Wing at Marine Corps Air Station Futenma on Okinawa, Japan, worked with the U.S. Naval Hospital there to design face shield frames.
Sgt. Blaine E. Garcia fashioned several 3D-printed prototypes before settling on a final design, which features an arc-shaped piece of plastic with a series of pegs and hooks along the outside edge, according to a recent Marine Corps news release.
"We send the frames to the hospital. … They'll clean them and use a plastic similar to the overhead transparencies they use in schools, with holes punched in them to fit over the knobs on the front," Garcia said in the release.
6. Building a Better 3D-Printed Mask
Meanwhile, the Coast Guard Academy's engineering department has embarked on an effort to find the best 3D-printed mask.
The goal is to determine whether any of the many existing 3D-printed mask designs can be compared to the N95, which is designed to filter out 95% of the tiny particles the wearer breathes in and out.
So far, the engineering department faculty has tested plastic materials used to make Legos and water bottles for the replaceable two-layer insert with the hope of finding a material that can be certified for government use.
"There are many designs out there for 3D-printed masks, but none we're aware of at this time that have been approved in a clinical setting," said Master Chief Dale McCurry with the academy's engineering department. "We have access to a lot of equipment, 3D printers, various materials, so we decided to take this challenge on as a department."
Cmdr. Michael Plumley, head of the mechanical engineering department at the academy, said ultimately the idea is to share the design so tens of thousands of masks could be printed across the country.
7. Turning a CONEX Box into a Transport Capsule
Aside from the mask effort, Air Force personnel recently focused on containment during flight by building and testing a negatively pressurized conex (NPC), a shipping container retrofitted for transporting up to 24 isolated COVID-19 patients on a C-17 Globemaster III aircraft without infecting aircrew or contaminating the aircraft.
Members of the 28th Test and Evaluation Squadron, assigned to the 53d Wing at Eglin Air Force Base, Florida, worked with other units across the country to deliver the prototype NPC on April 21 to Program Executive Office for Agile Combat Support for testing at Joint Base Charleston, South Carolina, according to a recent Air Force news release.
Sealed negative pressure spaces are used to contain airborne diseases such as COVID-19 by creating a low-pressure vacuum intended to suck out contagions exhaled by patients and vent them safely into the air.
By April 30, the teams had ensured that the NPC was able to contain the virus and was safe for aeromedical teams to use during flight. The device is now headed to its operational use evaluation phase, according to the release.
"The team in the 28th TES is no stranger to bio-containment," Capt. Conor Favo, division chief, 28th TES Agile Combat Support, said in the release. "We provided this support when developing the Transportation Isolation System (TIS) for the Ebola crisis, and we're making every effort to ensure our fellow service members have safe transportation during these times."
8. Homemade Hand Sanitizer
Some protection efforts are not as complicated. Airmen from Joint Base Charleston made their own hand sanitizer to help ease the demand on the sought-after product.
Air Force Tech. Sgt. Austin Barkdoll, an instructor with the 373rd Training Squadron, said the process was "fairly easy" as long the ingredients are measured precisely in a sterile environment, according to a Defense Department news release.
"We figured out — with some research, looking at the World Health Organization and other agencies out there — there was a more cost-effective and timely way for us to supply more DoD personnel with hand-sanitizing solution if we did it ourselves," Barkdoll said in the release. "Most importantly, by making our own, we are able to do our part to keep commercially produced hand-sanitizer available for our local medical community."
— Matthew Cox can be reached at matthew.cox@military.com.
Read More: Army's Futuristic Combat Goggles Can Screen Soldiers for Fever
© Copyright 2020 Military.com. All rights reserved. This material may not be published, broadcast, rewritten or redistributed.