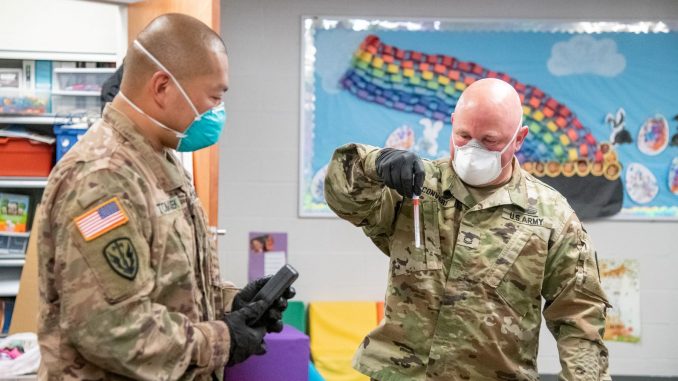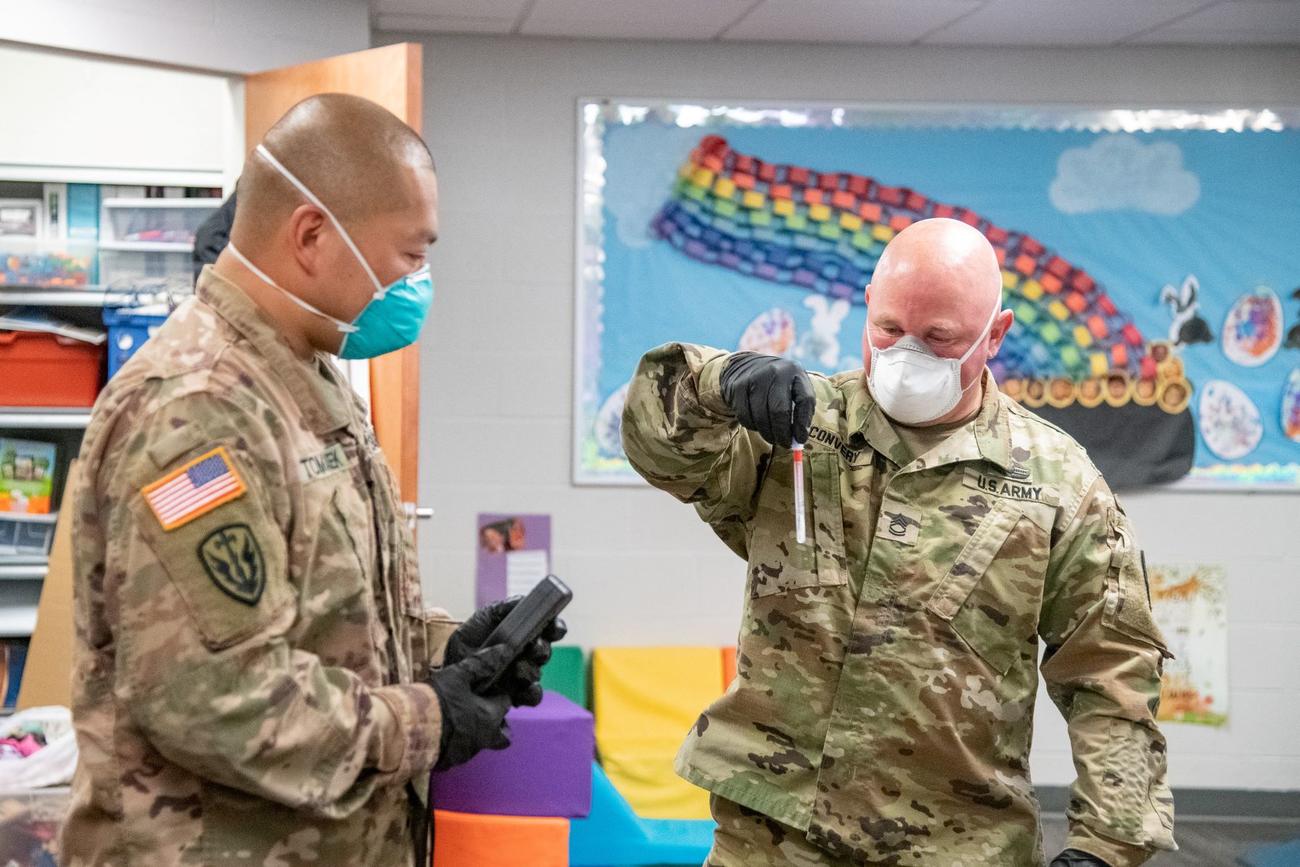 After Staff Sgt. Chris Hamrick used tape to seal the doors to a conference room in the Woody Williams Operations Center at Yeager Airport, Sgt. 1st Class Brian Tomasek tapped a command on a keypad, activating a squat, heavy-looking device called an aerosolized hydrogen peroxide unit, resting on the floor inside.
In a few seconds, the aHP unit began to emit a stream of fog, which slowly moved through the room, eventually forming a thick cloud.
For humans, "it's safe and nontoxic," Tomasek said, as the mist began to thicken inside the room. It's a death sentence, however, for viruses, spores, bacteria, fungi and mycobacteria exposed to it.
Thanks to innovative new decontamination applications developed by West Virginia National Guard soldiers, the four aHP units bought in the early days of the coronavirus pandemic are proving their worth in slowing its spread while stretching taxpayer dollars.
Innovations already implemented have kept the four aHP units well-booked. Three more are on order.
On Friday, three Guard soldiers were at the Charleston airport as part of a team exploring ways to effectively use aHPs to decontaminate HVAC systems in buildings. The operations center, used by military units on training missions staged from Yeager, was vacant Friday, making it an attractive test site. Next week, unoccupied offices in the nearby Federal Aviation Administration building will be used.
"We're trying to find out how much hydrogen peroxide is needed for how long, to be effective in different HVAC systems," Capt. Dwight Siemiaczko said.
Having that knowledge in hand before being tasked with decontaminating a building would save time and, possibly, lives, he added.
AHP systems are typically smaller than the WVNG units and operate in fixed locations, usually within hospitals and medical clinics, where they are used to disinfect medical equipment and surgical instruments. The portable nature and higher fogging capacity of the Guard's aHP units have made it possible to use them in a variety of new ways.
Earlier in the month, for instance, WVNG personnel began using their aHP units to sanitize, decontaminate and make possible the reuse of N95 protective masks — the gold standard in facial protective gear for front-line health care providers. The masks are placed on racks inside a trailer with an aHP unit, and the trailer doors are closed and sealed.
Outside, a soldier using a keypad operates the aHP remotely, pumping a hydrogen peroxide fog into the trailer until it reaches the desired concentration of 7 percent. Next, the fog is held within the trailer for a period needed to effectively decontaminate the gloves, with additional fog pumped in as needed to maintain the appropriate virus-killing concentration. Finally, the trailer is allowed to air out.
Followup tests have shown that the masks can be reused as many as 20 times using the 45-minute process, Siemiaczko said. Nearly 1,000 masks have gone through the decontamination process so far.
Two weeks ago, in an unused hangar at Yeager Airport, the WVNG put into operation another new application for their aHP gear. There, the units were placed inside ambulances, police cars and public buses, all of which might have been exposed to people who had contracted, or were carrying, the coronavirus.
So far, National Guard soldiers have sanitized and decontaminated more than 114 emergency and public-use vehicles at Yeager and in Huntington using the three-phase process.
This article is written by Rick Steelhammer from The Charleston Gazette, W.Va. and was legally licensed via the Tribune Content Agency through the NewsCred publisher network. Please direct all licensing questions to legal@newscred.com.
© Copyright 2020 The Charleston Gazette, W.Va.. All rights reserved. This material may not be published, broadcast, rewritten or redistributed.