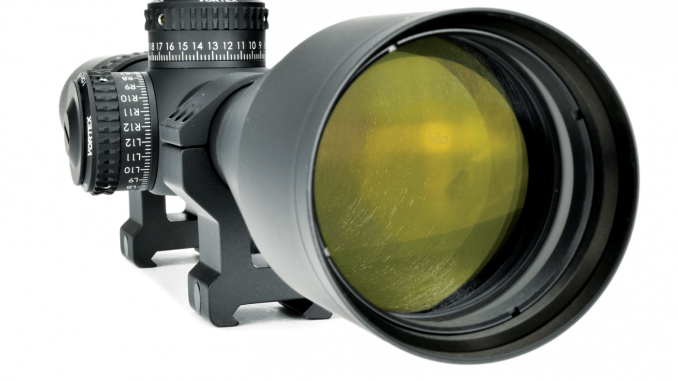 AMG is an acronym for Advanced Manufacturing Group. This is a group within Vortex's engineering department that works on projects to be U.S.-made/made with U.S.-sourced parts to produce the highest level of performance of any optic on the market. This Razor HD AMG 6-24×50 is, indeed, a premium riflescope. Every single part of this AMG scope is made here, except for the German-manufactured reticle, which is superb. The AMG certainly imparts a sense of pride to the patriotic. However, being a rare, domestically produced riflescope, alone, will not sell it … especially at its suggested retail price of $2,500.
STREAMLINED SCOPE
The 6-24×50 uses a one-piece 30mm tube with a 4x erector assembly. The reticle is in the first focal plane, so it increases with size in relation to the target, allowing range estimation at any magnification. This streamlined riflescope is a refreshing departure from the trending giant 34mm tube offerings popping up frequently now. The available 94.5 MOA of elevation adjustment is plenty to get well past 1,000 yards with most popular long-range cartridges; and, in conjunction with the excellent EBR-7B reticle and an angled base, your rig might be capable at distances up to a mile. The stainless steel coil erector springs withstand much higher stress than traditional flat erector springs and allow for much more internal adjustment.
At only 28.8 ounces, the Razor HD AMG is perfect for more-nimble rifles such as the supremely accurate Steyr SSG you will see in the accompanying photos. It is a full 20 ounces lighter than the respected and well-vetted Razor HD Gen II 4.5-27×56.
INFINITE ADJUSTMENTS
The L-Tec elevation turret on the AMG is excellent. The turret must be pulled up to unlock and adjust. A unique feature of this scope is that there are no clicks when setting your zero. Remove the top cover and loosen the three set screws on the cap. Use the included L-Tec tool and turn the brass center screw to make the adjustments changing the point of impact. No clicks are felt when making this adjustment. With clicks, you are limited to a finite amount of adjustments. With the infinite amount of adjustment in the clickless zero system, you can always attain your exact intended zero. Silicon-brass turret screws have a permanent dry film lubricant, and screw threads are precision-machined to sub-2 micron (less than 78-millionths of an inch) tolerances for ultra-smooth movement. Hardened steel pads on the end of the turret screws mate with a steel ring on the erector tube for steel-on-steel contact and prevent galling for overall long-term reliability.
"This streamlined riflescope is a refreshing departure from the trending giant 34mm tube offerings popping up frequently now."
The left turret adjusts parallax down to 25 yards and contains the pop-out adjustment dial for the illumination of the superb, German-made, glass-etched reticle. It seems like a sore thumb to just have one darned part screw up a perfect score, but Vortex insists that for this application, there was no better option than the German-made  reticle the AMG group used. This group will not sacrifice quality to achieve the performance it requires, even if it means that domestic parts are not the best choice.
SIMPLE, CLEAN RETICLE
The reticle is powered by a CR2032 battery and has 10 brightness levels, with an "off" position between each setting. Pushing the dial in locks the setting. The EBR-7B reticle is one of the simplest and cleanest long-range reticles out there and allows plenty of viewing area without being too busy. You can choose the AMG reticle with MOA or MRAD. After using this reticle, you'll find that using other reticles will leave you wanting this one.
And yes, the index-matched, HD, extra-low dispersion glass is  sourced/made/finished/ground/polished/coated/inspected right here, in the United States. The color and clarity are excellent from edge to edge. The apochromatic system uses Vortex's XR Plus multicoating to increase light transmission and brightness, and the external lenses have a super-hard protective coating called ArmorTek that resists scratches, oil and dirt. The tube is purged with argon for the current ultimate in internal fog prevention. (Argon is more stable during temperature extremes than nitrogen.)
"Every single part of this AMG scope is made here, except for the German-manufactured reticle, which is superb."
The scope comes superbly packaged with a sunshade and two of Vortex's resilient and durable Defender flip-up lens covers, as well as the thoughtful L-Tec hex tool to adjust elevation and remove the turret caps without scratching them. Vortex started its name recognition by offering absolutely the best customer service in the optics business. It also sold good products.
Vortex hasn't lost the perception of still having the best customer support. It does. And for many years now, shooters from across disciplines have realized that the premium products Vortex has been offering are tough competition for anyone else in the marketplace—bar none—with value being a good part of the overall equation.
I hope the AMG group thrives and inspires other manufacturers to investigate the opportunity to make more optics here, in the United States.
VORTEX RAZOR HD AMG 6-24X50
SPECIFICATIONS
---
MAGNIFICATION: 6-24x
OBJECTIVE LENS DIAMETER: 50mm
TUBE SIZE: 30mm
EYE RELIEF: 3.6 in.
FIELD OF VIEW: 20.4-5.1 ft./100 yds.
RETICLE PLANE: First focal plane
ILLUMINATION: 10 intensity levels with "off" positions between settings
WEIGHT: 28.8 oz.
LENGTH: 15.2 in.
ELEVATION ADJUSTMENT: 71 MOA (up to 94.5 with L-Tec Zero Stop disengaged)
WINDAGE ADJUSTMENT: 34 MOA
TRAVEL PER ROTATION: 25 MOA
MSRP: $2,500
---
CONTACT INFORMATION
ABOUT THE AUTHOR
Steven K. Ledin is a former U.S. Navy nuclear gunner's mate and current director of a prominent online optics retailer. He's a CCW and NRA instructor and has been a sponsored competitive shooter and private investigator. He has hunted (and gotten lost) from Alaska to Africa.
Editor's note: A version of this article first appeared in the November 2018 print issue of Gun World Magazine.