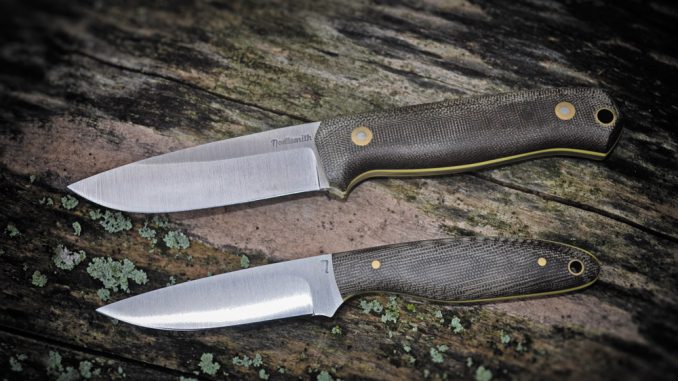 A Close Look at Nordsmith Knives' Pilgrim LT and Lapwing
David Andersen comes by his knife knowledge honestly. He's been carrying and using blades since he was a wee lad in the Boy Scouts. Several years ago, he began writing for a very popular knife blog, which afforded him the opportunity to network with, and learn from, some of the top names in the knife world. He was also able to test numerous blades, seeing what worked and what didn't.
Over time, he developed his own ideas and designs. Prototypes were made and extensively tested, then refined. From the outset, the goal was, and still is, to produce knives that hold up to real-world use and last a lifetime. The focus has been on designing blades that look great and perform well.
In 2016, David formed Nordsmith Knives and began designing and producing knives professionally. The Lapwing was one of his first knives, and the Pilgrim LT is a refined version of a previous model. Both are stellar examples of form following function.
Pilgrim LT
The Pilgrim LT is intended to be the basic go-to knife for most camp chores. From shelter building to processing firewood, this knife will handle it. The original Pilgrim design had a slightly thicker blade, but the LT version is no lightweight.
First Impressions
The Pilgrim LT stretches just shy of 9 inches in overall length, with a blade that's a hair less than 4 inches. That might be important to some folks, as 4 inches is a common delineator as to blade length for legal carry. When you're out in the sticks, that's not usually an issue, but if you're looking for a fixed blade you can carry as an EDC (every day carry) knife, you need to make sure you're complying with all applicable laws in your area.
"DAVID ANDERSEN COMES BY HIS KNIFE KNOWLEDGE HONESTLY. HE'S BEEN CARRYING AND USING BLADES SINCE HE WAS A WEE LAD IN THE BOY SCOUTS."
The blade's spine is a very sharp 90 degrees. This is useful for striking sparks from a ferrocerium rod as well as for scraping wood or other material for tinder.
The handle scales are canvas Micarta, one of the strongest handle materials available, and it is handsome as well as durable. What's more, it actually feels like it has more traction when it gets wet. There is a lanyard hole at the butt.
The handle is shaped such that it has a built-in finger guard, which is a great feature. This keeps your hand from sliding up onto the sharp edge. The handle is also somewhat on the beefy side, about 0.75-inch thick and 1.125 inches wide.
Pilgrim LT comes with a leather sheath equipped with a loop for a ferrocerium rod as well as a dangler. It also has a standard belt loop for those who prefer that method of carry, and the dangler is removable if you go that route.
The drop-point blade profile is one of the most common choices for outdoor knives and for good reason. It works really well for a wide range of camp duties.
I carried it with me on a few hikes, using it for basic things like making feather sticks and a bit of carving. It is a very comfortable knife to hold and use. At just over 6 ounces, it doesn't weigh you down, either. Putting the Pilgrim LT through some formal tests, it did not disappoint me.
As is my custom when reviewing a knife, I did not sharpen or even touch up the blade edge from the time I received it through the end of the tests performed with it. I feel this gives a good indication of how well the blade stands up to actual use.
Pilgrim LT Test
#1 – Rubber Hose
This sounds silly, but one of the hardest things about reviewing knives is finding things to cut. I'm forever heading into my garage workshop to look for odds and ends that will not only give a good test of the knife but also be at least somewhat interesting.
"THE PILGRIM LT AND THE LAPWING ARE GREAT TOOLS FOR USE AROUND THE HOUSE OR IN THE FIELD."
In this case, I happened upon an old rubber hose that had been used for one or another DIY project some time ago. At first, the Pilgrim LT balked at it, seemingly to struggle to find purchase. But, once I pinched the hose to create a little hump as a starting point, the blade sliced through quickly and cleanly. Not even the mineral deposit lining the interior of the hose posed any trouble.
#2 – Fabric Belt
In addition to the workshop, I also tend to hunt around thrift stores and charity shops for items to use in knife tests. Among the treasures found during my most recent visit to Goodwill was a thick fabric belt.
Placing the belt flat on a wood board, I used the Pilgrim LT to make pull cuts through the fabric. I cut seven or eight pieces from the belt, each one about a half-inch wide. Only once did it leave a loose thread, and I'm convinced that was not the fault of the knife but rather my own error in pulling the blade up too soon.
#3 – Trimming Pages
Normally, I like to use a telephone book for this test. However, it is getting increasingly difficult these days to find a nice, thick phone book. So, while I was at Goodwill, I picked up a thick paperback book to use for testing. I poked around until I found one that was large enough to be worthwhile but that already had some pages damaged so I wouldn't feel too bad about destroying a book.
"THE PILGRIM LT IS INTENDED TO BE THE BASIC GO-TO KNIFE FOR MOST CAMP CHORES. FROM SHELTER BUILDING TO PROCESSING FIREWOOD, THIS KNIFE WILL HANDLE IT."
The Pilgrim LT made clean cuts through the corner of the book, though not without some effort. Let's face it, this is like pushing the knife edge through a block of wood, so it shouldn't be expected to be like cutting a block of cheese. But the Pilgrim LT performed admirably, and I have no complaints.
Nordsmith Knives Pilgrim LT
Specifications
Overall length: 8.675 inches
Blade length: 3.8125 inches
Steel: AEB-L
Weight: 6.25 ounces
Sheath: Leather pouch
MSRP: $245
NordsmithKnives.com

Lapwing
The Lapwing was designed to be a complementary knife to one of the larger blades in the Nordsmith lineup. As such, it is smaller than many other fixed blades you'll find in the outdoor or survival niche. It is actually similar to a kitchen utility knife but one designed for use in the field.
First Impressions
The idea is that the Lapwing will handle the smaller, lighter chores, such as food preparation. It is almost an inch shorter than the Pilgrim LT, coming in at 7.75 inches, with the blade running 3.75 inches. It is a very light 3.2 ounces, making it a great option for a backup or secondary knife.
"I WILL READILY ADMIT THAT MY FEATHER STICKS DON'T LOOK AS PRETTY AS ONES YOU MIGHT SEE ONLINE BUT THEY GET THE JOB DONE. SO DOES THE LAPWING."
As with the Pilgrim LT, the scales are canvas Micarta. While the handle lacks a finger guard, the choil serves as one. And right there is my only real complaint about the Lapwing. The edges of the choil are the same as the spine, an exact 90 degrees. As such, you can feel the edges kind of catch on your finger. Not painful, of course, but noticeable. I'd love to see the choil edges get broken or rounded just a touch. I'll be doing that myself on mine.
The Lapwing rides deep in a pouch-style leather sheath. There are no concerns about the knife working its way out of the sheath, that's for sure. However, I would suggest users make a small lanyard to attach to the knife, as that will make it easier to draw it from the sheath.
I've had the Lapwing for a bit now and have used it for a variety of tasks around the house and on the trail. Here's how it held up to testing.
Lapwing Test
#1 – Leather
I keep a bag of leather scraps on hand specifically for knife tests. Pulling a piece out, I was able to very quickly slice and dice it into small bits with the Lapwing. I used pull cuts, slicing through the leather without any hesitation or trouble at all. I also used a few push cuts, just using downward pressure to force the edge through the leather, and still had no difficulty. The Lapwing cuts like a dream.
#2 – Food Preparation
I do most of the cooking in our home. It is a great opportunity to see how knives perform with food prep chores.
This time around, I was making homemade chicken fingers so I used the Lapwing to trim and slice up the chicken breasts. The knife went through the meat like a laser beam. It worked great with the finer trimming, too. The Lapwing is a very nimble knife and seems particularly well-suited for food prep.
#3 – Feather Stick
For the last test, I took the Lapwing outside. I've had this knife for a while, and this wasn't the first time it saw sunshine, that's for sure. I've grown rather fond of it and have carried it on several excursions.
I grabbed a branch and quickly whittled it down. I will readily admit that my feather sticks don't look as pretty as ones you might see online but they get the job done. So does the Lapwing. It is chores like this where the Lapwing truly shines. It has a thin blade and a razor edge, allowing it to slice through materials very easily.
Nordsmith Knives Lapwing
Specifications
Overall length: 7.75 inches
Blade length: 3.75 inches
Steel: AEB-L
Weight: 3.2 ounces
Sheath: Leather pouch
MSRP: $180
NordsmithKnives.com
Verdict
I'm a fan of Nordsmith Knives and have been for some time now. David knows his stuff when it comes to designing knives. The Pilgrim LT is a classic camp or survival knife. It is a perfect size for handling just about anything you'll need to do with a knife outdoors. The fact that it looks great while doing the work is a nice bonus, too. The yellow G10 liners on both knives really pop and give them some visual appeal.
"THE LAPWING WAS DESIGNED TO BE A COMPLEMENTARY KNIFE TO ONE OF THE LARGER BLADES IN THE NORDSMITH LINEUP. AS SUCH, IT IS SMALLER THAN MANY OTHER FIXED BLADES YOU'LL FIND IN THE OUTDOOR OR SURVIVAL NICHE."
The Lapwing has become one of my favorite and most-used knives in my collection. It is just a very handy and exceptionally nimble knife. The handle is comfortable over long periods of time, with no hand fatigue or hot spots. The thin blade is excellent for trimming meat or vegetables but it certainly doesn't feel too lightweight to handle heavier chores.
Separately, the Pilgrim LT and the Lapwing are great tools for use around the house or in the field. Together, they make an unbeatable pair.
LT Wright and Nordsmith Knives
Anyone who picks up a Nordsmith-branded knife will no doubt notice the sharp 90-degree spine. Those who have been around the knife world for a while know there are very few shops that produce such a precision-ground spine. In fact, there is only one shop that will typically come to mind.
One of David's longtime mentors has been L.T. Wright. L.T. has a long-standing, and well-deserved, reputation as one of the most respected knifemakers in the industry. When David had his designs down pat and wanted to put them into production, it was a no-brainer to contract with L.T.'s shop.
L.T. and his crew make every knife by hand at their shop in Wintersville, Ohio. David is very involved, of course, and ensures that every knife bearing his brand meets his own high standards. The partnership truly is a win/win for the knife community, that's for certain.
Editor's note: A version of this article first appeared in the December, 2019 print issue of American Survival Guide.
The post CRITIQUING A COUPLE OF CUT-UPS appeared first on American Survival Guide.