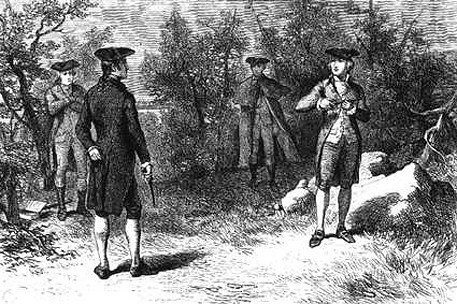 On this day in 1806, Revolutionary war veteran and future President Andrew Jackson kills Charles Dickinson in a duel.

Born in the Waxhaws area along the border between North Carolina and South Carolina, Andrew Jackson was the last president to be a veteran of the American Revolution and the first president to bring the backcountry values of the Carolinas to the White House. His willingness to not only duel Charles Dickinson, but also to kill him at short range for having printed libelous comments about Jackson, revealed the extent to which he had imbibed the brutality of the Carolinas during the revolution. Born in 1767, Jackson served with the Patriots in the devastatingly brutal battles that characterized the American War for Independence in the Carolinas. His eldest brother died following the Battle of Stono Ferry in 1779.


Widget not in any sidebars


A print depicts a young Jackson, who served as a scout in the region, watching British Lieutenant Colonel Banastre Tarleton's massacre of Patriot militiamen at his home settlement of Waxhaws on May 29, 1780. Jackson then fought in Patriot Thomas Sumter's uncontrolled attack on the British and their Loyalist allies at Hanging Rock in August 1780, before falling into British hands with his brother Robert in 1781. While in prison, he and his bother contracted smallpox, to which his brother succumbed.

The content of Dickinson's slanderous comments about Jackson also indicated a great deal about the culture of Jackson's times. In 1790, Jackson claimed to marry Rachel Donelson Robards, whose husband had abandoned her. What Rachel and Jackson did not know was that the couple had not technically divorced, and when this was discovered, Rachel was ostracized by society as a bigamist. Her husband insisted on defending her honor, even if it required him to kill. The men rode from their homes in Tennessee to Kentucky, where dueling was legal, in order to settle their deadly feud as gentlemen.