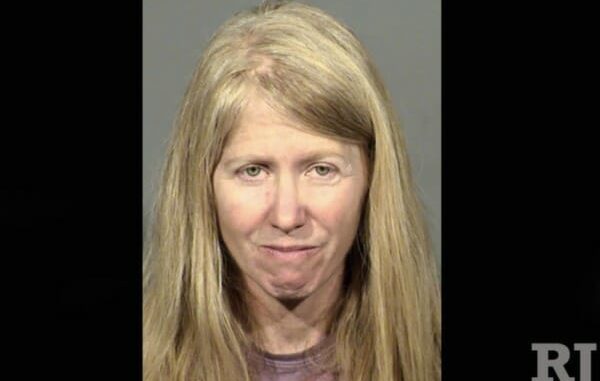 A Las Vegas high school teacher was arrested on terrorism charges after a series of disturbing text messages was relayed to local authorities.
Among 48-year-old physics teacher, Leslie McGourty's messages was her threat to "poke a lot of holes in people" before killing herself, the Las Vegas Review-Journal reports.
Widget not in any sidebars
McGourty planned to target a May 19th concert taking place at a Vegas bar and texted her friend that she was obsessed with "being remembered" for the planned heinous attack.
McGourty hoped that her planned shooting would help spark another "#MeToo" movement, "but this time in which women feel empowered enough to become serial killers."
In the series of text messages, McGourty went on, "A perfect plan with my favorite song surrounded by a bunch of f****** up misfits like I am. Imagine knowing exactly the moment that you're going to die. I know exactly that your favorite song will be playing. By your favorite band. It's just too perfect."
More Via Las Vegas Review-Journal:
Leslie McGourty was arrested on school grounds May 16 after her friend reported to Las Vegas police that she had threatened to kill herself and others during an ongoing conversation over text messages. The 48-year-old woman, who, according to public employment records, appears to have been a physics teacher, faces a felony charge of making a threat to commit an act of terrorism. […]

Metropolitan Police Department officers attempted to take McGourty into custody May 16 at her home, but she was already at work.

"It was at that point we made the request for (Clark County School District police) to immediately take Leslie into custody and to be removed from the classroom," investigators detailed in the report.

Police also noted in the report that detectives "did not get much of a reaction from her" when they read excerpts from the text messages to her.

McGourty admitted to police that she had planned to attend a downtown concert, but that she "often has those types of conversations" with her friend, the report said.

At the time of her arrest, school district officials said that the teacher would be "assigned to home" upon her release. Court records show that McGourty is out on bail and is scheduled to appear in court June 19.

Phone calls to McGourty on Sunday were not immediately returned.


Widget not in any sidebars

UPDATE:
Lori Melendy, who works in Seattle Center's lost and found, still remembers how upset McGourty was.

"She was just in tears," Melendy said. "When she came up here crying, I was sure she had lost her keys with her purse and her money." […]

She still has a sizable "Sesame Street" collection at home, with about 200 Zoes, Telly monsters, Cookie Monsters, Berts and Ernies. Her husband is looking for a replacement, but filling Ernie's red booties will be tough.

"He's got a big butt and little, skinny legs," she reminisced. "And he's got a cute smile. Even dirty, he's just cute."
… this is the type of person who was hired by the public school system and has been 'teaching' American high school children for over two decades…