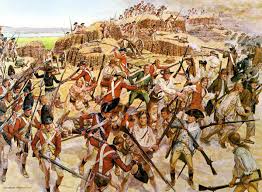 William Legge, 2nd earl of Dartmouth and secretary of state for the colonies for British King George III, instructs colonial Governor Josiah Martin of North Carolina to organize an association of Loyalists and raise militias on this day in 1775. Exactly one year later, British Commodore Hyde Parker and General Charles Cornwallis were to arrive in North Carolina with 20 transport ships.
Widget not in any sidebars


Martin directed Loyalist efforts from his ship Cruiser anchored in the Cape Fear River following a Patriot attack on his home in April 1775. When the residents of Mecklenburg County effectively declared their independence from the crown later in May, Martin sent a copy of their resolves to Britain, requested military supplies from British General Thomas Gage in Boston and plotted to arm the slaves of North Carolina to help put down any Patriot uprising.

Word of Martin's intent to incite a slave rebellion mobilized a successful Patriot attack against Martin's headquarters at Fort Johnston on Cape Fear. Following the July 20, 1775, attack, Martin moved the Cruiser off the coast of North Carolina, where he continued to arm the Loyalists with British supplies. On February 27, 1776, the Patriots managed to defeat the Loyalists at Moores Creek Bridge before the Anglophiles reached the coast to await their scheduled rendezvous with Cornwallis. With the Loyalists routed, Cornwallis decided not to land his men and aborted his intended Southern Campaign. Instead, he traveled north to join the successful British Battle for Long Island in August 1776.

The 2nd earl Dartmouth could not sustain the British empire in North America, but he did lend his name to one of its oldest and most highly regarded institutions of higher learning: Dartmouth College, founded in Hanover, New Hampshire, in 1769.