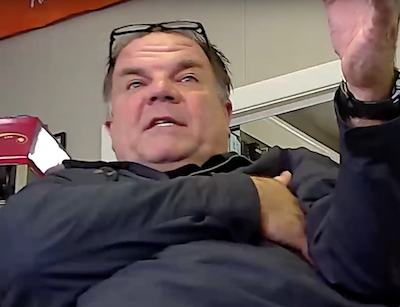 Hamilton Township Education Association President David Perry Explains How Unions Can Protect Teachers Who Beat up and Threaten Kids
Union President: "I'm here to defend even the worst people"
Perry on Charges Against Teachers: "We're gonna bring it down a level"
Perry Would Misrepresent Facts of Abuse on Reports to Cast Students as Liars, "I need to know the truth, so that we can bend the truth."
"We do turn [these reports] around to where, if it was a physical punch, it wasn't a punch. It was a shove."
"If he comes to me tomorrow, I'm gonna date [the report] back to the day after the incident"
Advises Teacher to "NOT TELL A SOUL" About Incident
The Longer Incident Goes Unreported the Better Because Camera Footage in Schools Erased Over Time
Widget not in any sidebars
(New York) A Project Veritas undercover investigation, recorded on March 27th 2018, has shown Hamilton Township Education Association President, David Perry, detail the steps the teacher's union would take to protect a teacher who physically abused and threatened middle school students from losing their job.
Dr. Perry says he would misrepresent the events of altercations between teachers and students by back-dating reports and instructed the teacher to not tell anybody about incidents with students.
By failing to report this incident, Dr. Perry may have broken the law. According to New Jersey's Department of Children and Families, "In New Jersey, any person having reasonable cause to believe a child has been subjected to abuse or acts of abuse should immediately report this information…"
The union president also stressed that a teacher who abuses his students needs to come to the union after any incident so that they can create a report that would best protect them from students that come forward about abuse.
When the Project Veritas undercover journalist asks what could be done to protect a teacher who severely abused a student physically, the Hamilton Township Education Association President stated that his strategy would be to "bring it down a level, " by misrepresenting the facts of the incident.
"We do turn [these reports] around to where, if it was a physical punch, it wasn't a punch. It was a shove."

"If [the teacher] comes to me tomorrow, I'm gonna date the report to the day after the incident."

"I'm gonna strongly advise… [if] the kid's gonna turn around and say 'Well [the teacher] threatened me….' I can say 'No. No no no. On March 22nd, the day after the incident, [the teacher] came over to me and told me [what happened.] And we just wanted to put it on record so that nothing more would come about it.'"

"It covers [the teacher!] Because he came in and reported it right away and that he was afraid… but here's what happened. Everything else is bullsh*t."
Perry elaborates on how the he would misrepresent events to protect the abusive teacher:
"In other words, if you threatened the kid, you didn't threaten the kid. You said 'Knock it off or else.'"

"If [the teacher] actually said 'knock if off or I'll kill you,' or 'I'll beat the shit out of you' or 'I'll hurt you' or 'I'll hurt your family,' we don't say that. It's a mistake. It was out of the emotions. We don't even log that in."

"I'm gonna let you know right now he came in the day after. Even though he didn't, I would say he did. And the only record that this is, it stays here."
The Hamilton Township Education Association President told the Project Veritas undercover journalist that he is "here to defend even the worst people."
Widget not in any sidebars
To do so, Perry says he needs the physically abusive teacher to tell him everything because he "need[s] to know the truth so that we can bend the truth." Perry also reiterates that the teacher must not divulge details of physical incidents with anybody.
"[The teacher] needs to not tell anybody A THING. This has gotta be down the river."
Perry also expresses to the Project Veritas journalist that the more time it takes for a student victim to come forth about being abused by a teacher, the better. This is because, Perry suggests, the security camera footage at schools gets erased every couple of weeks.
"That's why I would never wanna bring it up. The longer we wait, the longer there's no, there's no camera."

"And we got a [school] break coming up. That's what's really nice because nobody's gonna be looking."
Perry also suggests that he has been able to protect teachers from reports of abusing their students by intentionally confusing the dates of alleged incidents.
"And if this kid can't remember a date, I'm not giving them a date… You know how many cases I've won on that?"
In describing an instance where he has done this, Perry reveals he tries to trap students into claiming an incident happened on a Sunday, which would damage the credibility of the claim since school would not have been in session.
A full transcript of the video investigation can be found here.
Perry also explains that he has protected "even the worst people" in the past, including a teacher with a drug problem and a shoplifting teacher. Perry claims that he protected the former's job five times.
"And she, five times she was fired, and I got her job back five times."
Founder and President of Project Veritas, James O'Keefe calls for the identity of the drug-using teacher and shoplifting teacher Perry protected to be revealed. Project Veritas urges local New Jersey media to inquire about these teachers by reaching out to the HTEA office by calling this number: 609 586 9335
O'Keefe believes that this video challenges the notion that teachers unions first and foremost priority is the children. Said O'Keefe:
"The unions would argue that they are protecting the institutions to protect the children. But their actions and words are corrupt. The institutions are not the children. Teachers unions are interested in protecting themselves. It would be nice if Dr. Perry were just one bad apple. That is certainly what we will hear in the media. But don't believe it. If you do, then watch the rest of this series."
Project Veritas will release more videos from all around the country in the coming weeks. Teachers unions have been a focus in the media as of late–as reported by Politico, "Arizona teachers on Tuesday are expected to continue their walkout for the fourth day, as they demand better pay and additional education funding."