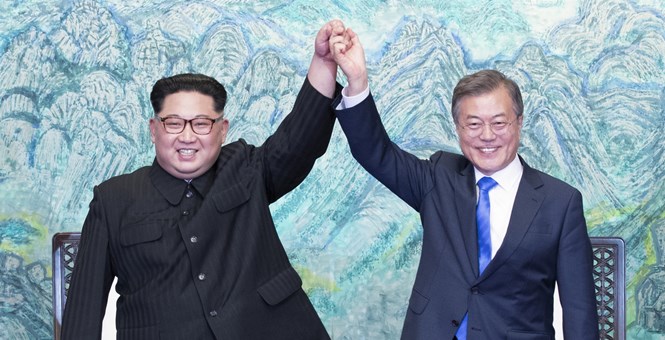 For the first time since 1953, South Korean President Moon Jae-in and North Korean Dictator Kim Jong Un walked hand-in-hand across the DMZ, crossing into each other's respective country. Later in the day after a series of meetings, the two leaders agreed to officially end the Korean War.
.@darksecretplace on North and South Korea summit: "This is an extraordinary moment and that's an extraordinary handshake." pic.twitter.com/OVIcriCdR9

— FOX Business (@FoxBusiness) April 27, 2018
During an interview with CNN's Christiana Amonpour Friday, South Korean Foreign Minister Kang Kyung-wha credited President Trump for the progress being made.
Widget not in any sidebars
"Clearly credit goes to President Trump. He's been determined to come to grips with this from day one," Kyung-wha said.
South Korea's Foreign Minister tells me in Seoul that "clearly credit goes to President Trump" for bringing North Korea to the negotiating table. "He's been determined to come to grips with this from day one," Kang Kyung-wha says.

Airs 8pm CET on @cnni, 11pm ET on @pbs. pic.twitter.com/DpBExrlnc6

— Christiane Amanpour (@camanpour) April 26, 2018
Meanwhile, the United States is taking a celebratory yet cautious approach to the progress. President Trump's meeting with Kim Jong Un is being planned for June, although a location has not been announced.
https://twitter.com/realDonaldTrump/status/989820401596366849
South Korean president: Trump 'should win the Nobel Peace Prize'