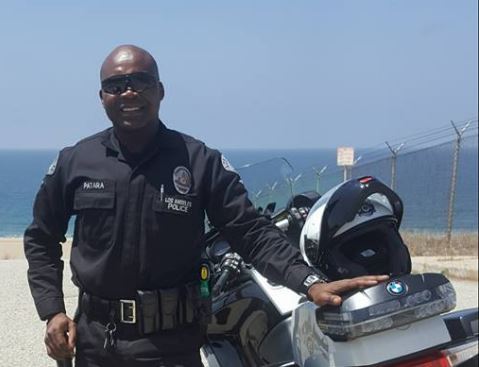 SAN DIEGO (CBSLA) — A Los Angeles police officer has been arrested on federal charges alleging he tried to smuggle two illegal immigrants into the United States this week in southeastern San Diego County.
[embedyt] https://www.youtube.com/watch?v=7RNJ88h4QDI[/embedyt]
Mambasse Koulabalo Patara has been charged with violating immigration laws, according to a federal complaint filed Wednesday.
He was arrested early Tuesday morning at a U.S. Border Patrol checkpoint in Pine Valley, located about 12 miles north of the U.S.-Mexico border.
According to the complaint, at 12:15 a.m. Tuesday, Patara drove up to the checkpoint with two male passengers in a 2006 Toyota Corolla.
Widget not in any sidebars
While being interviewed by Border Patrol agents, Koulabalo showed them his LAPD badge and stated he was off-duty, the complaint states. Agents later patted him down and found his service-issued gun in his waistband, the complaint reads.
Koulabalo reportedly told border agents his two passengers were U.S. citizens. The men, identified as Herman Lopez and his nephew German Ramirez Gonzalez, eventually admitted they were in the country illegally.
One of the men said they had known Koulabalo for years and had worked for him at his Fontana home. He added they had decided to go to a casino in Alpine in southern San Diego County, before heading to another one in Campo and ending up at the border checkpoint near Pine Valley.
All three men were transported to the Campo Border Patrol Station and arrested at around 1:30 a.m.
Back at his home in Fontana, neighbors were in disbelief.
"I heard what happened, and I'm really shocked," said one woman. "They've always just been a really nice family ever since my husband and I have lived here. […] There's always multiple sides to every story, so I think that's important for everyone to keep in mind […] before jumping to conclusions on these types of things."
"I just don't believe that he's doing that," another neighbor told CBS2. "I don't believe at all that he's capable of doing something like that."
An LAPD spokesperson confirmed to CBS2 that Patara has been placed on paid administrative leave.
If convicted, Koulabalo faces up to five years in prison.