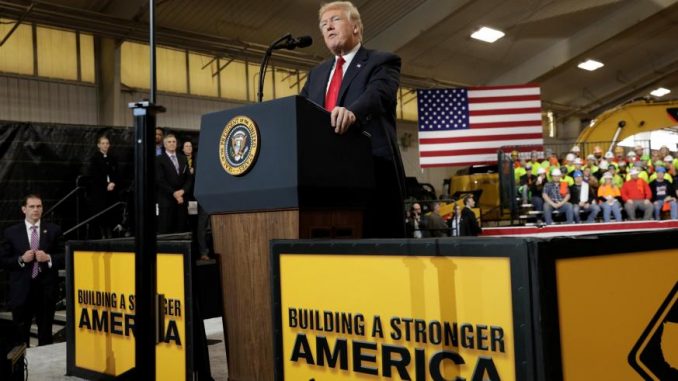 Transportation, Energy, Interior, EPA agree to cut review time

Trump called for shorter reviews under infrastructure plan
More than a dozen federal agencies agreed to slash the time needed for environmental reviews and permitting on major infrastructure projects, a cornerstone of President Donald Trump's infrastructure plan.
Fourteen agencies, from the Transportation Department to the Advisory Council on Historic Preservation Monday signed an agreement that puts into effect an executive order setting a two-year goal for completing the review process issued by Trump in August, according to a White House release.
Among the agencies covered by the memo are the departments of Energy, Interior, Transportation, Commerce and Homeland Security, the Environmental Protection Agency, and the Federal Energy Regulatory Commission.
Under the agreement, one lead federal agency will be responsible for shepherding projects through the entire process, and will set timetables for other agencies to follow. The agencies will conduct their reviews concurrently, rather than sequentially.

Widget not in any sidebars

Multiple Agencies
Until now, major projects often required reviews and permitting by multiple agencies in a process administration officials have said is fraught with redundancy and unnecessary delays and can take years.
Streamlining of permits is a major element of the infrastructure initiative Trump wants to enact through Congressional and administrative action.
The White House released a legislative outline on "rebuilding infrastructure" on Feb. 12, but there's been no indication Congress will act on it during a mid-term election year. House Speaker Paul Ryan has said some elements may be included in legislation Congress is already considering. Trump conceded in a speech on March 29 that "you'll probably have to wait until after the election."
White House officials have said the streamlining push is key to getting more projects done, reducing costly delays and unpredictability for investors — thereby encouraging them to jump into big projects.
'Boring' But Necessary
"This is the most boring thing we'll do but absolutely the most impactful thing,'' DJ Gribbin, special assistant to the president for infrastructure policy, said during an appearance last year at a U.S. Conference of Mayors meeting. Gribbin is planning to leave the White House.
Democrats and environmental groups have pushed back on what they term efforts to weaken protections and to distract from a lack of federal investment in the infrastructure plan.
But the administration "has no desire to erode traditional environmental protections or roll back or strip protections," Alex Herrgott, associate director of infrastructure at the White House Council on Environmental Quality, said during a presentation at the Transportation Research Board's annual meeting in Washington in January.
"We're trying to fix the problem," Herrgott said.