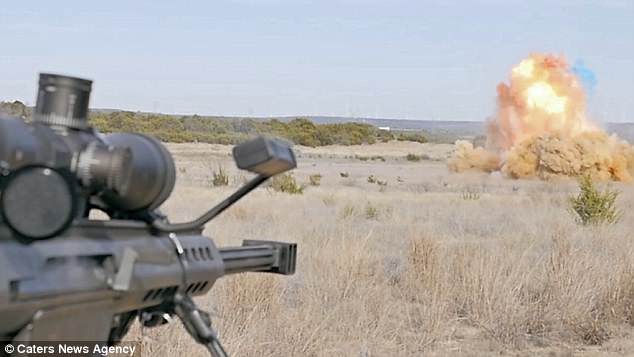 Chris White hit the explosives with a 50-calibre sniper rifle from 400 yards away
His fiancee left him the day before their wedding so he cashed in the certificate
Using that money he commandeered land on his friend's property in West Texas
Dubbed Mission: 1776, the explosion used 1776lbs of explosives and 1776 ping pong balls to celebrated the year the U.S. gained independence
[embedyt] https://www.youtube.com/watch?v=ypvno6clIPA[/embedyt]
A group of thrill-seeking patriots detonated 1776lbs of explosives, setting a new world record for the largest binary explosion and sending a cloud of red, white and blue rushing skyward.
Chris White hit the mound of explosives with a 50-calibre sniper rifle from 400 yards, triggering the Binary X – a brand of exploding target containing Ammonium Nitrate and Aluminum Powder.
Underneath this he had planted 300lbs of red and blue chalk and 1776 ping pong balls.
Dubbed Mission: 1776 after the year the U.S gained independence, White wanted to celebrate good old fashioned American patriotism.
Widget not in any sidebars
He commandeered a plot of disused shrubland on his friend's property in West Texas and, alongside 18 friends dressed in red, white and blue, prepped to spot for the big blast.
The explosion set a new world record for the biggest binary explosion – beating the previous detonation of 600lbs by almost triple the amount.
Binary explosives are pre-packaged products consisting of two separate components – usually an oxidizer like ammonium nitrate and a fuel such as aluminum or another metal.
Star spangled banner: White's friends celebrate a new world record in style
Photos capture the moment the binary explosives detonate before sending red and blue chalk flying skywards along with thousands of ping pong balls
Alone, each component does not qualify as an explosive. But together, they are capable of substantial combustion. Many of these combinations can be bought together a 'binary kits'.
But the jubilant footage was only made possible by White's heartbreak.
His wife-to-be left him 30-hours before their wedding day, leaving behind only their wedding certificate.
After cashing in the document he was left at a loss with what to do with it. That's when when Mission: 1776 was born.
Chris said: 'We had explosive technicians from a local military base present. They checked the shrapnel and bomb blast distance.
White's friends donned outfits emblazoned with the U.S flag for the event, which was filmed by his company Freedom Hard
The team are engulfed in clouds of red and blue in the wake of the explosion, which could be heard from 30 miles away
'Once the explosion had been set off, we had to call the firefighters as the fire on the land grew quite quickly. Around five firefight trucks had to attend, with 14 to 15 firefighters in attendance.
'The blast left a 3.5ft deep hole in the ground.'
'You could feel the wind from the bomb blast, and was estimated to have traveled 30 miles.'
Chris White's company Freedom Hard, which uses comedy to show patriotism, filmed the blast.
The elated boss: 'I had to move heaven and earth for this to happen – so now we're going to blow a big hole in the earth.'