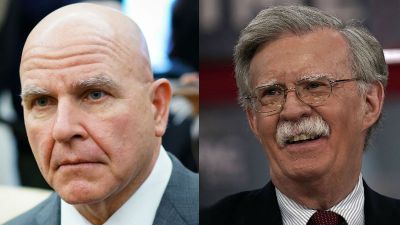 https://twitter.com/realDonaldTrump/status/976948306927607810
In a separate statement, McMaster said he was requesting retirement from the U.S. Army effective this summer. "I am thankful to President Donald J. Trump for the opportunity to serve him and our nation as national security advisor," McMaster said. "I am grateful for the friendship and support of the members of the National Security Council who worked together to provide the President with the best options to protect and advance our national interests."
An Army lieutenant general, McMaster was appointed national security adviser in February 2017 after Michael Flynn, the former head of the Defense Intelligence Agency and another Army three-star general was forced out.
McMaster, 55, came from the Army with a reputation for innovation in combat and challenging authority.
In 1991, he won a Silver Star for valor during the start of the ground phase of the Gulf War that defeated Iraqi forces. In 2005, he led a brigade in the embattled city of Tal Afar, pioneering the counterinsurgency tactics that became the centerpiece of Gen. David Petraeus' strategy that brought relative stability to Iraq for a time.
 A graduate of West Point, McMaster went on to earn a doctorate in history from the University of North Carolina. His book, Dereliction of Duty: Lyndon Johnson, Robert McNamara, the Joint Chiefs of Staff, and the Lies That Led to Vietnam, heaped criticism on military brass for supporting a war they doubted could be won.
McMaster caught the eye influential officers on his ascent in the ranks, including Marine Gen. Jim Mattis, who recognized his ability when he oversaw Joint Forces Command in Suffolk, Va., and McMaster was a student at a training course for rising stars in 2009. Mattis is now Defense secretary.
McMaster's last post in the Army was leading one of its internal think tanks. He remains on active duty and could be promoted and pin on a fourth star. One potential landing spot for him could be the Army's Futures Command, a new organization that seeks to modernize the service.