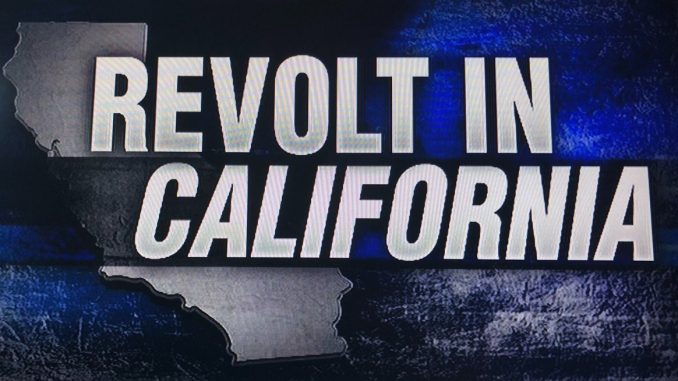 San Diego County voted Tuesday to become the latest in a string of local governments throughout California backing the Trump administration lawsuit against the state over its sanctuary city laws.
After hearing from residents, the all-Republican San Diego County Board of Supervisors voted 3-1 to support a lawsuit by the federal government over laws it says limit police cooperation with federal immigration agents. One member was absent during Tuesday's vote.
As the second largest county in California, San Diego — a region of 3 million residents that borders Mexico — is the largest county to back the lawsuit.
Supervisor Greg Cox, who cast the only dissenting vote, said in a statement afterward that "the board's vote is a largely symbolic move that will create fear and divisiveness in our region, waste taxpayer funds and create distrust of law enforcement and local government within many communities."
The vote followed a similar one Monday when the city of Los Alamitos voted 4-1 to approve an ordinance seeking to exempt the city from the so-called sanctuary law on the grounds that it was unconstitutional.
TRUMP ADMINISTRATION LAWSUIT AGAINST CALIFORNIA SANCTUARY LAWS BACKED BY THESE CITIES, COUNTIES
Widget not in any sidebars
A string of local governments throughout the state of California has backed the Trump administration's decision to sue last month, arguing that the federal government, not the state, has authority over immigration policy.
San Diego now joins Orange County, the state's third-most-populous county, in rejecting a state law that shields criminal illegal immigrants from deportation.
The San Diego vote brings to 10 the number of governmental entities that voted against the state law that declared California, and by statute — all law enforcement in it — would not communicate with federal agents when it came to all but the most violent or repeat, convicted criminal illegal immigrants.
California Gov. Jerry Brown said Tuesday that Washington's tough stance against immigrants in the country illegally is "just an inflammatory football that very low-life politicians like to exploit."
If President Donald Trump "wants to round them up like some totalitarian government and ship them out, say that," Brown said. "But he doesn't say that because the American people would repudiate him and his party."
The Associated Press contributed to this report.