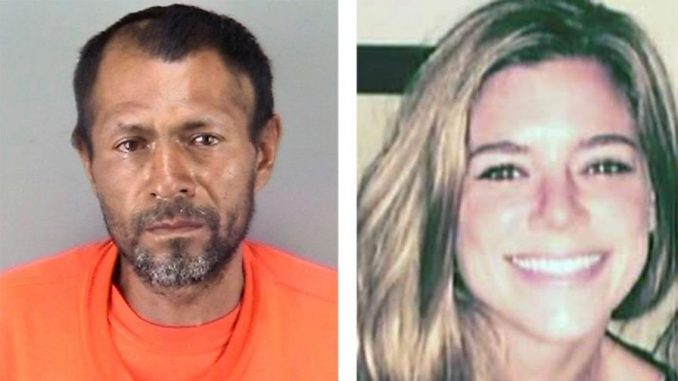 Jose Inez Garcia-Zarate, the illegal alien acquitted last year of murdering 32-year-old Kate Steinle in July 2015, has sued the federal government, demanding that it produce documents "pertaining to vindictive prosecution and collusion" with the state government in its prosecution against him.
In November, a San Francisco jury found Garcia-Zarate not guilty of murdering Steinle, agreeing that although he had the gun from which the fatal shot was fired, the discharge could have been accidental.
The jury did convict Garcia-Zarate of felony possession of a weapon. He had seven previous felony convictions and had been deported five times before finding "sanctuary" on the streets of San Francisco, a noted "sanctuary city."
The federal government immediately issued a warrant for Garcia-Zarate's arrest for violating the terms of his 2015 federal prison release. It then charged him with federal crimes — "for being a felon in possession of a firearm and ammunition, and for being an illegally present alien in possession of a firearm and ammunition."
As reported by CourthouseNews.com, Garcia-Zarate is alleging "that federal agencies colluded with the San Francisco police, district attorney's office and sheriff's office" and that he is being subjected to double jeopardy — being tried for the same crime twice.
In the motion, filed Tuesday, Garcia-Zarate's attorney complains: "Almost immediately after the death of Ms. Steinle, then presidential candidate Donald Trump began to use Mr. Garcia-Zarate as the symbol of the dangers of illegal immigrants and the need for a wall between the United States and Mexico." The attorney also cites several tweets by President Donald Trump as proof that his client is being subjected to unfair treatment.
https://twitter.com/realDonaldTrump/status/936437372706836480
The federal charges that follows, the attorney argues, violate Garcia-Zarate's rights to due process: "Though broken up into two counts, these allegations address the exact same conduct as that for which he was convicted in San Francisco."
To prove his case of "vindictive prosecution" and collusion between state and federal law enforcement, Garcia-Zarate is demanding all records of communication between federal, state, and local law enforcement about the case.
Ironically, California is currently battling the federal government over state laws that restrict cooperation and communication between state and local government with federal immigration officials.