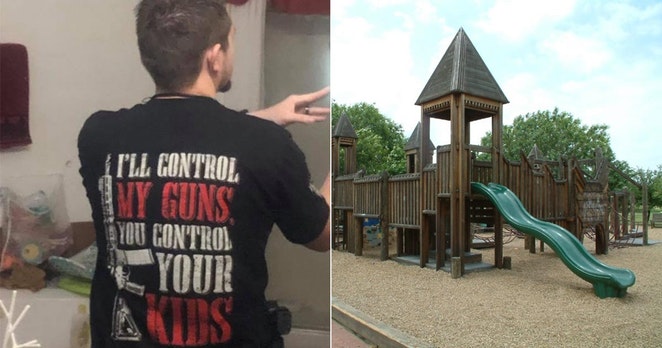 A woman called the police to complain about a man's pro-gun t-shirt.
Benbrook, TX – A Texas father's afternoon visit to a local park prompted a police response, after a woman alleged that the man's pro-gun Warrior 12 shirt was making other parents uncomfortable, police said.
Troy Johnston and his two daughters, ages four and six, stopped at Castle Park on March 30, so the children could enjoy the park's swings and maze, he told Blue Lives Matter.
Widget not in any sidebars
The shirt also featured an image of an AR-15 rifle.
"I figured I might get some comments or looks," Johnston said. "[But] I was legally exercising my First and Second Amendment rights."
Approximately 30 minutes after the kids began playing, a man approached him with his wife and daughter in tow, Johnston said.
He said the man told him that a woman was "fuming" over the message on Johnston's shirt, as well as the fact that he was armed.
"I thanked him for letting me know, and continued playing with my kids," Johnson said.
A short while later, another man and his family approached Johnston, and asked to read his shirt, he said.
Johnston showed him his shirt, at which point the man warned him that his father-in-law had just been harassed by woman in the parking lot, and that she was contacting police regarding Johnson's attire.
The man told Johnston that he didn't know "what was wrong with her," and that he actually "felt more secure knowing there was someone there that would protect them," Johnston said.
Although he had intended to leave prior to his conversation with the second man, Johnston said he opted to wait for police once he became aware that they had likely been called to the area.
According Benbrook Police Department (BPD) Corporal J. Reese, a woman contacted the department at approximately 3:21 p.m., and reported a "suspicious person" with a "gun holstered to his chest," was wearing a shirt that read "You control your kids, I'll control my guns."
Widget not in any sidebars
Cpl. Reese arrived at the scene, where he made contact with the woman.
She claimed that Johnston "was making other parents on the playground very uncomfortable with his t-shirt," the corporal wrote in his report of the incident. "The subject did not act threatening to anyone, nor did he threaten anyone."
The woman told police she was not worried about the gun – which officers noted was located on Johnston's hip, consistent with the information he provided to Blue Lives Matter.
"She was not scared of the gun," Cpl. Reese said. "[She] was concerned about his t-shirt."
Johnston "voluntarily identified himself" to police as he sat in his vehicle, the corporal noted.
"I offered my LTC to the cops. They didn't ask," Johnston told Blue Lives Matter.
Cpl. Reese described Johnston as "polite," and said he confirmed the woman's account of what had occurred.
"Johnston advised he knew the police had been called, and was waiting to speak with officers," the report read. "He was simply at the park playing with his two daughters."
Johnston said that, as he spoke with police, the woman looked on from 25 or 30 feet away.
He said she began cautioning everyone who walked near her to avoid the park, because "there's a man with a gun."
"She was highly ticked off," Johnston said.
The irate woman never spoke to him directly, he added.
"Everyone else at the park seemed perfectly fine with it," he told Blue Lives Matter.
Having done nothing wrong, Johnston was allowed to leave the area, police said.
"I cannot believe how the media has convinced so many people that guns are scary," he said. "This lady was having a literal panic attack."
Despite the controversy, Johnston said he had no intention to quit wearing his Warrior 12 shirt.
"I love my shirt," he said. "I'll probably order more just so I can wear them every day I'm off of work."
What are the details of the shirt?
The shirt in question is a cop-designed, pro-Second Amendment T-shirt that features an AR-style weapon graphic and text that reads, "I'll control my guns, you control your kids."
The company, Warrior 12, conceives and creates pro-law enforcement and American patriotism apparel.
A description of the T-shirt can be seen on Warrior 12's webpage, which states:
Gun control is a touchy subject in today's day and age. The issue isn't guns, it's people. If parent's [sic] could just learn to control their kids and take responsibility, we wouldn't have all the issues we do today. Instead, it is much easier to point the finger at proud gun owning Americans and attack our 2nd Amendment rights.