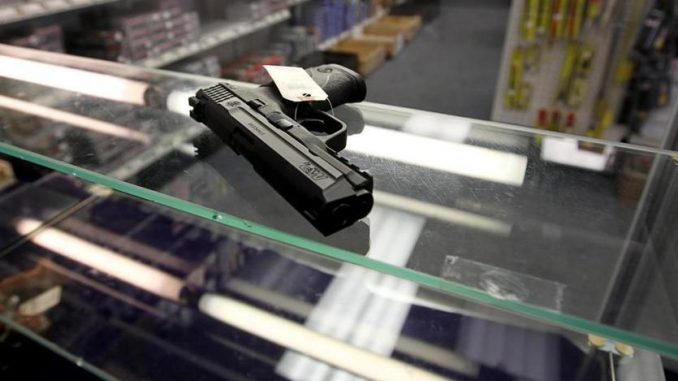 Massachusetts lawmakers are on course to strengthen the state's already strict gun control laws by giving courts the authority to strip weapons from risky individuals who have been identified by their families as a danger to themselves or others.
The state House of Representatives is poised Wednesday to pass a bill that would allow family members, roommates, and current and former romantic partners to petition a court to take away a gun owner's weapons. Those firearms would be confiscated for a year if the court finds the person poses a risk.
The legislation is moving forward amid a drumbeat of mass shootings nationally and little movement on gun control in Congress. Eight states have enacted so-called red flag laws, though all differ in their specifics.
Widget not in any sidebars
In Massachusetts, Governor Charlie Baker and the Senate president have not weighed in on the granular legislative language, but both support the concept of the bill.
Advocates say the House bill will save lives.
"It's about empowering family members who know their loved ones best to identify someone who is in crisis, about to kill themselves or hurt someone else, to a court," said Democratic state Representative Marjorie C. Decker, lead sponsor of the bill.
But opponents say it's a gun grab disguised as substantive public safety legislation.
The bill will "allow firearms to be seized from individuals following baseless accusations without proper due process," the lobbying arm of the National Rifle Association posted on its website Tuesday.
Jim Wallace of the Gun Owners' Action League of Massachusetts, called it a "terrible bill," saying that "what we have is a blanket Second Amendment- and gun-confiscation bill."
He said the original idea of the legislation was to help people who are suicidal and to stop the next school shooter. But the current version doesn't specify reasons, such as mental illness, why a judge might grant an extreme-risk protection order.
Supporters of the legislation say that to specify a list of reasons would be to exclude others, and it is essential for judges to have wide discretion as they consider whether a gun owner poses a threat of bodily injury to themselves or someone else.
John Rosenthal, co-founder of Stop Handgun Violence and a key proponent, said the bill will "close a very important loophole in Massachusetts gun law."
As a result of the state's 2014 gun control overhaul, a municipal police chief can suspend or revoke someone's license to have a gun if the chief believes the person is no longer suitable to be a firearms owner because they may create a risk to public safety. The decision is subject to judicial review.
Widget not in any sidebars
But, Rosenthal said, family members don't have a similarly clear legal route if they are worried that their gun-owning relatives endanger themselves or others as a result of having access to weapons.
"Nobody knows a person in their home better than a family member," he said. "Whether it's mental illness or a history of violence that the family understands or has witnessed, who better than them to be able to petition the court?"
Legislators in California, which enacted a gun violence restraining order law in 2014, are moving to expand it so that teachers, school administrators, and co-workers could ask a court to prohibit someone from having or buying a gun.
In Florida, after the mass shooting at Marjory Stoneman Douglas High School this year, state lawmakers created risk-protection orders. They allow law enforcement officials who believe a person poses a danger by possessing a firearm to petition a court to have the individual surrender the guns.
As of May 11, the Broward Sheriff's Office had sought 19 such orders, said a spokeswoman, Keyla Concepcion. The Stoneman Douglas shooting occurred in Broward County.
According to data from the Centers for Disease Control and Prevention, Massachusetts had 242 firearm deaths in 2016. That meant 3.4 deaths per 100,000 people, a lower rate than in any other state, according to the CDC.
Proponents such as Decker, the state representative, say that as long as people are being killed by guns, it's essential for policy makers to press forward with any legislation that could save lives while protecting Second Amendment rights.
Under the current House bill, which could change on the floor Wednesday as representatives vote on amendments, the people who could seek an emergency risk protection order are local licensing authorities — police chiefs or their designees — and family and household members.
That's defined as current and former spouses and roommates, relatives by blood or marriage, the father or mother of the gun owner's children, current and former fiancées and fiancés, and people who have been in a "substantive dating relationship" with the gun owner.
Widget not in any sidebars
Here's how the process might work, according to lawyers involved with the bill:
Say that on a Saturday night, a gun owner's ex-wife becomes concerned that he is suicidal. She could call the police and have them convey to a court the relevant facts about her ex-husband, the reasons she believes he is suicidal, what guns he keeps in the house and where, and any history of legal action between them.
An on-call judge — who, under current law, is available for warrants, emergency restraining orders, and the like — would determine if there is reasonable cause that the gun owner would cause bodily injury to himself or someone else. If warranted, the judge could authorize the police to order the surrender of the gun owner's firearms.
The next business day, the ex-wife would be required to file a petition with the court, stating under penalty of perjury all of the relevant facts.
The court would have 10 days to hold a formal hearing on the petition and could, in the interim, order the police to continue holding the gun owner's firearms.
At the hearing, the judge would weigh the information presented by the gun owner and the ex-wife and determine whether "a preponderance of the evidence" — a higher legal bar than reasonable cause — showed that the gun owner posed a risk of bodily harm to anyone by having a gun.
If for some reason the gun owner did not show up at the hearing, the order would be granted automatically. Orders would valid for a year and could be renewed with judicial approval.
Anyone who surrenders guns after such an order could not legally obtain any new guns until the order expires.
Some version of the bill appears on track to become law.
Senate President Harriette L. Chandler, a Democrat, is generally supportive of such legislation, her spokesman said.
So, too, is Baker who, his spokeswoman said, " is supportive of the concept" in the bill "to establish an additional pathway to keep guns away from those who are unfit to possess them."