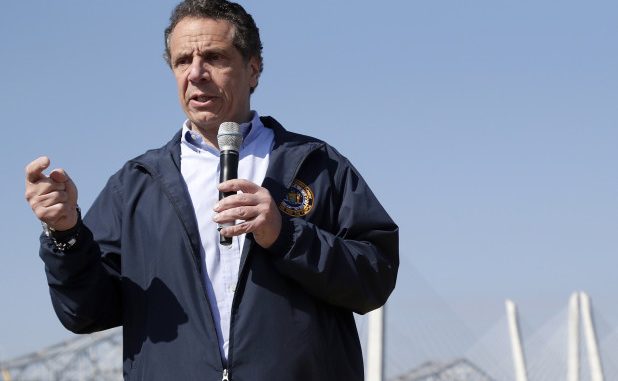 Gov. Andrew Cuomo has issued conditional pardons restoring voting rights to more than 24,000 parolees — including cop killer Herman Bell, who was released from prison last month.
The pardons cover 24,086 ex-cons who are currently under parole supervision, the governor's office said Tuesday.
Cuomo issued an executive order last month which gave him the authority to issue pardons so ex-cons could vote while on parole.
Bell is among the among the felons whose voting rights were reinstated, records show.
The state Department of Corrections and Community website lists Bell as being released to parole supervision on April 27.
Bell, 70, spent more than 40 years behind bars before walking out of the Shawangunk Correctional Facility in upstate Wallkill.
The ex-gang member was convicted of ruthlessly murdering two NYPD officers in a 1971 ambush in Harlem while a member of the Black Liberation Army. He lured the officers to a housing project under the guise of a domestic violence call and shot them from behind.
Widget not in any sidebars
Officer Joseph Piagentini was shot dozens of times as he screamed and begged for his life. His partner, Officer Waverly Jones, who was black, was shot four times.
The Parole Board's decision to release Bell provoked protests from police unions, the widow of one of the victims and some lawmakers.
Marcus Molinaro, the GOP candidate for governor, slammed Cuomo and pointed that even ultra-liberal Mayor Bill de Blasio opposed Bell's release.
"What is Andrew Cuomo possibly thinking? Herman Bell murdered two New York City Police Officers in cold blood, never once showing remorse, and Cuomo gives him early release and voting rights?" said Molinaro.
"Even Bill de Blasio argued against Bell's release. I weep for the families of Police Officers Jones and Piagentini, and urge the governor to show them some respect. Has the Governor had the decency to even speak to them? Herman Bell belongs in a maximum security prison cell for life, not in a voting booth."
But Cuomo said those who've served their punishment in prison deserve their voting rights restored upon release and that it was "unconscionable" not to do so.
"The right to vote is fundamental and it is unconscionable to deny that basic right of citizenship to New Yorkers who have paid their debt to society," Cuomo said.
"Restoring a voice to men and women reentering their communities will strengthen our democracy, as well as the reentry process, which in-turn will help reduce recidivism."
State officials said there are 36,000 parolees statewide and more than half — 54 percent — reside in New York City.
Cuomo's push to restore voting rights convicts — long sought by criminal justice advocates — comes just a day before the opening of the two-day New York State Democratic Party convention, where he will be nominated for re-election to a third time.
The two-term incumbent also is appealing to his left flank as he faces a spirited primary challenge from Cynthia Nixon.
Criminal justice advocates applauded Cuomo's move.
New York Civil Liberties Union Executive Director Donna Lieberman said, "These pardons will encourage civic participation, make our political process more inclusive, and affirm the fundamental rights of all New Yorkers. Voting is the right we exercise to protect all others, and this progressive action will strengthen New York's democracy. The work now falls to communities across the state to ensure parolees are registered, engaged and heard."
Cuomo said he took administrative action to restore voting rights for parolees because the Legislature had not passed a law to do so.
Eighteen other states provide voting rights to parolees, according to Cuomo's office.
But Senate Majority Leader John Flanagan (R-Smithtown) slammed Cuomo's voting rights pardons for felons as politically motivated.
"Doing so on the eve of the state Democratic Convention is no coincidence – it is just the latest in a series of politically motivated decisions designed to attract more votes from the far-left fringes of his party," Flanagan said.
"The Governor's Executive Order circumvented the legislative process and is offensive to the thousands of people who have been victimized by these hardened criminals … the Governor has put politics ahead of the public interest and he must be stopped."