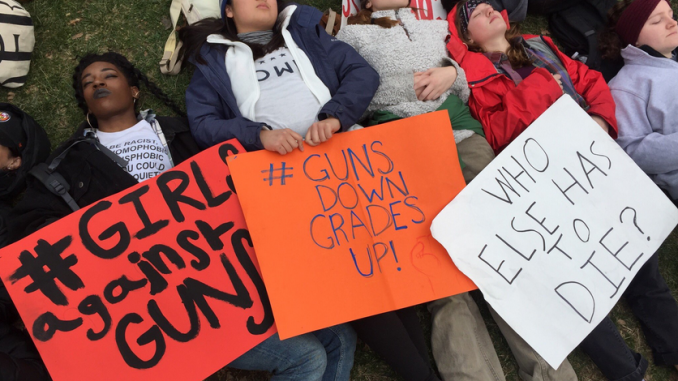 Baltimore City Public Schools had trouble keeping its schools heated this past winter, but the school district can afford to send 60 busloads of schoolchildren to an anti-gun rally in Washington, D.C., later this March.
Baltimore Mayor Catherine Pugh announced at a Tuesday rally that 60 buses will be commissioned to transfer roughly 3,000 kids to the nation's capital so they can participate in the March for Our Lives protest that is set to be held at the end of the month.
BREAKING: Baltimore @MayorPugh50 says the city is organizing 60 free buses to send students to DC for the march against gun violence later this month. Says "let's show Washington DC that Baltimore matters." Wants 3,000 city students there. Will be providing lunches and t-shirts. pic.twitter.com/g4QIoS9baA

— Kevin Rector (@kevrector) March 6, 2018
As reported by the Baltimore Sun's Kevin Rector, the city of Baltimore will also provide the children with T-shirts and food for free, despite lacking the finances to provide warmth for the schoolchildren during the frigid winter months commonly experienced in the Northeast.
However, the buses, food and T-shirts are not exactly free. At least, don't tell that to the tax-paying residents of Baltimore who will have to foot the bill for the trip.
According to Pugh's estimate, the endeavor will cost taxpayers roughly $100,000.
I just talked to @MayorPugh50. She said she estimates the buses, lunches and T-shirts she promised for Baltimore kids going to the March 24 #March4OurLives event in DC will cost Baltimore $100,000.

— Kevin Rector (@kevrector) March 6, 2018
On Tuesday, Baltimore students protested gun violence in the U.S. by "laying down" in front of Baltimore's City Hall.
NOW: Baltimore students are laying down in big numbers in front of City Hall to protest guns and gun violence. pic.twitter.com/7EjeoZtslM

— Kevin Rector (@kevrector) March 6, 2018
As reported by Rector, students at the rally could be heard shouting chants such as, "No justice, no peace! No AR-15s," and "This is what democracy looks like."
A lot more students just arrived at this student protest against gun violence in Baltimore. They're from public city high schools. One chant: "No justice, no peace! No AR-15s!" pic.twitter.com/ObArcAh5gz

— Kevin Rector (@kevrector) March 6, 2018
"THIS IS WHAT DEMOCRACY LOOKS LIKE!" the students chant. pic.twitter.com/qG3dKJmdNq

— Kevin Rector (@kevrector) March 6, 2018
While gun control seems to be the hot topic among Baltimore citizens as of late, a few months ago the city faced an abysmal infrastructural problem that withheld from its children a basic human necessity — warmth.
The Washington Post reported in January that some Baltimore schools had interior temperatures that dipped below 40 degrees Fahrenheit.
https://twitter.com/JeffSanFilippo/status/948220931931099136
The frigid conditions prompted the Baltimore Teachers Union to send a letter to the school system's chief executive, Sonja Santelises, asking to have the schools closed until the situation could be properly evaluated.
In total, over 60 schools recorded complaints regarding the conditions.
"Trying to provide a stable learning environment in these extreme conditions is unfair and inhumane, to say the least," the BTU's letter to Santelises read.
Santelises responded in a video, revealing that multiple factors contributed to the situation.
She stated: "So really, the combined challenges of sustained low temperatures that are truly unprecedented for this time of year, as well as the, frankly, very old condition of our buildings is just a combination that is proving, and has proved to be, quite challenging to manage."
"The challenge is when you have systemic under investment for a number of years, eventually there's a day of reckoning," Santelises added. "And when you have a two-week cold spell, that's what happens. Now it doesn't make it okay for kids to be in cold classrooms, it doesn't make it okay for those conditions to be in place, but it is the reality."
What do you think? Scroll down to comment below.