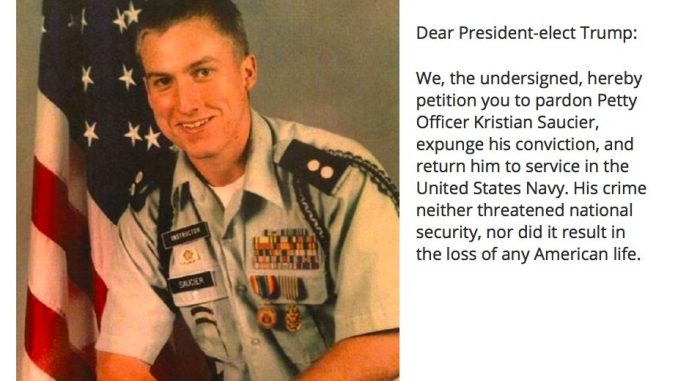 [embedyt] https://www.youtube.com/watch?v=52UMg9asiqo[/embedyt]
Kristian Saucier, the former U.S. Navy sailor who served a year behind bars for taking photos of classified areas in a nuclear submarine, has been pardoned, White House Press Secretary Sarah Sanders said Friday.
Saucier recently received a letter from the Department of Justice saying it was taking a new look at his request for a pardon. Although he was released from jail last year, he remained under house arrest.
President Trump had denounced the government's handling of Saucier's case, calling it a political move and saying it contrasted with the velvet-gloved response to former Secretary of State Hillary Clinton's mismanagement of classified information through a private server.
"The president has pardoned Kristian Saucier, a Navy submariner," Sanders said in a press briefing Friday afternoon. "Mr. Saucier was 22 years old at the time of his offenses and has served out his 12-months sentence. He has been recognized by his fellow service members for his dedication, skill and patriotic spirit."
"While serving, he regularly mentored younger sailors and served as an instructor for new recruits. The sentencing judge found that Mr. Saucier's offense stands in contrast to his commendable military service. The president is appreciative of Mr. Saucier's service to the country."
Saucier told Fox News that he couldn't believe the pardon had finally come through until his wife emailed a picture of the document signed by Trump, who also called him Friday.
Saucier said he feels liberated from the stigma of being a felon, and from the many limitations of house arrest, which precluded him from leaving the state.
"I feel I can hope for the future now," Saucier said. "I can live a normal life. I can take my daughter to different places, I can do all these things with my family."
One of his priorities is to see his 94-year-old grandfather, who lives in Connecticut. Saucier said it pained him that he could not see his grandmother in Connecticut before she died.
Saucier repeatedly said he recognized that he had made a mistake when he took the photographs to show his family the setting in which he worked. He maintained, though, that the treatment of him by federal authorities was overzealous.
"I thanked the president for helping my family get our lives back," he said, referring to the call from Trump he received Friday night. "He's got so much to do and to take the time to do something about this and to call me, it's just amazing. I'm so overwhelmed."
"I fought so hard in the military for our freedom, I spent 11 years defending our freedom," Saucier said. "I'm thankful that I will be able to have those freedoms."
Meanwhile, his lawyer, Ronald Daigle, said the next step is to have Saucier's discharge upgraded to honorable, and have his military benefits restored.
Saucier, who served as a machinist's mate aboard the USS Alexandria from 2007 to 2012, used his cellphone to photograph parts of the submarine's nuclear propulsion system while it was docked at the Naval Submarine Base in Groton, Conn.
Saucier, who has a 2-year-old daughter, began his sentence in October 2016 at the Federal Medical Center at Fort Devens, Mass. He was released a year later, though he was placed under house arrest.
He was convicted of unauthorized retention of national defense information, which is a felony, and received an "other-than-honorable" discharge from the Navy. He faced a possible 10 years in jail, his lawyers said.
Watch the latest video at foxnews.com