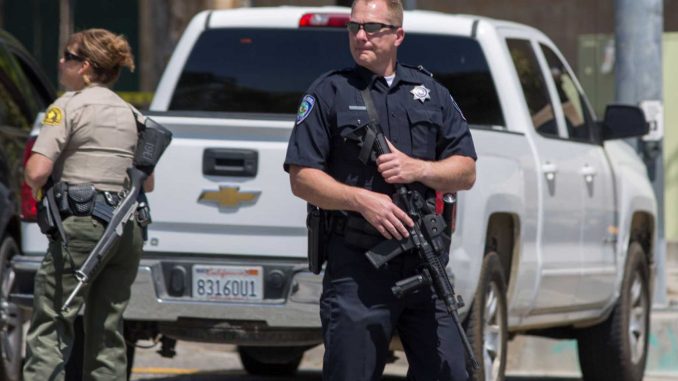 SPRINGFIELD, Ill. (AP) – Some Illinois lawmakers want to give extra money to schools that replace armed security officers with unarmed social workers and behavior therapists, an approach to safety that's far different than a national push to add police or arm teachers following a mass shooting at a Florida high school.
Widget not in any sidebars
Rep. Emanuel "Chris" Welch, a Hillside Democrat, said he proposed the plan after hearing from advocates who argue that investing in mental health resources is the best way of treating the epidemic of violence.
His plan, which is backed by 16 other Democrats in the House, would allow schools to apply to an optional grant if they promise to reallocate funding for school-based law enforcement to mental health services, including social workers or other practices "designed to promote school safety and healthy environments."
But the measure could be a tough sell, especially amid a widespread effort to employ more of what's known as school resource officers – fully armed law enforcement officers often paid for by schools.
As of early April, 200 bills or resolutions have been introduced in 39 states regarding school safety, according to the National Conference of State Legislatures. More than half of these measures were introduced following the events in Parkland, Florida. Thirty-four bills in 19 states address regulations and training for school resource officers.
U.S. Attorney General Jeff Sessions proposed a school safety plan in March that included a measure prioritizing grants to states that agree to use the money to put more law enforcement in schools.
Michelle Mbekani-Wiley, from the Sargent Shriver Center on Poverty Law, said this approach is wrongheaded and that police are unequipped to recognize or respond to mental health issues. She adds that many minority students within the Chicago Public School system are arrested by school resource officers for non-serious offenses, which could jeopardize their chances of applying to jobs and colleges in the future.
"This increased presence of law enforcement in schools does not necessarily enhance school safety," said Michelle Mbekani-Wiley from the Sargent Shriver Center for Poverty Law. "Instead it dramatically increases the likelihood that students will be unnecessarily swept into the criminal justice system often for mere adolescent or disruptive behavior."
Widget not in any sidebars
However, advocates for school resource officers argue their role is essential to keep students safe, especially in the event of a school shooting.
After Parkland, Deputy Kip Heinle, former president of the Illinois School Resource Officers Association, said he was "fielding two to three phone calls a day" from school districts asking how they can add more patrolling officers. While there's no official count on how many school resource officers are employed in Illinois, he puts the estimate at around 500.
Heinle, who works as a school resource officer in an Illinois suburb of St. Louis, says he believes that the officers are "the best line of defense to keep students safe in school."
He adds that, beyond preserving law and order in schools, he adds that many officers also act like a mentor and an informal counselor to many of their students, with the goal of "shaping them to be successful adults someday."
School resource officers are not required to be trained in Illinois, but they can pay to take part in an optional annual training session each summer in Bloomington. Around 85 to 100 officers from around the state typically attend, said Heinle. No Chicago Public School officers have ever attended, he added. The bill is HB4208