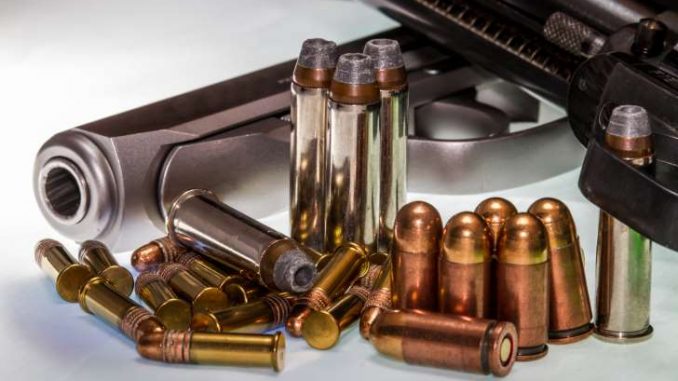 When the state of Delaware decided to try to compete with New York and California as the most anti-gun state in the nation, there were bound to be some in the state less than pleased with their lawmakers. A recent town hall, ostensibly to bridge the gap between the two sides of the gun debate, proved that there are a lot more of those who love their Second Amendment rights than their opponents thought–especially after it got derailed.
It took about 60 seconds to determine which way the crowd leaned.

It didn't take much longer to make it clear how strongly it felt.

Most of the approximately 400 people attending a town hall meeting about gun violence Monday evening came to voice their opposition to several proposed gun control measures now in the General Assembly.

The event, organized as an attempt to bridge the divide between opponents and supporters of gun restrictions, featured four Delaware politicians: Two Republican senators, one Democratic senator and the Department of Justice's top prosecutor who is now running for attorney general.
Widget not in any sidebars
I'm sorry, but this was a wasted effort. There is no bridging of the gap. The truth is, anti-gunners are simply doing what they always do. They're demanding more and more from the pro-Second Amendment crowd while offering nothing in return, then blasting us as unwilling to compromise. Because of that, we're sick of giving up any ground. That's why there won't be any bridging going on. There's no bridging because the other side isn't arguing in good faith.
We all know that they'll soon be asking for something else and using the same arguments, so no.
All four were on stage before hundreds of people in the theater at Middletown High School, just two days after hundreds rallied in support of the Second Amendment in front of the state capitol.

The moderator was forced to restore order minutes after the event began. The two Democratic speakers were booed and interrupted numerous times while the Republican participants were greeted much more warmly.

Several members of the audience began laughing openly after Kathy Jennings, a Democrat running for attorney general, said the state has made a special effort to prosecute gun crimes, a claim Republicans find hard to believe.
Now, I'm of two minds about this. On one hand, I don't think rudeness is a good way to change hearts and minds, as a general rule.
On the other hand, it's not like the other side won't play this card, and it also happens to be hilarious.
I'm not so sure I believe Jennings' claim either, though. Far too many people barred from buying guns have tried it at gun stores. While they haven't gotten the guns, the act of trying to get one is illegal. Yet far too often, these people walk away free and clear.
There's a reason why so many find it hard to believe.
However, I have bad news for the people of Delaware. I suspect it doesn't matter how much you all oppose these bills; they're still coming. As Dan Zimmerman over at The Truth About Guns notes, "The aptly named Blue Hen State is as blue as can be, with Democrats controlling the governor's office as well as the legislature." I'm afraid he's right.