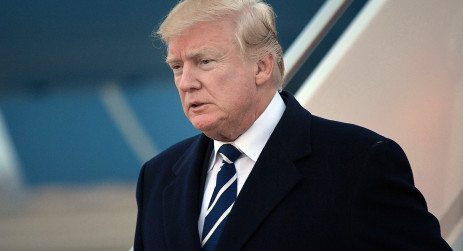 Donald Trump supports laws to strengthen the background check system for gun purchases in the wake of the Parkland, Florida high school shooting that killed 17, the White House announced on Monday.
"The President spoke to Senator [John] Cornyn on Friday about the bi-partisan bill he and Sen. [Chris] Murphy introduced to improve Federal Compliance with Criminal Background check Legislation," press secretary Sarah Sanders said in a statement.
"While discussions are ongoing and revisions are being considered, the President is supportive of efforts to improve the Federal background check system."
An aide to Cornyn confirmed the president had spoken to the senator about the bill, which has the support of both Mitch McConnell and Chuck Schumer.
"It's clear the president is interested in getting something done," the aide said.
This is the latest push for gun legislation in Trump's tenure. The first came after a shooter in Las Vegas killed 58 people in October. There was bipartisan outcry and calls to more stringently regulate bump stocks, which the shooter used to increase his rate of fire, but the effort went nowhere.
In the wake of the Parkland shooting, there has been a renewed call for legislative action, with students who survived the massacre calling on Congress to act and planning a march in Washington to demand action.
The gun legislation Trump signaled his support for, spearheaded by Sens. John Cornyn (R-Texas) and Chris Murphy (D-Conn.), aims to enhance state and federal record-sharing with the FBI's National Instant Criminal Background Check System.
The measure has broad support on both sides of the aisle, but Murphy noted Monday that even though Trump's thumbs-up is significant, "no one should pretend this bill alone is an adequate response to this epidemic."
By MATTHEW NUSSBAUM 02/19/2018 09:41 AM EST Elana Schor and Burgess Everett contributed source
We provide the missing context for your review.
LegiScan (S. 2135) to TRACK & MONITOR
GovTrack (S. 2135) background HERE
 And…
What are some Second Amendment Supporters saying about (S. 2135)
Washington, DC) — Last week, the U.S. Senate held hearings on the Cornyn-Schumer-Feinstein-Blumenthal-Murphy "NICS FIX" gun control legislation (S. 2135).
This is the Senate version of the legislation that was folded into H.R. 38, National Reciprocity, in the House just last week.
Make no mistake about it — gun-grabbers are salivating over the possibility of getting (S. 2135.)
It's a HUGE gun control trap they never imagined they could get under a Republican controlled House and Senate.
We've pasted below for you an informative national email from Gun Owners of America.
It lays out for you point-by-point exactly why they oppose this massive expansion of the NICS gun ban database, or what GOA calls the "Traffic Ticket Gun Ban".
The email is authored by Michael Hammond, former parliamentarian for North Carolina Senator Jesse Helms: Read HERE
Do your due diligence Minutemen!
-Thinkologist