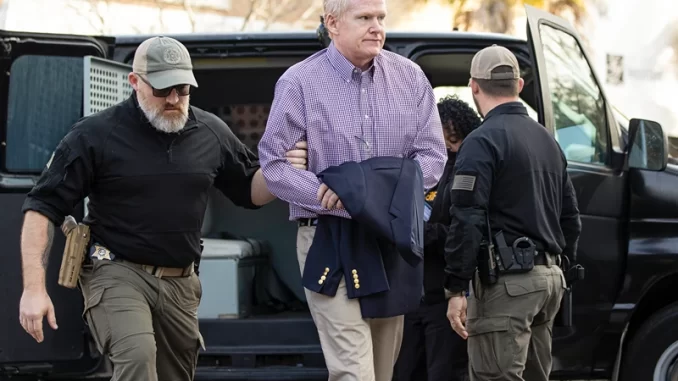 OAN's Brooke Mallory
3:44 PM – Friday, November 17, 2023
Alex Murdaugh, a convicted murderer and purported fraudster, and the South Carolina Attorney General's Office have negotiated a guilty plea bargain for Murdaugh's more than 100 financial and drug-related offenses.
Advertisement
Friday at 10 a.m. was set aside for a hearing in the Beaufort County Court of General Sessions.
Judge Clifton Newman adjourned the court right away, taking lawyers from the state and Murdaugh's team with him. They discussed a number of issues, including the possibility of reaching an agreement, in the judge's chambers.
Murdaugh made his second in-person appearance before Judge Newman in Beaufort County General Sessions, this time sporting an orange prison uniform and white New Balance sneakers. He smiled at his lawyers and occasionally seemed to scowl or smirk at the state prosecutor-in-chief.
About thirty minutes later, attorneys general came out, and the S.C. Attorney General's Office started working on agreements and sentencing papers.
Murdaugh's lawyer, Richard Harpootlian, informed reporters at 12:30 p.m. that they were "close" to a potential agreement, pending approval by both sides of the court, and that any agreement reached would be "all or nothing," implying that Murdaugh was getting ready to plead guilty to all of his S.C. Grand Jury indictments, or none at all if terms weren't agreed upon.
This would "bring some finality" to the cases and the victims, according to Waters, and Murdaugh would serve a lengthy state prison sentence based on "negotiated sentences."
The agreement covers Murdaugh's theft from the Gloria Satterfield estate and will be signed by the Attorney General's Office, Murdaugh, and his attorney.
Murdaugh was given negotiated sentences of 10 or 20 years for the majority of his crimes, and he would have to spend at least 85% of the 20-year term.
Although the state is requesting that Murdaugh serve a net of 27 years, with 85% of those years served, the sentence has been postponed.
The effect, if any, this might have on local indictments against Murdaugh for the roadside shooting incident in September 2021—after which he was charged with insurance fraud—is unknown.
Despite Murdaugh's team's prior legal efforts, Newman presided over the session. Murdaugh's lawyers moved the South Carolina Supreme Court on November 1st, asking for a writ of prohibition that would prevent Judge Newman from presiding over any of Murdaugh's financial crimes cases.
Murdaugh's lawyers had also asked for a change of site and a postponement of any financial crimes proceedings until after the resolution of post-murder trial issues.
The S.C. Supreme Court rejected those requests on Thursday, and Murdaugh's first financial crimes jury trial was originally scheduled to start in Beaufort County on November 27th. The trial would have focused on the theft from the Gloria Satterfield Estate. In the event that a plea deal is reached, there will not be a trial.
While testifying in open court during his six-week murder trial in Walterboro, South Carolina, Murdaugh admitted to several financial crimes and drug addictions. He has already entered a guilty plea to the same charges in federal court and is awaiting punishment there.
In Beaufort County, sentencing will be held on November 28th, and the remainder of Murdaugh's finance-related crimes will not be prosecuted.
Stay informed! Receive breaking news blasts directly to your inbox for free. Subscribe here. https://www.oann.com/alerts