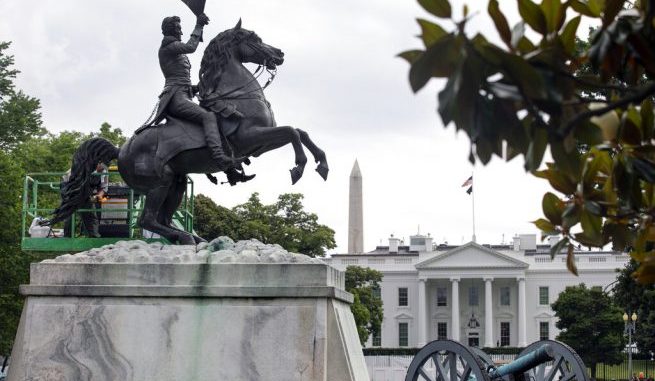 OAN Newsroom
UPDATED 6:55 PM PT — Thursday, June 11, 2020
Rep. Kevin McCarthy (R-Calif.) has stated it's up to individual states to decide whether or not to keep Confederate statues in the U.S. Capitol. On Thursday, the lawmaker pointed out the statues honoring Confederate leaders in Washington are under the jurisdiction of the states that sent them.
This comes amid the latest Democrat push to remove the statues. On Wednesday, House Speaker Nancy Pelosi (D-Calif.) called for 11 statues to be removed from the U.S. Capitol, saying they "pay homage to hate, not heritage."
Read my letter here: https://t.co/lx0nuYxrfk

— Nancy Pelosi (@SpeakerPelosi) June 10, 2020
According to McCarthy, the statues in question can only be removed with the permission from respective states.
"They were voted upon in the legislature and brought here under Democrat majorities, from Mississippi to the other states that she speaks about. States, unfortunately, when you look at the law governing the replacement of statues, is to U.S. Code 2132. I would encourage those legislatures to be able to change from the path of what they brought forth." – Kevin McCarthy, U.S. Representative
For her part, the House speaker seems to believe Congress has the authority to remove statues in individual states.
"The statues that Nancy Pelosi are talking about is kind of a struggle within her own party," added McCarthy.