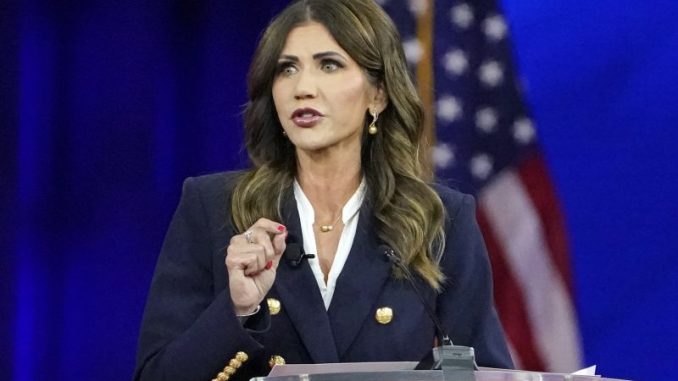 OAN Roy Francis
11:09 AM PT – Thursday, February 16, 2023
Governor Kristi Noem of South Dakota signed a bill that will ban puberty blockers, hormone therapy, and gender-swapping surgeries for people under 18 years of age.
The bill was introduced in January, and was signed by the governor on February 13th.
This will also include repercussions for doctors who provide the banned care, including revoking their medical licenses, and the possibility of civil litigation.
According to the Republican governor's website, HB 1080, or the "Help Not Harm" bill "prohibits certain medical and surgical interventions for minors."
"South Dakota's kids are our future. With this legislation, we are protecting kids from harmful, permanent medical procedures," she said. "I will always stand up for the next generation of South Dakotans."
Under the law, minors who have received the care in violation of the law can sue the providers up until they turn 25 years old.
Those who oppose the bill are arguing that laws of this nature are government overreach in the healthcare industry and decisions, as well as an infringement on patients' civil rights.
Opponents also argued that the banned procedures are necessary for transgender youth to succeed in school, and to have healthy relationships with those around them.
Those in favor said that this law is a step in the right direction because it addresses a mental health issue in minors, and helps protects them from decisions that are for the most part irreversible and could have life-long repercussions.
The World Professional Association for Transgender Health, formerly the Harry Benjamin International Dysphoria Association, had previously stated that young people can start taking hormones at the age 14. The organization had also approved of surgeries for minors as young as 15 years of age, while knowing risks attached to the procedures.
This has been the standard for many healthcare providers and states across the country as they seek to provide their patients with what they claim is "basic healthcare services."
In 2016, South Dakota was the first state to pass a "bathroom bill" for schools, this required students to use restrooms that match their assigned sex at birth.
In 2020, it was also the first state to pass a gender-affirming ban, which had failed to pass the Senate committee.
With this new passed law, South Dakota has joined a number of states that have banned gender-affirming care. On that list are Alabama, Arkansas, Arizona, Tennessee, and Utah. Although judges in Alabama and Arkansas have blocked the bans from going into effect while they await the outcome of lawsuits.
Lawmakers in 18 other states have introduced gender-affirming bans.